FLAVORS FROM MY PAST.
In the "olden" days we used to call them 50/50 bars.  Vanilla ice cream swirled with orange sherbet.  It was my favorite!  That's what this puppy chow recipe reminds me of.  Because this puppy chow reminds me of ice cream I thought it would be fun to give this treat as a party favor for an ice cream themed party.  I found the rocket pops full of orange and vanilla jelly beans at Walmart last year at Easter time.  I'm sure they'll have them again.  I love using the rocket pops because the gift can be used again for a Popsicle.  Don't have the rocket pops?  How about serving them in ice cream cups.  Either way they are cute and full of yummy goodness.
Orange Dream Puppy Chow Recipe
Ingredients
8 cups rice chex cereal
1 – 16 ounce vanilla bark (candy coating)
1 – .3 ounce sugar free orange JELL-O gelatin mix
1-3/4 cups confectioners' sugar
Directions
In a large bowl, measure the rice cereal and set aside.
Line a large baking sheet with foil and set aside.
In a paper grocery bag or a large container add the confectioners' sugar and set aside.
In a large microwave safe bowl melt vanilla bark for one minute.  Stir, and heat an additional minutes.  Stir until creamy.  Mix in orange gelatin mix.  Pour the melted candy over the cereal and mix until completely coated.  Dump into the paper bag with the sugar and shake until all the cereal is coated.  Pour onto the large foil covered pan until set.  Store in a covered container up to 2 weeks.

THIS RECIPE IDEA WAS FEATURED ON THESE WEBSITES!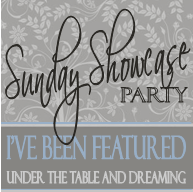 I SHARED THIS IDEA/RECIPE AT THESE PARTIES