Almond Crusted Cod | A moist and tender fish full of flavor with beer, almonds, bread crumbs and fresh thyme.  A light breading, high heat and a drizzle of oil deliver the ideal oven-fried meal.  I also used chicken tenders in place of the cod….just as delicious!  If you don't want to dip your fish in beer you can also use egg whites and milk.  Cod is a mild flavored white saltwater fish that's lean and firm.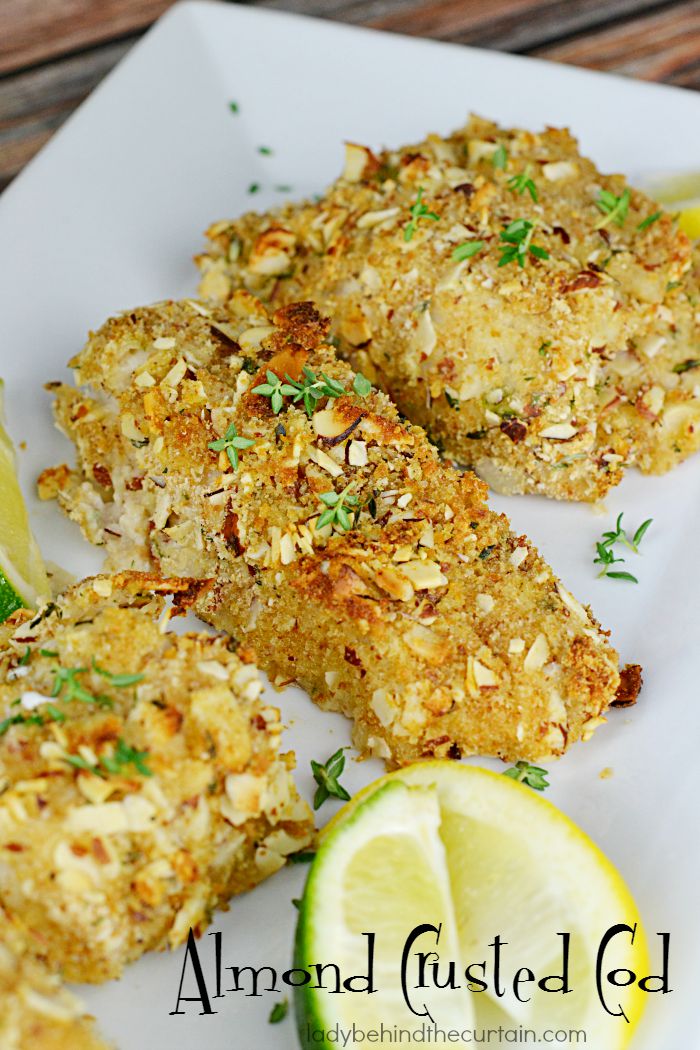 Other breading choices are, crushed whole grain wheat thins, crushed tortilla chips, crushed cornflakes or crushed pretzels.  Serve along side Bake Chips  lemon wedge, Mustard Dill Dipping Sauce or  Spicy Dipping Sauce.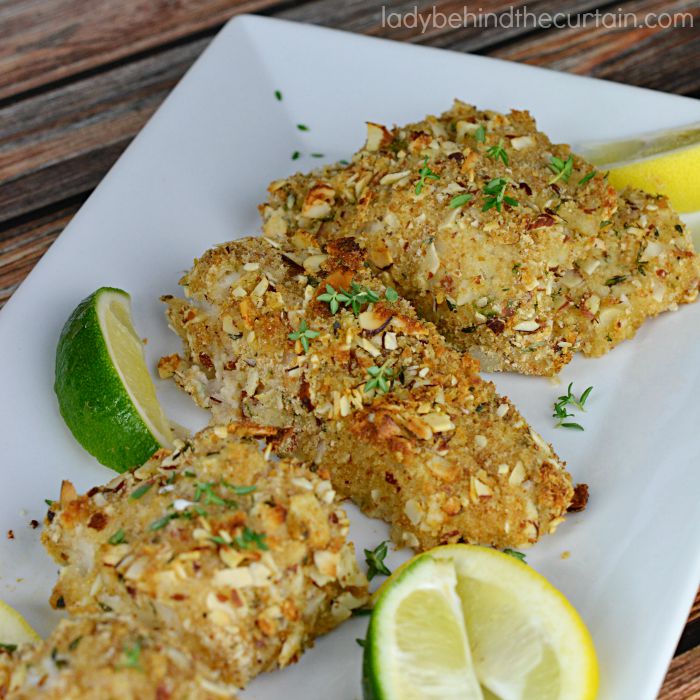 Almond Crusted Cod
Ingredients
1 pound fresh or frozen cod fillets
1/2 cup all-purpose flour
6 ounces of your favorite beer (I used a light beer)
1/2 cup fine dry bread crumbs
1/2 cup fine chopped almonds
2 teaspoons fresh thyme, snipped
2 tablespoons olive oil
lemon wedges
Instructions
Preheat oven 450 degrees.
Line a baking sheet with parchment paper.
Place flour in a shallow dish.
In another shallow dish pour in the beer.
In a third shallow dish combine the bread crumbs, almonds and thyme.
Dip fish into the flour, turning to coat.
Dip into the beer, then into the crumb mixture.
Place on prepared baking sheet.
Drizzle with oil.
Bake for 4 to 6 minutes per 1/2-inch thickness.
MORE RECIPES USING FISH
1. BUTTER OLIVE OIL PANKO CRUSTED FISH DINNER  2. BEER BATTER FISH TACOS  3. OVEN FRIED FISH AND CHIPS