Thanks for visiting the Lady Behind The Curtain Appetizers Page!
Aren't Appetizers the best? You can serve them for any occasion or meal! Having a plate full of little bits is the way to go in my book. That way I can sample all the goodies my hostess has to offer. This page of Appetizers has over 100 recipes! To make it easy I broke them down into three categories. Brunch or Luncheon, Bridal/Baby Shower and Game Day.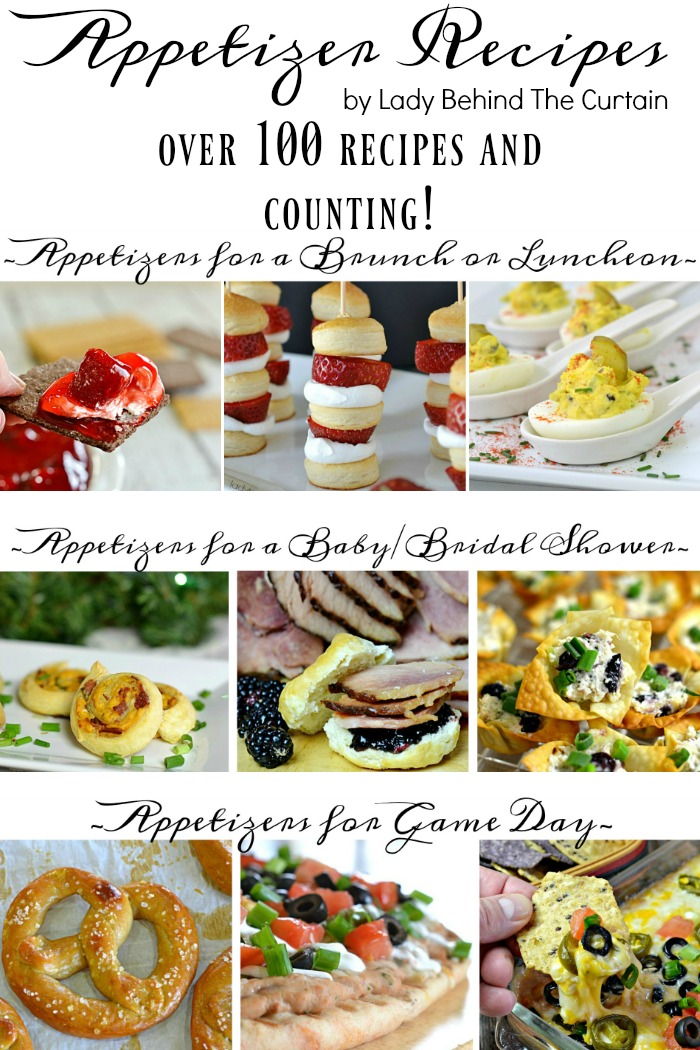 ♥SCROLL DOWN TO VIEW ALL THE CATEGORIES WITH LINKS♥

Whether you're planning a holiday brunch or a ladies luncheon this category has over 50 easy and delicious recipes for you to choose from. Like the Appetizer Strawberry Cheesecake Dip! Everyone loves cheesecake. This dip delivers all the flavors you love from a cheesecake. Oh….I forgot to mention you get all the flavors you love without baking a thing! For a little extra fun spoon up this dip into individual servings by adding some of the crust to a small jar or cup and topping it with the filling and fruit. I love using baby food jars for this. Don't stop there! You might find something in one of the other Appetizer categories too! If it's drama you're looking for you might want to try my Strawberry Shortcake Appetizer Kabobs. The shortcake portion is made with store bought biscuits which makes these really easy to put together. Another great addition is Deviled Eggs. I have FIVE recipes! My favorite is the Appetizer Potato Salad Deviled Eggs.
♥SCROLL DOWN TO VIEW ALL THE CATEGORIES WITH LINKS♥

Throwing a Baby or Bridal shower is a big deal. I mean after all both events are life changing. So it stands to reason that if you're planning on throwing one of these you might be under a little stress. Let Lady Behind The Curtain take some of that stress away! In this Appetizer category I put together some of my favorite Appetizer recipes. So don't worry…with over 50 recipes to choose from I'm sure you'll find just what you need. If you don't find it in this category shop around the other two for a total of over 100 Appetizer recipes! If you REALLY want to WOW your guests you can make your version of a Charcuterie Board. All you do is create a big spread of appetizers on one long board and voila! Your appetizers are done! You can never go wrong with Bacon Ranch Pinwheel Appetizers or Ham and Blackberry Jan Biscuit Sandwiches. Dip is also a great choice. I love Cucumber Dill Vegetable Dip. Another great way to dress up an appetizer is by creating little Salad Bowls from wonton wrappers. Like with the Cranberry Chicken Salad.
♥SCROLL DOWN TO VIEW ALL THE CATEGORIES WITH LINKS♥

Now on to the big daddy of them all. It's no secret that game watchers love their game time food. In fact they go to restaurants so they can eat while they watch their favorite team! This category is packed with over 60 Appetizer recipes. One thing they love is beer. How about a Beer Sauce Recipe? Spoon this sauce over nachos or on your favorite burger. Or would you prefer Beer Dip? What is the perfect partner to beer? Pretzels! Add a pile of pretzels next to this delicious dip or better yet make your own Beer Pretzels! What's the next best thing to beer? PIZZA! That's right every serious game watcher loves their pizza and with over 24 recipes to choose from I'm confident you'll find the right one for you. Might I suggest the The Cheesesteak Pizza or Grilled Hot Sauce Pizza? Cut into small squares for the perfect appetizer! To top all this good food off you need a hearty delicious dip and that would be…..Hot Bean and Cheese Dip!
LINKS!