Applesauce Donuts | There's nothing better than a fresh donut!  You're family will love these cinnamon applesauce breakfast treats.  I remember when I was little sitting at the kitchen table eagerly waiting for my Grandma's Applesauce Cake to come out of the oven.  These donuts remind me of that cake and bring back sweet memories of my Grandma and me sitting in her kitchen waiting for her delicious creation to be cool enough for me to eat.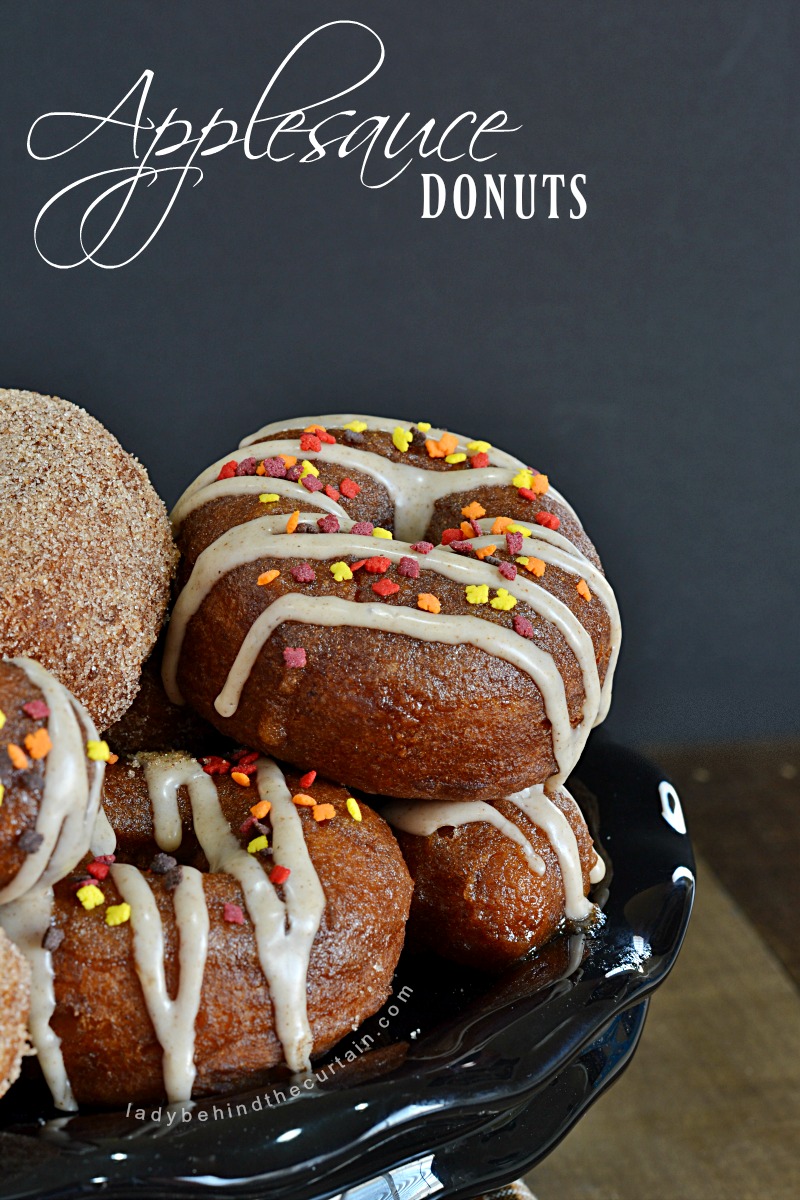 It's a tradition in our house to have donuts on Thanksgiving morning and these are the ones I always make.  With the warm flavor of cinnamon and sweet apples my family looks forward to these every Thanksgiving.  It's my little way of showing them how much they mean to me.  Sorry….these donuts are not baked.  They are fried the old fashioned way.  Crispy on the outside and tender on the inside.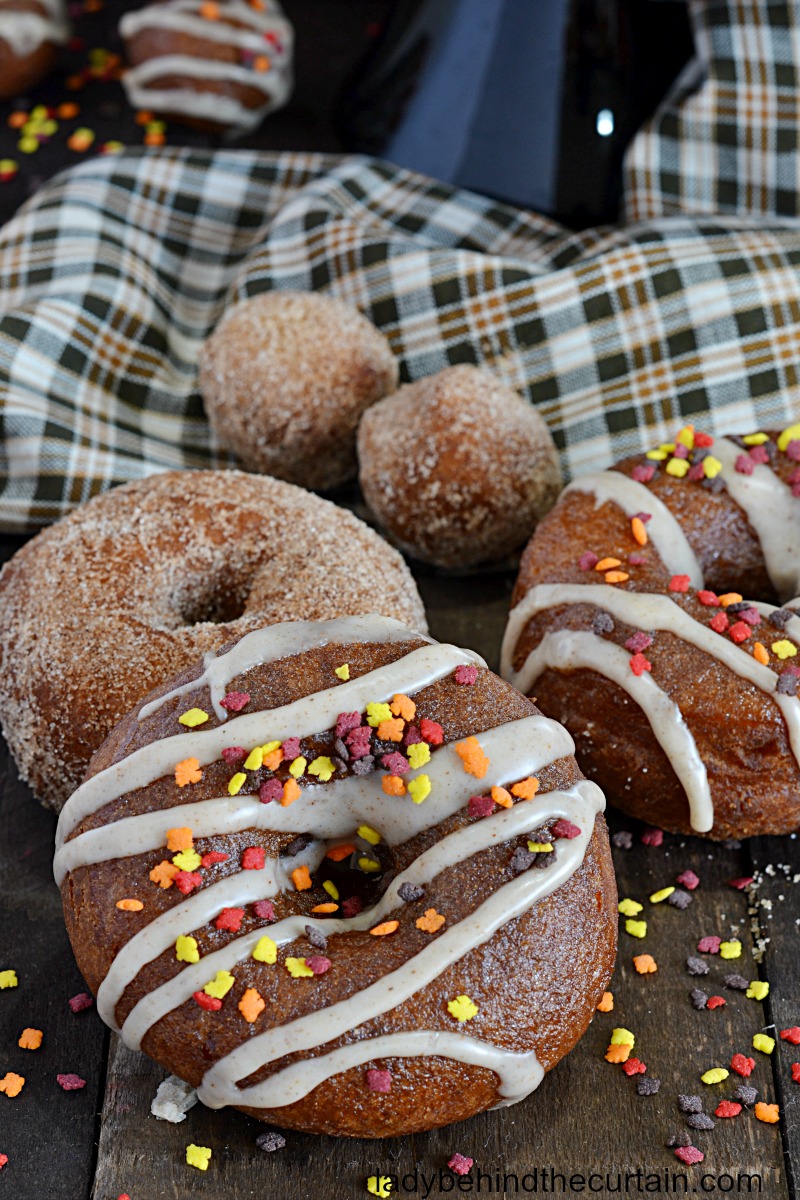 The batter is super easy to work with.  There's no waiting for the dough to rise because there's no yeast in the batter.  All that's needed is time for the dough to rest and you're in business.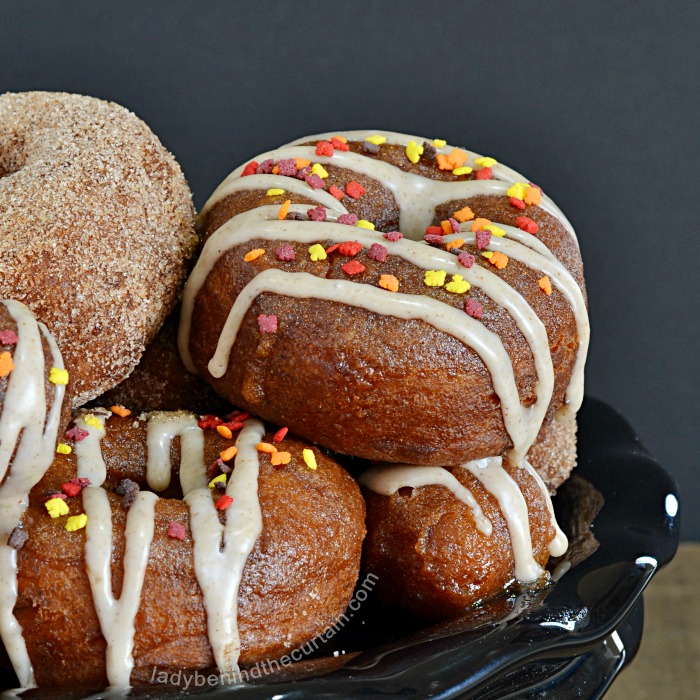 Applesauce Donuts
Yield:
15 Donuts and 15 Donut Holes
Ingredients
For the Donut Batter
4 1/2 cups all-purpose flour
1 tablespoon baking powder
1 tablespoon ground cinnamon
1 teaspoon salt
1/2 teaspoon baking soda
2 large eggs
1 large egg yolk
1 cup granulated sugar
1 cup no sugar added applesauce
1/2 cup buttermilk
1/4 cup unsalted butter, melted
vegetable or peanut oil for frying
For the Cinnamon Applesauce Glaze
1 cup confectioners' sugar
4 tablespoons no sugar added applesauce
1 teaspoon ground cinnamon
For the Cinnamon Drizzle
2 cups confectioners' sugar
1/2 teaspoon ground cinnamon
2 tablespoons plus 2 teaspoons water
For the Cinnamon Sugar Mixture
1/2 cup granulated sugar
2 teaspoons ground cinnamon
Optional: Fall Leaf Sprinkles
Instructions
For the Donut Dough:
In a large bowl whisk together the flour, baking powder, cinnamon , salt and baking soda.  In a medium bowl whisk together the eggs, egg yolk, sugar, applesauce, buttermilk and butter until combined.  Add the wet mixture to the dry mixture.  Stir until combined.  Cover and chill dough in the refrigerator 1 hour.  Pour chilled dough onto a well floured surface.  Knead in enough flour until the dough is no longer sticky.
Line two cookie sheets with parchment paper and two wire cooling racks with paper towels.
Roll the dough to 1/2-inch thickness and cut into 2 1/2-inch rounds with a donut cutter.  Place cut dough onto prepared cookie sheets.  Gather the dough up and continue reshaping and cutting donuts until all the dough has been used.
Place trays of donuts in the refrigerator, pour enough oil into the pot/Dutch Oven to measure up at least 2 inches.  Insert candy thermometer, turn heat to high.  Continue heating oil until it reaches 365°.  Once the oil has come up to temperature turn down the heat (to medium).
IT'S VERY IMPORTANT THAT YOU WATCH THE TEMPERATURE.  IF THE OIL GETS TOO HOT IT WILL COOK THE OUTSIDE OF THE DONUTS BEFORE BEING ABLE TO COOK THE INSIDE.
Gently place 3 to 4 donuts into the hot oil, turning to make sure both side are equally brown.  MY FAVORITE TOOL FOR THIS JOB IS CHOPSTICKS!  Place cooked donuts on prepared wire rack.  If some of the donuts are being rolled in the cinnamon sugar mixture this should be done as soon as you are able to touch the donuts/donut holes.  Once donuts have cooled completely dip the tops in the Cinnamon Applesauce Glaze add some Cinnamon Drizzle and optional Fall Leaf Sprinkles.
For the Cinnamon Applesauce Glaze:
In a small bowl whisk together the confectioners' sugar, applesauce and cinnamon until smooth and creamy.
For the Cinnamon Drizzle:
In a small bowl whisk together the confectioner's sugar, cinnamon and water until smooth and creamy.  Pour into a zip top bag, when ready to add the drizzle, snip one corner.  In a back and fourth motion add drizzle over the top of the donuts and donut holes.  For an added touch sprinkle on some Fall Leaf  Sprinkles.
Nutrition Information
Amount Per Serving
Calories

0
Total Fat

0g
Saturated Fat

0g
Cholesterol

0mg
Sodium

0mg
Fiber

0g
Sugar

0g
Protein

0g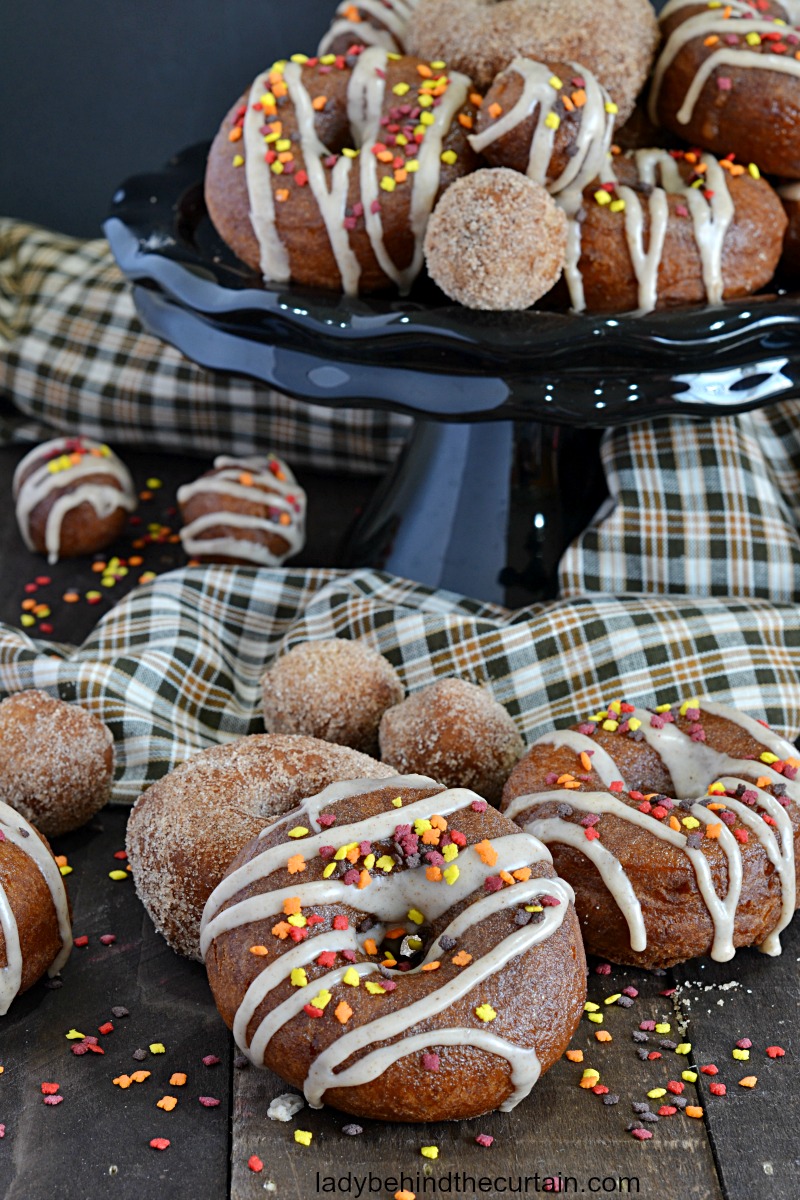 MORE DONUT RECIPES

CARROT CAKE DONUTS  2. APPLE SPICE DONUTS  3. LEMON BLUEBERRY DONUTS
NEVER MISS A POST!
Sign up for my newsletter (two per month) and receive my recipes in your inbox. Easy to see anytime and saved for safe keeping. Click Here and sign up today! —->>>>CURTAIN CALL NEWSLETTER