Artichoke and Mushroom Calzone
Artichoke and Mushroom Calzone; a large pocket of pizza dough filled with your favorite ingredients.  Mushrooms, artichokes, garlic, basil and two kinds of cheese.  With all that flavor who needs sauce!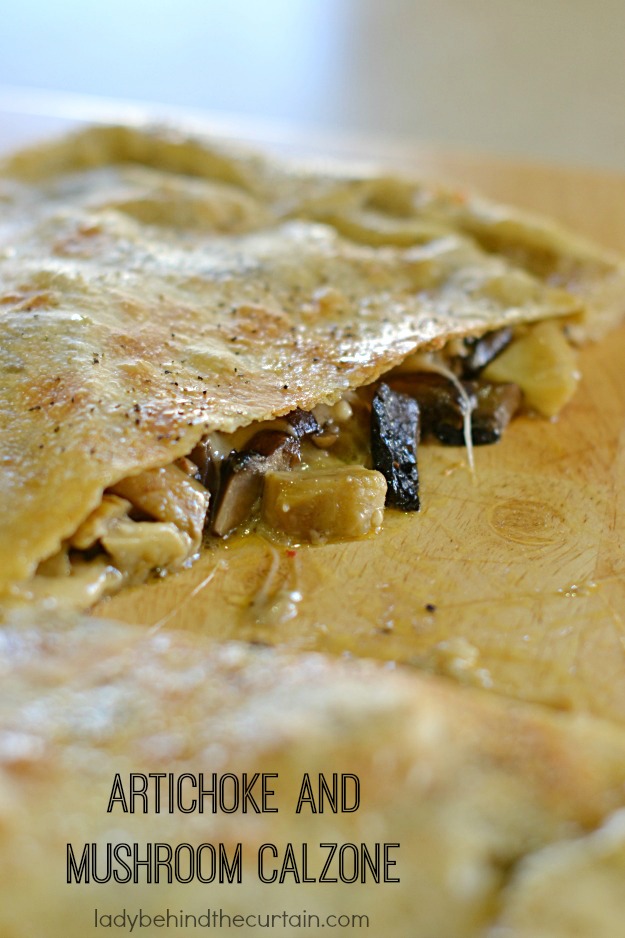 Use your favorite pizza dough, make my Easy Pizza Dough, or stop by your favorite pizzeria and order some of their dough (most pizza places with sell you their dough).  My recipe makes enough for two pizzas.  If you don't want to make two then you can freeze one.  Just wrap in plastic wrap and place in a zip top bag.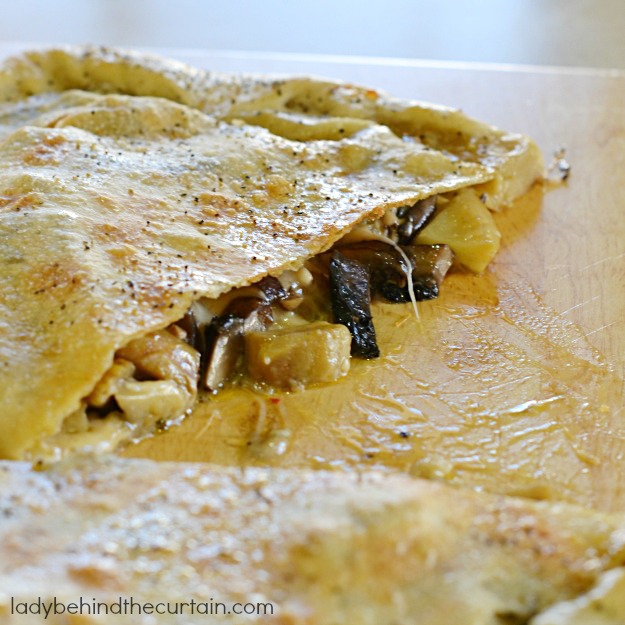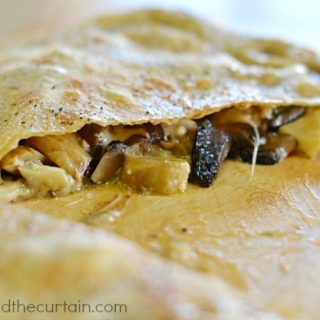 Artichoke and Mushroom Calzone
Ingredients
pizza dough (half the recipe)
2 tablespoons olive oil
3 portebello mushrooms, roughly chopped
1 (14 ounce) can artichoke bottoms, roughly chopped
4 cloves garlic, chopped
salt and pepper to taste
1 teaspoon chili paste
1 tablespoon olive oil
1/2 cup fontina cheese, grated
1 cup fresh mozzarella, pulled apart
1 tablespoon fresh basil, torn
Instructions
Preheat oven to 425 degrees.
Line a cookie sheet with parchment paper.
Add 2 tablespoons of olive oil to a large saucepan.
On medium high heat saute mushrooms until tender; add artichoke, garlic, salt and pepper.
Saute 2 minutes and set aside.
Roll pizza dough into a 17x12-inch rectangle.
Place on prepared cookie sheet.
Mix together the chili paste and 1 tablespoon olive oil.
Brush on one half of the pizza dough making sure to leave 1-inch around the outside.
On the same half of the pizza dough sprinkle on the fontina, mozzarella, basil and mushroom mixture also leaving 1-inch around the outside.
Moisten the edges of the dough with water.
Fold the un-topped half of the dough (trapping as much air inside as possible) over the filling and press the edges together firmly to seal.
Crimp the edges of the dough with a fork.
Bake 20 to 30 minutes or until top is golden brown and dough is done.
Optional Garnish: Brush hot pizza with olive oil, sprinkle with salt and pepper.
MORE PIZZA RECIPES
1. PIZZA MARGHERITA  2. MARINATED CHICKEN PIZZA  3. GRILLED BRUSCHETTA PIZZA