Baked Sugar and Spice Donuts
Baked Sugar and Spice Donuts: A Crispy on the outside and tender on the inside donut.  These donuts give you the satisfaction of eating a donut without all the calories.  It has more of a biscuit texture but with the addition of nutmeg it gives you the flavors you like from a cake donut.  Come on we can pretend we're eating a donut right?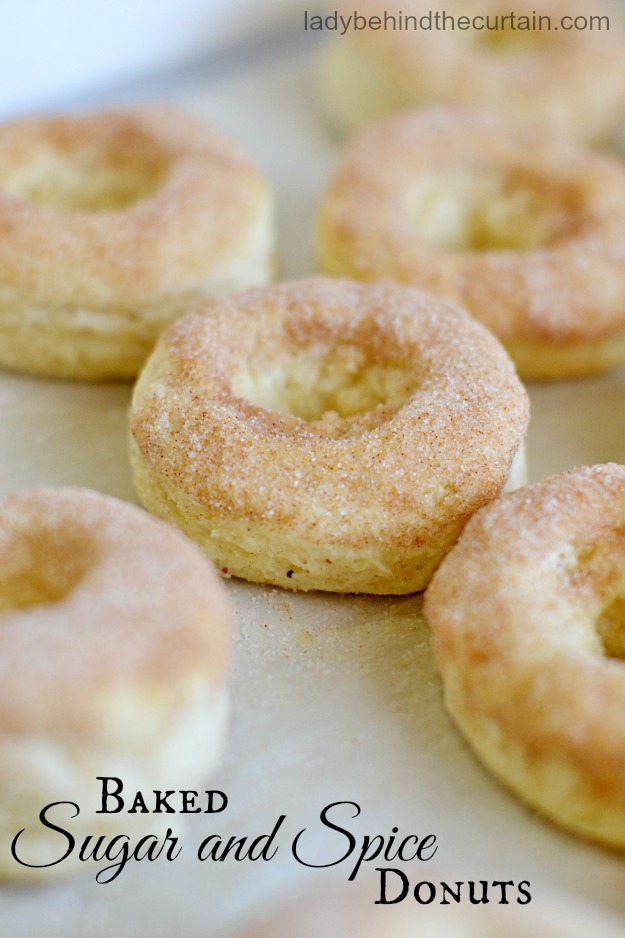 Since these Baked Sugar and Spice Donuts freeze beautifully I usually double the recipe.  One time baking tons of time for enjoyment.  ♥  You can also bake the donut holes.  I chose to add them back to the dough to make more donuts.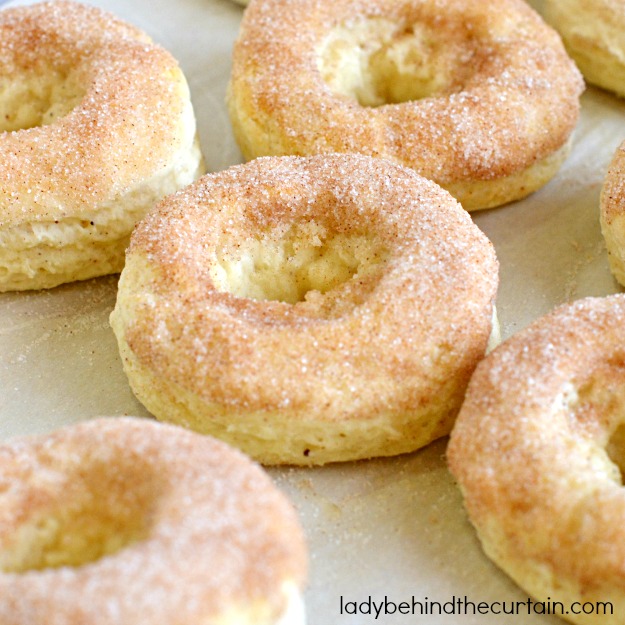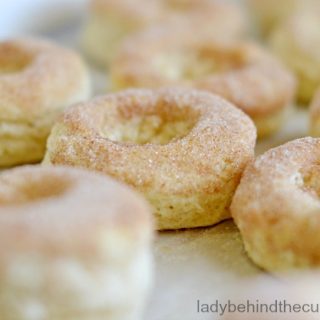 Baked Sugar and Spice Donuts
Ingredients
For the Donuts:
2 cups reduced fat Bisquick mix
1 tablespoon sugar
1/2 teaspoon nutmeg
1/2 cup buttermilk
1/4 cup refrigerated egg product
For the Topping:
1 tablespoon butter, melted
2 tablespoons sugar
1/4 teaspoon cinnamon
Instructions
For the Donuts:
Preheat oven to 400 degrees.
In a medium bowl combine Bisquick mix,sugar, and nutmeg.
Add buttermilk and egg product to dry ingredients; stir until moistened.
Knead dough with additional Bisquick mix.
Roll dough 1/2 inch thick; cut with floured 2 1/2 inch biscuit cutter.
Remove centers and re-roll.
Bake for 10 - 12 minutes.
For the Topping:
Combine sugar and cinnamon; brush tops of donuts very lightly with melted butter and dip tops in cinnamon mixture.
Nutrition Information
Serving Size

1 donut
Amount Per Serving
Calories

140
MORE DONUT RECIPES

1. APPLESAUCE DONUTS  2. PUMPKIN PIE DONUT HOLES  3. BAKED LEMON BLUEBERRY DONUTS