Beer Battered Fried Green Beans
Beer Batter Fried Green Beans:  Tender fresh green beans dipped in a beer batter and fried to perfection.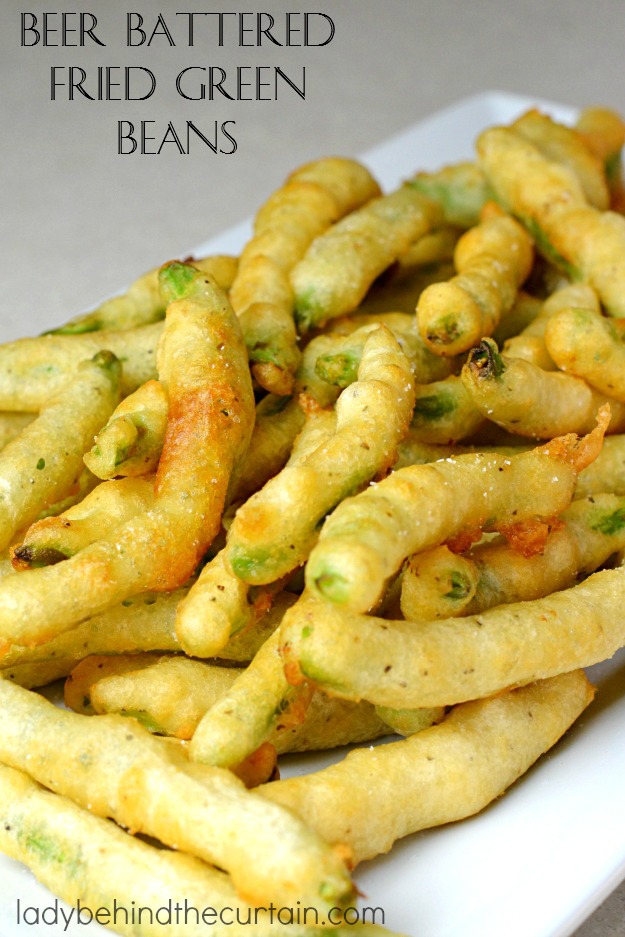 Once you have had these Beer Batter Fried Green Beans you'll never want fries again!  That comment is HUGE coming from a french fry addict!  You could serve them with ranch dressing but I found that they didn't need it.  And I love my ranch.  This is kind of a sneaky way to get your kids to eat their green vegetables.  😉
Simply clean the fresh green beans my snapping off the ends, give them a rinse, blanch, dip and fry.  So simple and so rewarding.  Especially at the end of the green bean season when you think you can't look at another green bean again!  This batter would work perfectly on zucchini too!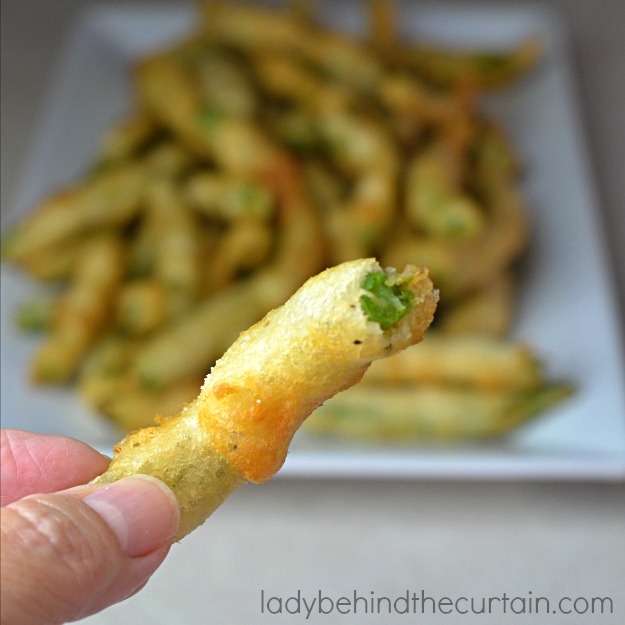 Beer Battered Fried Green Beans
Ingredients
1 pound fresh green beans, tips snapped off and rinsed
1 cup beer
1 cup all-purpose flour
2 teaspoons salt
1/2 teaspoon black pepper
oil for frying

Optional: salt (for after the green beans are fried)
Instructions
Add cleaned green beans to a medium saucepan; cover with cold water.
On high heat cover and bring to a boil; still covered boil for 2 minutes.
Fill a medium bowl with ice water; drain green beans and place in the prepared ice water.
Soak until green beans are completely cold; drain and set aside.
Line a cooling rack with paper towels.
Prepare the batter by adding the beer, flour, salt and pepper to a medium bowl.
Stir to combine.
Heat about 2 inches of oil in a deep pot to 360 to 370 degrees.
Dip green beans one at a time in prepared batter and place in hot oil.
Fry until golden brown (about 2 minutes).
Place of prepared cooling rack and if desired sprinkle hot green beans with salt.

NOTE: Do not crowd the green beans while frying.

Dip another batch of green beans in batter and fry.
While that batch is frying transfer the batch of fried green beans from the cooling rack to a serving platter.

TIP: To keep the green beans warm; place them in a warm oven on the warm setting.

Once the second batch is done, place it on the prepared cooling rack and sprinkle with salt.
Keep up this routine until all the green beans have been fried.
https://www.ladybehindthecurtain.com/beer-battered-fried-green-beans/
GREEN BEAN RECIPES
1. SHREDDED POTATO AND GREEN BEAN CASSEROLE  2. BACON AND GREEN BEAN POTATO SALAD  3. SLOW COOKER SMOKY GREEN BEAN CASSEROLE