Vanilla Very Berry Cupcakes
These Vanilla Very Berry Cupcakes are filled a an easy to make fruit filling surprise.  Elegant enough for a wedding reception but also perfect for a bridal shower or baby shower.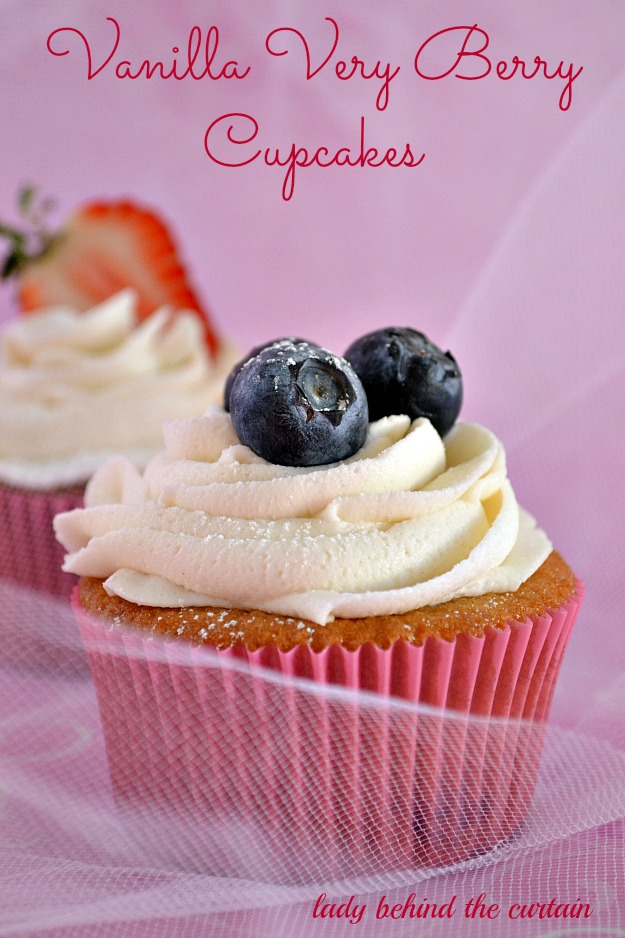 First you layer some of the berry mixture to the cupcake and then after the cupcake bakes you pipe in more berry mixture.  Now you have berries at the bottom and the middle!  Top these wonderful cupcakes with a creamy butter frosting and you have yourself a winning cupcake.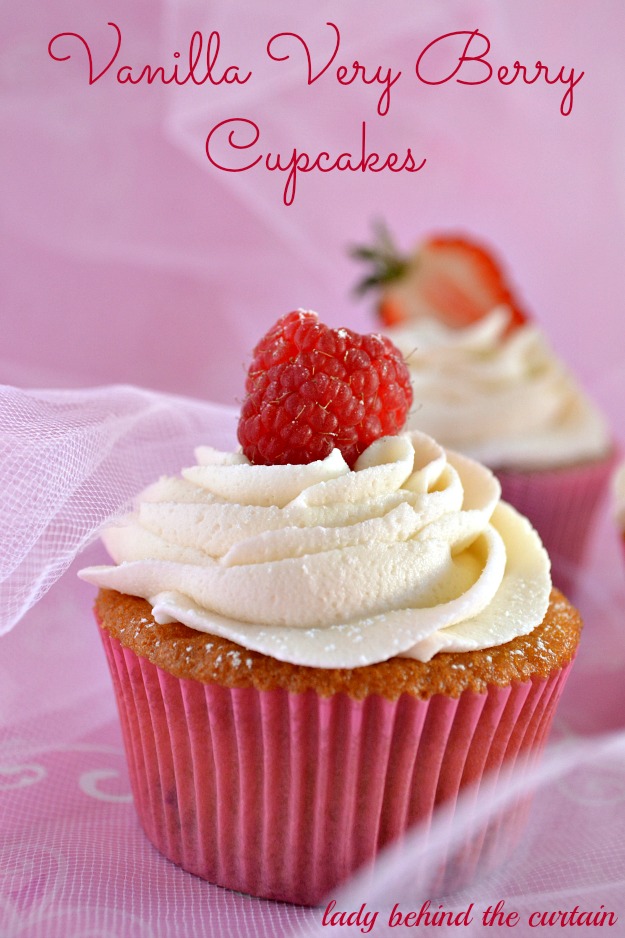 I love how fresh these Vanilla Very Berry Cupcakes are.  Perfect for summer!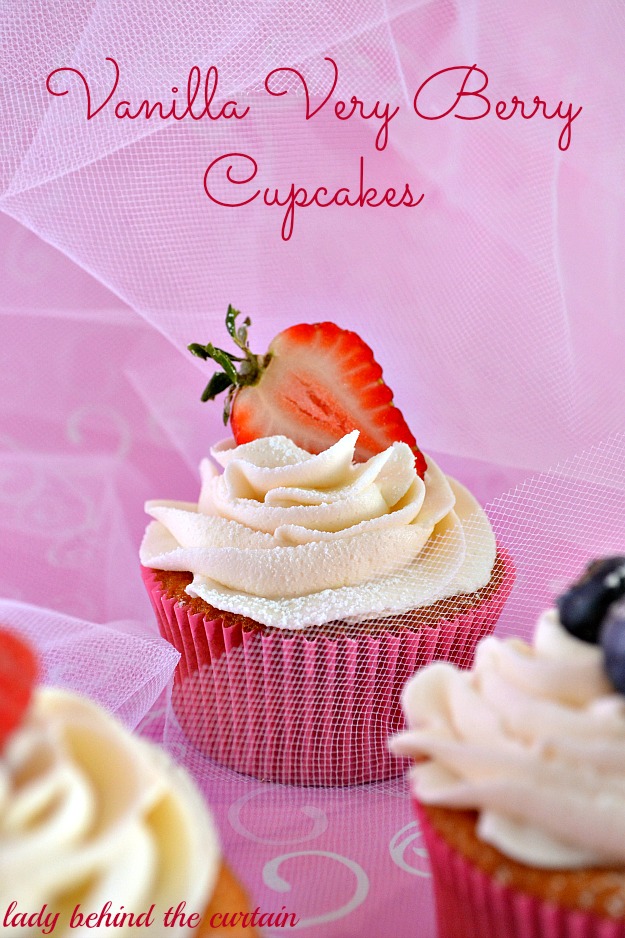 Create your own Recipe Box and save your favorite Lady Behind The Curtain recipes.  Make a Meal Plan with your favorite recipes and ZipList will automatically add the ingredients to a Shopping List.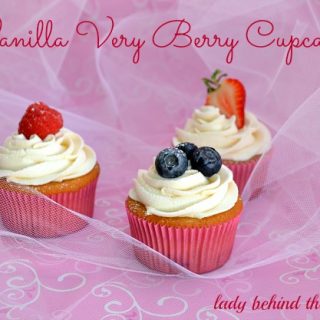 Vanilla Very Berry Cupcakes
Ingredients
For the Cupcakes:
1/4 cup unsalted butter
2 large eggs
1 cup fresh strawberries
1 cup fresh blueberries
1 cup fresh raspberries
3 tablespoons granulated sugar
1-3/4 cups all-purpose flour
3/4 teaspoon salt
3/4 teaspoon baking soda
1/2 teaspoon baking powder
1/2 cup water
1/2 cup buttermilk
1-1/4 cups granulated sugar
1 teaspoon vanilla extract
1/2 cup granulated sugar
2-1/4 cups Butter Frosting
For the Butter Frosting:
3/4 cup unsalted butter, softened
2 pounds confectioners' sugar
1/3 cup milk
2 teaspoons vanilla extract
milk (if needed to loosen the frosting)
Instructions
Preheat oven to 350 degrees.
Allow butter and eggs to stand at room temperature for 30 minutes.
Set aside a few of each type of berry for garnish.
In a large bowl combine the remaining berries and the 3 tablespoons of sugar; lightly mash berries.
Line 18 muffin cups with paper cups.
In a large bowl combine the flour, salt, baking soda, and baking powder.
In a 2 cup glass measuring cup mix the water and buttermilk. Set aside
Beat the butter on high for 30 seconds.
Gradually add the1-1/4 cups of sugar, 1/4 cup at a time, beating on medium speed until combined.
Scrape sides of bowl; beat about 2 minutes more or until light and fluffy.
Add eggs, one at a time, beating well after each addition.
Beat in vanilla.
Alternately add flour mixture and buttermilk mixture to butter mixture, beating on low speed after each addition just until combined.
Spoon 1 tablespoon batter into each prepared muffin cup.
Add 1 teaspoon of berry mixture to each cup.
Using remaining batter, fill each cup about three-fourths full (1 tablespoon).
Bake 25 minutes or until a toothpick inserted in centers comes out clean.
Cool cupcakes in muffin cups on wire racks for 5 minutes.
Remove cupcakes from muffin cups.
Cool completely on wire racks.
Meanwhile, thoroughly mash the remaining berry mixture.
In a medium saucepan bring berry mixture to boiling; reduce heat.
Gradually stir in the 1/2 cup sugar.
Simmer, uncovered 15 to 20 minutes or until mixture reaches a jam like consistency.
If desired to remove the seeds, transfer jelly to a strainer.
Using the back of a wooden spoon press the berry mixture through the strainer making sure to scrap the underside.
Set bowl aside and chill until cool, stirring occasionally.
Place berry mixture in a disposable pastry bag fitted with a round tip.
Insert in the top of each cupcake.
Squeeze some of the berry mixture into the center of each cupcake.
Spoon of pipe Butter Frosting onto cupcakes; garnish with reserved berries. If desired, sprinkle with confectioners' sugar
For the Butter Frosting:
Allow butter to stand at room temperature for 30 minutes.
Beat butter until smooth.
Gradually add 2 cups of the confectioners' sugar, beating well.
Slowly beat in the 1/3 cup milk and the vanilla.
Gradually beat in the remaining sugar.
Beat in additional milk until frosting reaches spreading or piping consistency.
Makes 4-1/2 cups