Brown Butter Cookies with an Eggnog Fudge Center
AWESOME COOKIES!  These Brown Butter Cookies with an Eggnog Fudge Center are chewy, full of the nutty flavor you love from brown butter and topped with the best eggnog fudge EVER!  Yep, that's right you get the best of both worlds with these cookies!  A chewy cookie and FUDGE!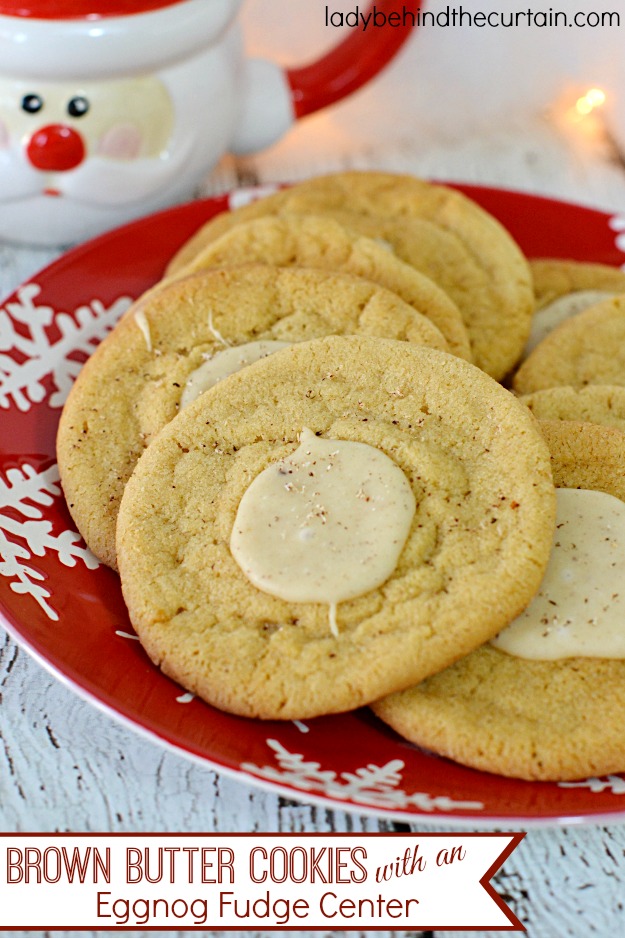 If you have never baked with brown butter you are in for a real treat!  When you brown butter it brings a completely new flavor to whatever you add it to.  I would describe it as a nutty caramel taste.  Simply outstanding.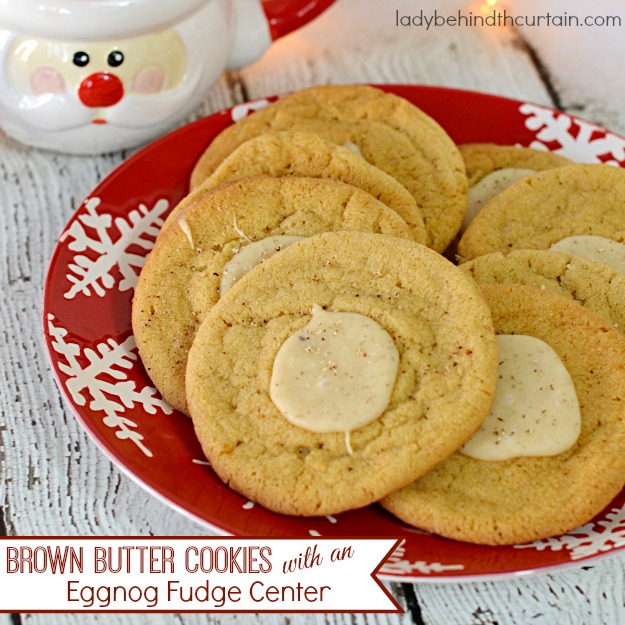 Making brown butter is super easy and takes less than 10 minutes.  For this recipe I made the brown butter the night before because I wanted it to solidify again.  The process of making brown butter is simply boiling the butter until it turns a beautiful light brown color.  I'll share more details below.
HERE'S A PICTURE OF MY BROWN BUTTER.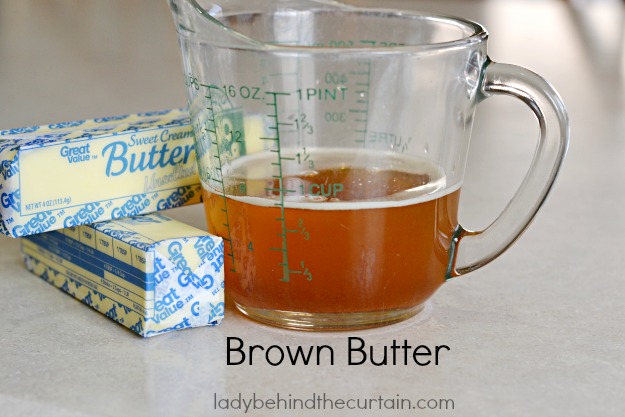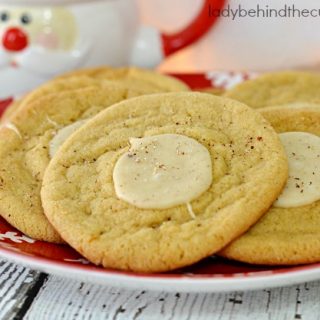 Brown Butter Cookies with an Eggnog Fudge Center
Ingredients
For the Brown Butter:
For the Cookies:
1 2/3 cups all-purpose flour
3/4 teaspoon baking powder
1/2 teaspoon baking soda
1/2 teaspoon salt
3/4 cup brown butter, softened
3/4 cup light brown sugar, packed
1/3 cup granulated sugar
1 teaspoon vanilla extract
1 large egg
For the Eggnog Fudge:
1 (12 ounce) bag white chocolate chips
1 (14 ounce) can sweetened condensed milk
2 tablespoons butter
1/2 teaspoon nutmeg
1/2 teaspoon ground cinnamon
Instructions
For the Brown Butter:
Place butter in a medium sauce pan.
Bring butter to a boil, reduce heat to medium and stir until butter turns a golden brown color (about 4 minutes).
Using a piece of cheesecloth strain butter into a measuring cup (you should end up with 3/4 cup of brown butter).
Store in refrigerator until ready to use.
For the Cookies:
Preheat oven to 375 degrees.
Line 2 cookie sheets with parchment paper.
In a medium mixing bowl stir together the flour, baking powder, baking soda and salt.
In large mixing bowl beat butter until creamy, add the sugars, vanilla and egg.
Mix until combined and creamy.
Add the flour mixture to the butter mixture and beat until combined.
Cover and refrigerate 1 hour.
Using a 1 1/2 tablespoon ice cream scoop add cookie dough in mounds to the prepared cookie sheets.
Bake 6 minutes, using the teaspoon measuring spoon make an indention in the center of each cookie.
Bake an additional 4 minutes.
AS SOON AS COOKIES COME OUT OF THE OVEN USE THE TEASPOON MEASURING SPOON AND INDENT THE COOKIES AGAIN.
Cool completely on the counter or on a cooling rack OFF of the hot cookie sheets.
For the Eggnog Fudge:
In a large microwave safe bowl add the chocolate chips, condensed milk, butter, nutmeg and cinnamon.
Microwave 1 minute, stir and microwave an additional 30 seconds.
Stir until creamy.
Add a large dollop to the center of each cookie.
Garnish with freshly grated nutmeg.
NOTE: For extra fudge line a 8x8 -inch baking dish with foil, spray with non stick cooking spray and pour fudge into prepared pan.
Place in refrigerator to harden.
MORE CHRISTMAS COOKIES
1. NO BAKE DISAPPEAR COOKIES  2. BUTTERSCOTCH PUDDING COOKIES  3. CRANBERRY ORANGE PIN WHEELS
NEVER MISS A POST!
Sign up for my newsletter and receive a FREE ebook "Top 10 Fudge Recipes from Lady Behind The Curtain" PLUS my recipes in your inbox. Easy to see anytime and saved for safe keeping. Click Here and sign up today! —->>>>CURTAIN CALL NEWSLETTER