Brownie Pretzel Bites| Your Valentine's Day Party just got a whole lot sweeter!  Sweet, salty and chocolate!  What more could you want in a dessert?  I love the combination of the decadent chewy chocolate brownies with the crunchy pretzel topping and then at the end you get a hint of salt.  PERFECT for a bake sale!  Cut them in small pieces and serve them in mini cupcake liners.
This screams TEACHERS GIFT!  Purchase small heart shaped tins ( I get mine from Dollar Tree), add liners and fill the tins with small square of these Brownie Pretzel Bites. ♥

I love the versatility of these brownie bits. Customize these treats to match your party theme or leave the melted candy and sprinkles completely off!
Ingredients
1 boxed brownie mix PLUS ingredients listed on the box
5 cups pretzels
1 bag regular or strawberry flavored marshmallows
1 jar marshmallow fluff
3 tablespoons unsalted butter
assorted candy melts
sprinkles
Instructions
For the Brownie Crust:
Line TWO 9×9 or 8×8 (which ever you have) pans with foil and let the foil hang over the sides to make it easy to lift.  Prepare and bake the brownie mix according to the box directions.  Pour brownie batter into ONE of the prepared pans.  While brownies are baking prepare the pretzel mixture.
For the Pretzel Layer:
Place pretzels in a large zip top bag, using a rolling pin crush the pretzels.   In a large sauce pan, melt butter, add marshmallows and marshmallow fluff.  Constantly stirring until the marshmallows are melted.   Once the marshmallows are melted add the crushed pretzels.  Stir until well combined , pour into the SECOND foil lined pan and press to compact the pretzel mixture.  Set aside to cool while the brownies continue to bake.
Putting the Layers Together:
When the brownies are out of the oven and still hot, take the pretzel mixture out of its pan; remove the foil and place on top of the HOT brownies.  Press down with your hands and put weights on top.  Use the pan the pretzel mixture was in and fill with heavy objects (cans, dry rice or dry beans).  Leave the weights on until the brownies have cooled completely.  When completely cooled take out of pan, remove the foil.  The brownies and the pretzel mixture have become one and should stay together.  Cut into pieces.  If desired, decorate with candy melts and sprinkles if desired.
Nutrition Information
Amount Per Serving
Calories

0
Total Fat

0g
Saturated Fat

0g
Cholesterol

0mg
Sodium

0mg
Fiber

0g
Sugar

0g
Protein

0g
Take a look at the fun party where I served these delicious Brownie Pretzel Bites!  Click here for link—->>>>OWL ALWAYS BE YOUR VALENTINE KIDS VALENTINES DAY DESSERT TABLE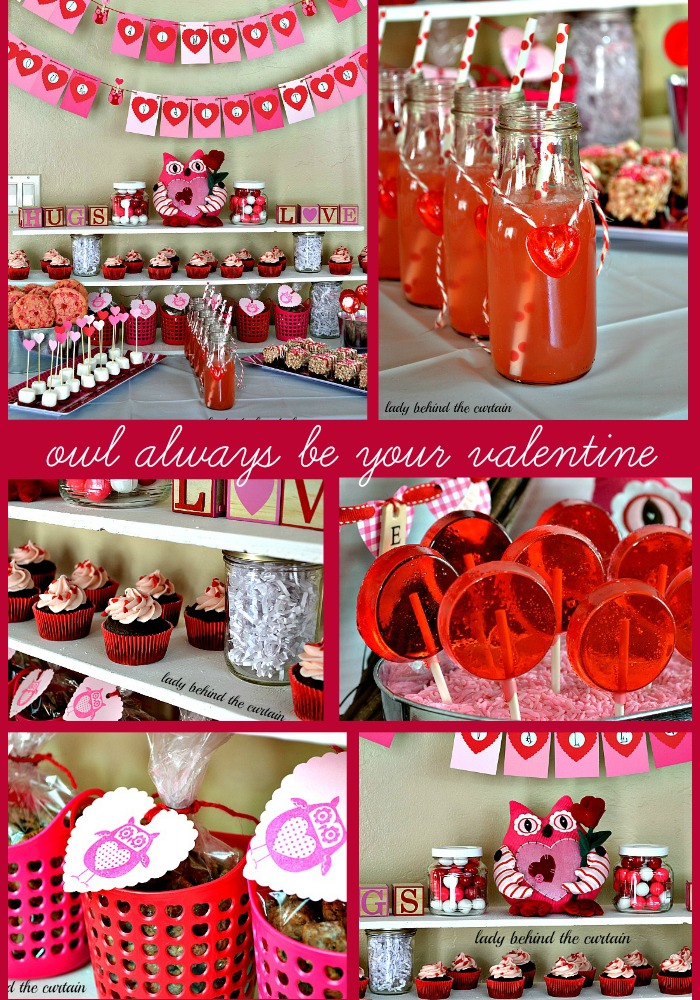 MORE VALENTINE'S DAY DESSERT RECIPES
THREE MUSKETEERS MUDDY BUDDIES  2. BE MINE VALENTINE PRETZELS 3. CHOCOLATE STRAWBERRY CUPCAKES
NEVER MISS A POST!
Sign up for my newsletter and receive my recipes in your inbox. Easy to see anytime and saved for safe keeping. Click Here and sign up today! —->>>>CURTAIN CALL NEWSLETTER