Cake Mix Sandwich Cookies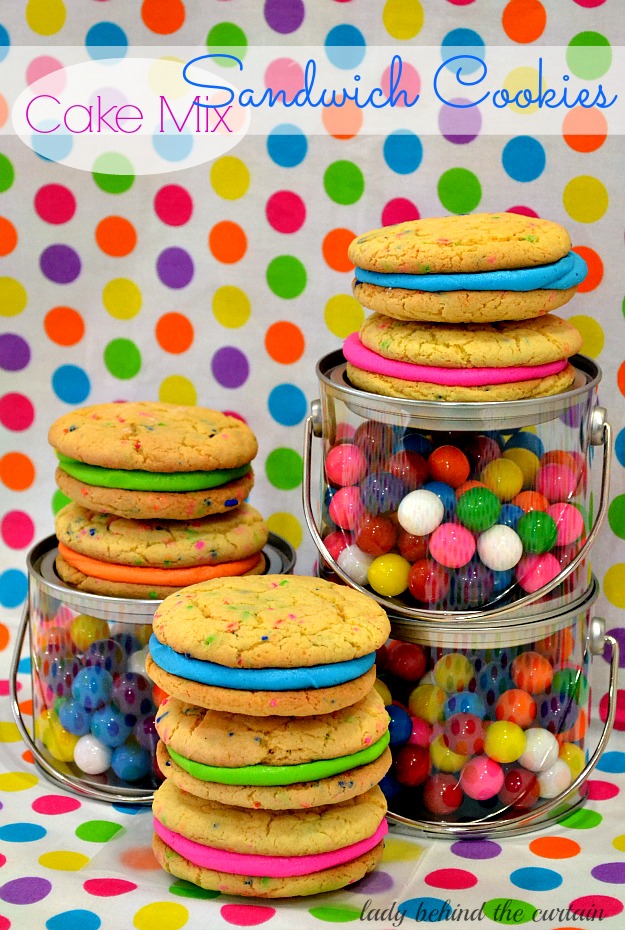 When you don't have time to make cookies from scratch use a cake mix!  These cake mix sandwich cookies are nice and chewy.  Can't get any easier than that!
I made my own frosting but in a pinch a can of frosting would totally work (not as good but would work).
Create your own Recipe Box and save your favorite Lady Behind The Curtain recipes.  Make a Meal Plan with your favorite recipes and ZipList will automatically add the ingredients to a Shopping List.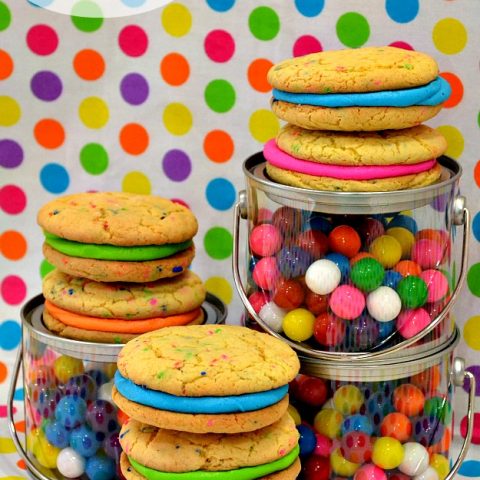 Cake Mix Sandwich Cookies
Yield:
20 Sandwich Cookies
Ingredients
For the Cookies:
1 cake mix
2 eggs
1/3 cup vegetable or canola oil
2 tablespoons sprinkles
For the Butter Frosting:
1 cup butter, softened
1 teaspoon vanilla extract
4 cups confectioners' sugar
1/2 tablespoon water
assorted gel food coloring (to match sprinkles)
Instructions
Preheat oven to 375 degrees.
Line 2 cookie sheets with parchment paper.
Mix together the cake mix, eggs, oil and sprinkles until well combined
Using a small scoop make mounds of dough and place on prepared cookie sheets.
Using the palm of your hand press the cookies into 2-1/2-inch circles.
Bake 12 minutes.
Frost one side and press the top on.
MORE CELEBRATION DESSERTS
1. RUBBER DUCKIE BABY SHOWER CUPCAKES  3. CARNIVAL POPCORN POPS  4. MAI TAI CUPCAKES  5. CARNIVAL CAKE WALK SODA CAN CUPCAKES  6. MOVIE TIME CUPCAKES  7. CELEBRATION CUPCAKES