Candy Apple Cupcake Party Favors
This shop has been compensated by Collective Bias, Inc. and its advertiser. All opinions are mine alone. #FlavorofFall #CollectiveBias
These Candy Apple Cupcake Party Favors are like getting a warm hug!  What would Fall be without sweet delicious juicy apples?  Every year my family and I go to the orchards to pick fresh apples.  Apples are a staple in my house.  Between applesauce for snacks and apple juice with meals we pretty much have some form of apples at least twice a day.  Apples are so versatile.  I have put them in savory dishes and sweet.  Today I have put them in my Candy Apple Cupcakes.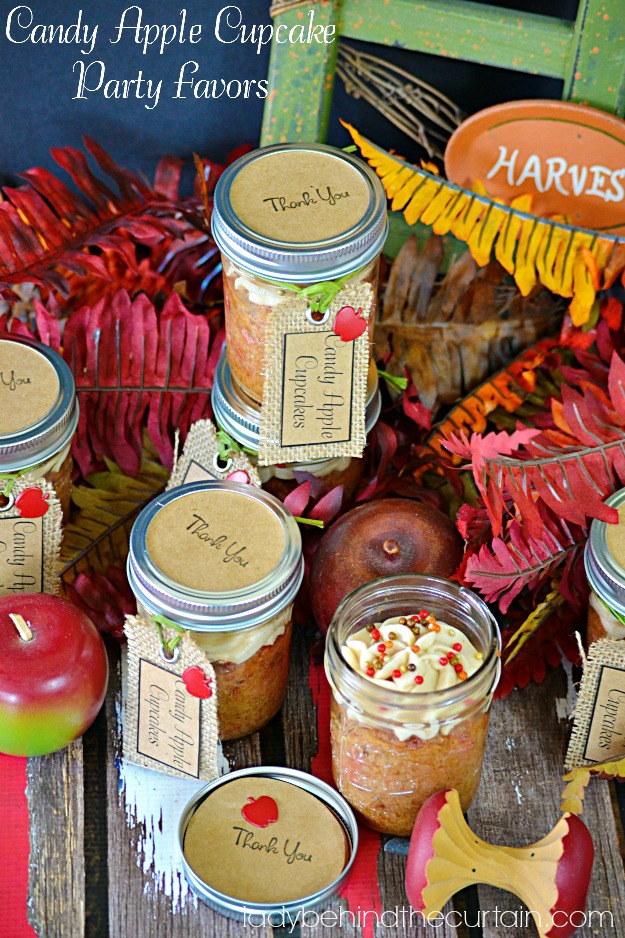 Believe it or not I have already received a notice for a bake sale at our local school.  I am also hosting a rustic themed wedding shower.  I was hoping to combine the two.  So I headed to Walmart to be inspired.  I love roaming the aisles looking for things to be inspired by.  And low and behold I found something NEW!  Candy Apple Flavored M&M's®   Ding…ding…ding the ideas came rushing in.  I could add together the candy apple flavored M&M's®, Mott's® apple sauce, chopped apple pie filling with a Mott's® apple juice reduction to create an explosion of apple goodness!.  Plus, I would top it with a Cinnamon Cream Cheese Frosting.  What a cupcake!  Then to make it even more intriguing I would bake them in half pint jars.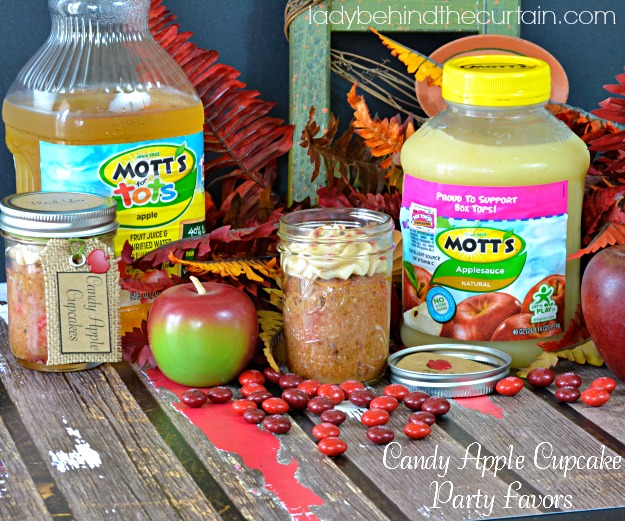 To make these Candy Apple Cupcake Party Favors suitable for a bake sale simply leave off the "thank you" stamp.  I'm confident these Candy Apple Cupcakes in a jar will be the FIRST to sell!  Plus, the guests will love getting to take something home that is homemade.  It's the perfect way to give your guests the warm hug of Fall.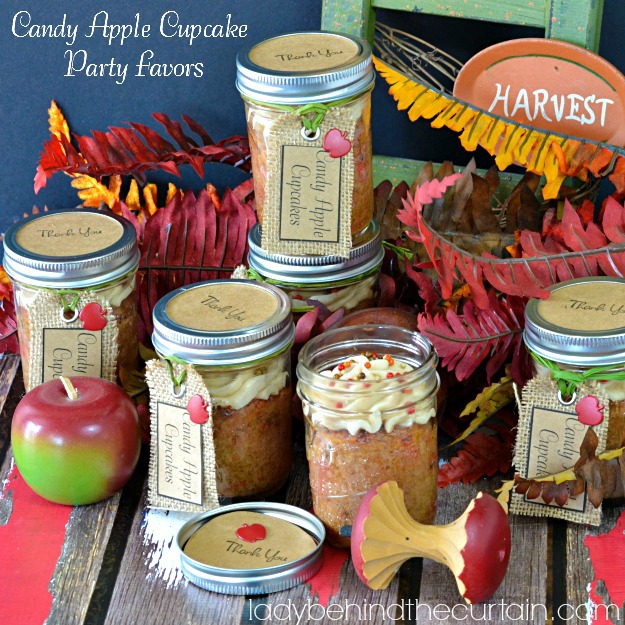 Okay, so I got the Candy Apple Flavored M&M's® now I'm off to find the Mott's® Apple Juice and Mott's® Apple Sauce.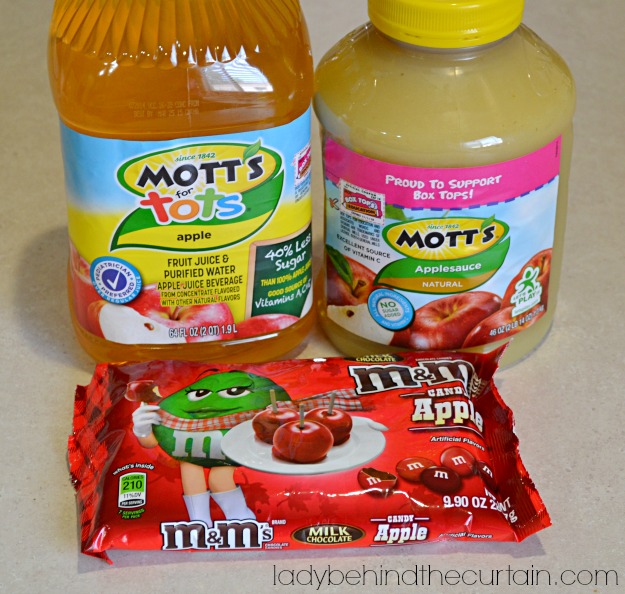 GREAT NEWS!  Before you go out to purchase your Candy Apple Flavored M&M's® , Mott's® Apple Juice and Mott's® Apple Sauce go HERE to print out some awesome money saving coupons!
Have you ever made a reduction?  It's super easy.  All I did was add double the amount of liquid (apple juice) to a small saucepan, brought the juice to a boil and boiled it on medium high until the juice was reduced into half (about 20 minutes).  It's that easy and adds so much flavor and moisture to your cupcakes.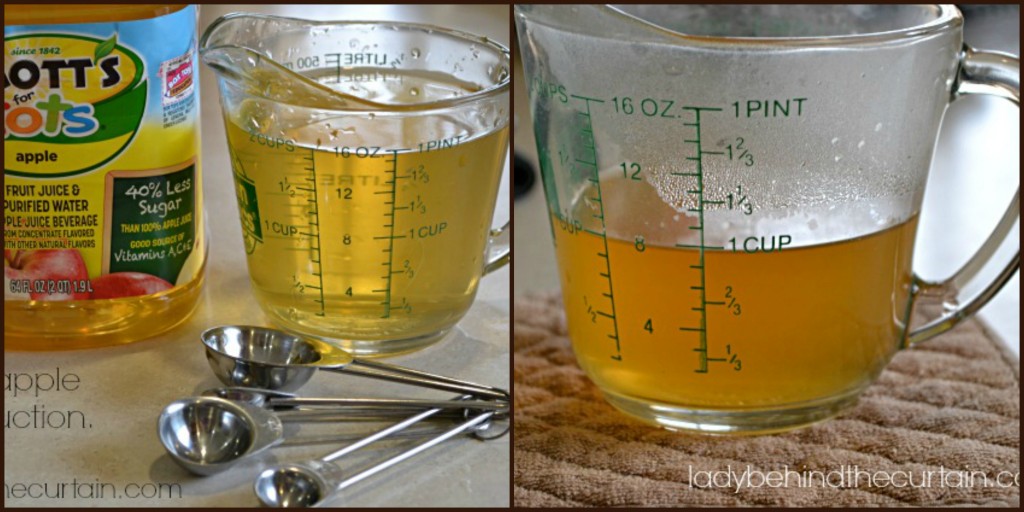 JAR TOPPER and TAG SUPPLIES
jute tags
apple shaped brads
print out  CANDY APPLE CUPCAKES tags
card stock paper (I used a light brown)
raffia (green)
thank you stamp and ink pad
double stick tape
DIRECTIONS
Measure the height of the jar to the length of the tag, trim if necessary.
Trace around the lid of the jar on to card stock paper, cut inside of the line.
Cut out printed (on the same paper as the lid cover) candy apple cupcakes tag, use double stick tape to adhere it to the tag, place apple shaped brad in the upper corner.
Tread raffia through the tag hole and tie in the back of the jar.
Place cut circle on to of lid, screw on ring, stamp "thank you" in the center.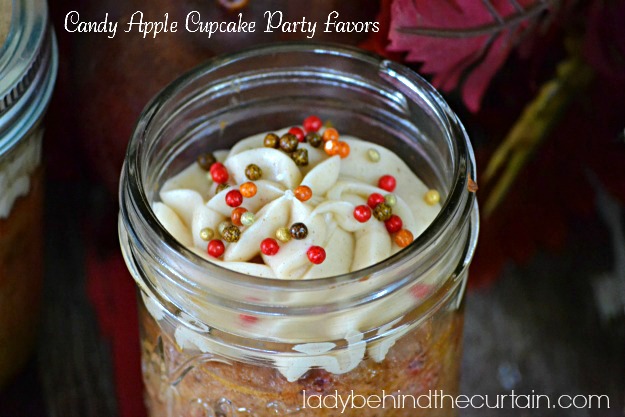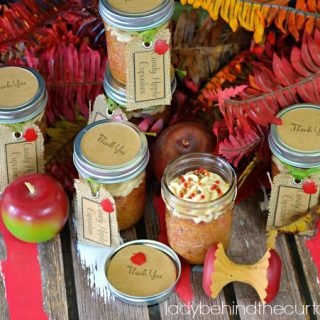 Candy Apple Cupcake Party Favors
Yield:
Makes 15 Half Pint Jars
Ingredients
For the Cupcakes:
1 spice cake mix
3 eggs
1/3 cup vegetable oil
1 cup apple pie filling (about 21 ounces)
1/3 cup Mott's Apple Sauce
1/2 cup walnuts, chopped
1/2 cup Candy Apple M&M's, cut in half
For the Reduction:
2 cups Mott's Apple Juice
Recipe for the [Cinnamon Cream Cheese Frosting|https://www.ladybehindthecurtain.com/cinnamon-cream-cheese-frosting/]:
Instructions
For the Cupcakes:
In a large mixing bowl combine the cake mix, eggs, oil, pie filling, and apple sauce.
NOTE: I used ONLY the apples from the pie filling and slightly chopped them.
Mix until well combined and creamy.
Stir in the walnuts and M&M's.
Use a heaping ice cream scoop and drop into 15 pint size jars. NOTE: To keep the jars stable I placed them in large muffin cups, you can also use a cookie sheet.
The sides of the jar will be messy.
Clean with a paper towel.
Bake 25 minutes or until a tooth pick inserted into the center comes out clean.
For the Apple Juice Reduction:
Pour 2 cups of Mott's Apple juice into a small saucepan.
Bring to a boil and simmer until juice is reduced to half (about 20 minutes).
While the cupcakes are still hot drizzle 1/2 a tablespoon to 1 tablespoon of reduction over the top of each cupcake.
Cool completely on a wire rack before adding frosting.
Add Cinnamon Cream Cheese Frosting: and Fall sprinkles.