Caramel Apple Pie Cupcakes
Caramel Apple Pie Cupcakes:  Layers of vanilla and toffee cupcakes with dulce de leche and apple pie filling tucked in between and topped with a cinnamon cream cheese frosting.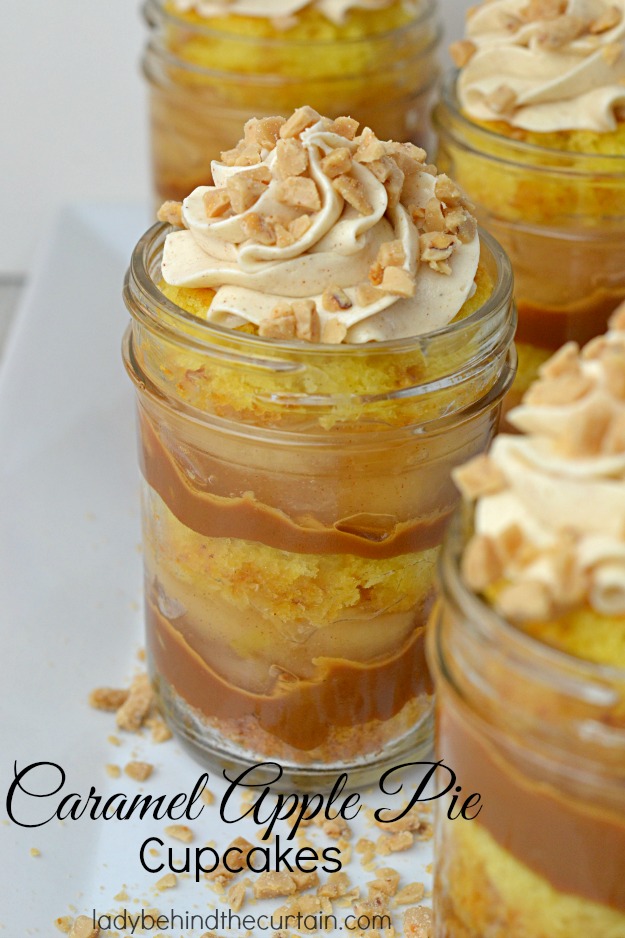 This cupcake in a jar dessert brings it!  Normally when I make dessert for a dinner party I make three kinds.  I know a little too much but I like my guests to have a variety to choose from.  This dessert can stand on it's own!  Filling and satisfying.  With a total of 1 1/2 cupcakes per dessert.  Add the lid for a delicious cupcakes to go party favor!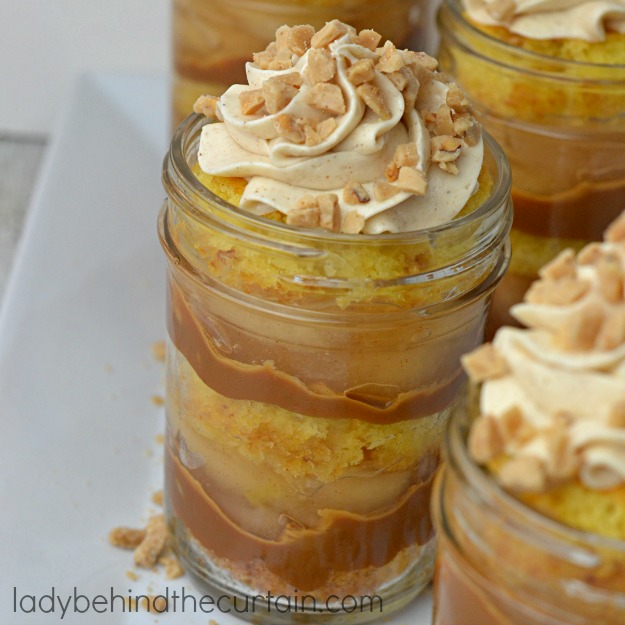 NOTE:  If you are having a hard time finding toffee bits substitute butterscotch pudding for the vanilla pudding.  That should give you a nice caramel flavor.  For the topping just heat up some of the leftover dulce de leche and drizzle on top of the frosting.  For added flavor add a sprinkle of sea salt on top of the caramel.
Yield: Fills 13 Half Pint Jars
Caramel Apple Pie Cupcakes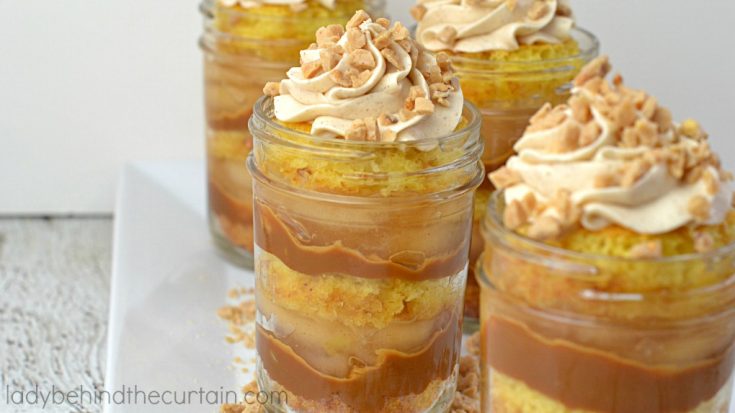 Ingredients
for the Cupcakes:
1 white cake mix
1 (3.4 ounce) box vanilla pudding mix
3/4 cup vegetable oil
3 large eggs
1 cup water
2/3 cup toffee bits
For the Fillings:
2 (14 ounce) cans dulce de leche caramel
3 (21 ounce) cans apple pie filling
For the Cinnamon Cream Cheese Frosting:
1 (8 ounce) cream cheese, softened
1/2 cup butter, softened
2 teaspoons vanilla extract
1 teaspoon ground cinnamon
5 cups confectioners' sugar
13 half pint jars
Instructions
For the Cupcakes:
Preheat oven to 350 degrees.
Line cupcake tins with 20 liners.
In a large mixing bowl add the cake mix, pudding mix, oil, eggs and water.
Mix until light and fluffy; fold in toffee bits.
Fill cupcake liners two-thirds full,.
Bake 20 to 23 minutes or until a wooden toothpick inserted into the center comes out clean.
Cool in pan 10 minutes; remove from pan and cool completely on wire rack.
When cupcakes are completely cooled slice in half horizontally.
NOTE: You may have to trim some around the top edges to fit into the jar.
Drop half a cupcake into an half pint jar; add 1 tablespoon of dulce de leche and 3 apple pie filling apples.
TIP: If the caramel is too thick (take it out of the can) pop it in the microwave 30 seconds to help drop it into the jar. I heated it enough to pour into a squeeze bottle, let it cool enough so it wasn't steaming hot and squeezed into the jar.
Add another half a cupcake, dulce de leche and pie filling.
Top with the last half cupcake, frosting and sprinkle with toffee bits.
For the Cinnamon Cream Cheese Frosting:
In a medium mixing bowl cream together the cream cheese and butter.
Whip in the vanilla and cinnamon.
Add confectioners' sugar ONE cup at a time.
MORE CUPCAKE RECIPES

1. LEMON TRUFFLE CUPCAKE SURPRISE  2. CELEBRATION CITRUS LAYERED CAKES  3. DRUMSTICK CUPCAKES