Caramelized Onion, Bacon and Asparagus Drop Biscuits
Make something NEW this year with these Caramelized Onion, Bacon and Asparagus Drop Biscuits.  These biscuits add a lot flavor to any meal.  Especially my Classic Pot Roast Dinner.  Serve these biscuits with a herb butter and you are set for a delicious moist treat.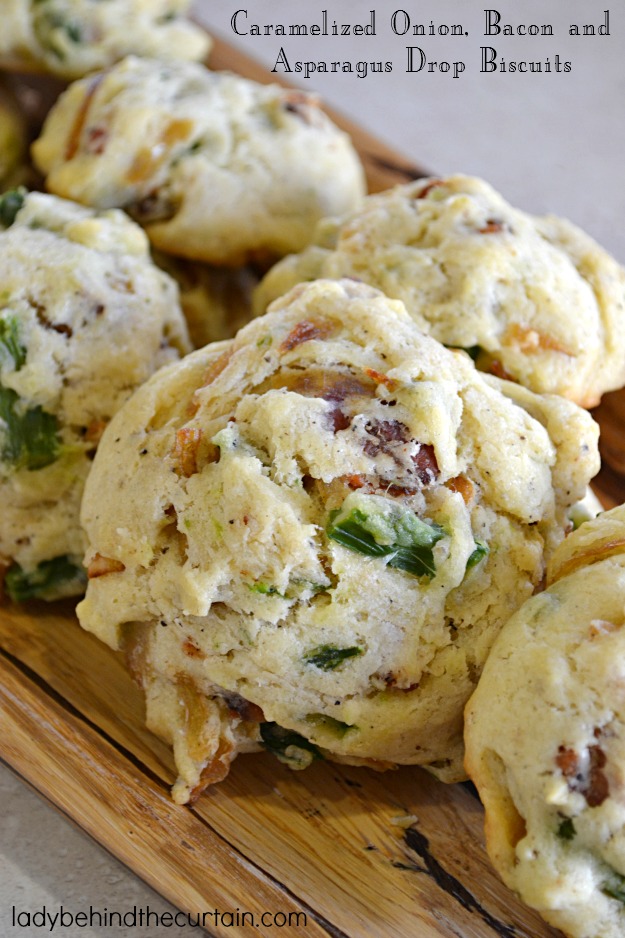 These biscuits are very versatile.  If someone in your family doesn't like asparagus you can add spinach or chopped artichoke bottoms.  Change it up to Mexican by adding green chilies and chunks of pepper jack cheese.  Simply perfect and the best part?  NO ROLLING OUT THE DOUGH!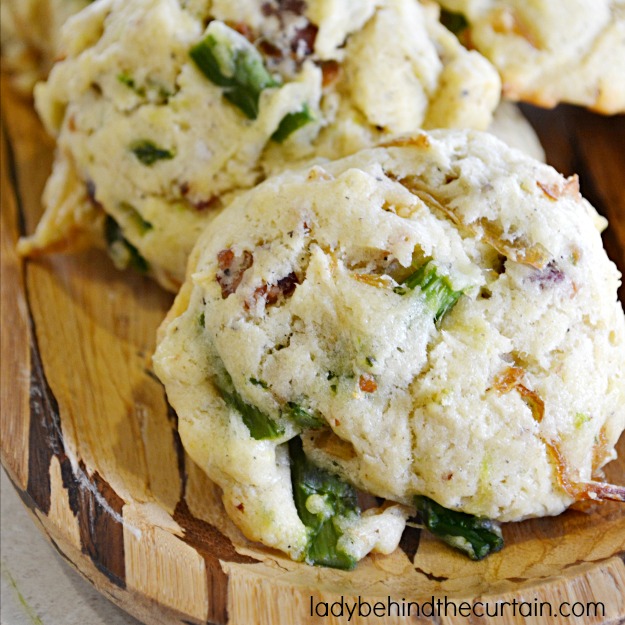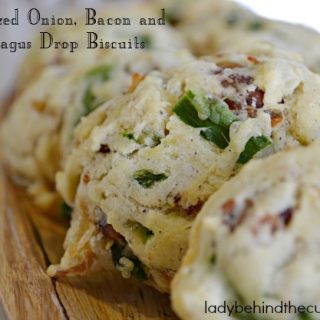 Caramelized Onion, Bacon and Asparagus Drop Biscuits
Ingredients
3 ounces bacon, cut into bit size pieces and cooked crisp - reserve the bacon grease
For the Caramelized Onions:
3 teaspoons of bacon grease
1/2 cup yellow onion, thinly sliced
1/2 teaspoon salt
2 garlic cloves, minced
For the Drop Biscuits:
1/2 cup asparagus, cut into 1-inch pieces and boiled 5 minutes and drained
2 1/2 cups all-purpose flour
2 teaspoons baking powder
1/2 teaspoon salt
1/2 teaspoon black pepper
2 large eggs, lightly beaten
3/4 cup milk
remaining bacon grease PLUS vegetable oil to measure 2/3 cup
Instructions
For the Caramelized Onions:
Add 3 teaspoons of the bacon grease (reserve the remaining bacon grease for later) to a medium skillet on medium heat.
Add onion to pan and salt.
Cook 10 minute, reduce heat to medium low and cook until the onions are golden brown (about 10 to 15 minutes).
NOTE: add garlic to the onions the last 5 minutes of cooking.
Preheat oven to 350 degrees.
In a medium bowl add the flour, baking powder, salt and pepper.
Stir to combine.
Add the eggs, milk and bacon grease plus oil to the flour mixture; stir until combined.
Fold in the onions, asparagus and bacon.
Drop batter in 12 mounds onto a cookie sheet.
Bake 20 minutes.
Serve warm from the oven or make ahead and when ready to serve, wrap the biscuits in foil and pop them in the oven until warm.