Cast Party Wednesday #146
Hello and Welcome to Cast Party Wednesday.  Summer is in full swing and I know you are busy with summer activities so I really appreciate you stopping by to share your amazing creations.
I'm excited to announce the birth of our 3rd grandchild and first boy.  Jackson!  I've been busy kissing those adorable feet and as my daughter puts it "baby hogging".  🙂
If you haven't heard, I opened up my Cast Party Wednesday Pinterest Board to ALL participants of Cast Party Wednesday.
I only need you to do 2 things.
1.  Follow me on Pinterest (I can't invite you unless you are following me).
2.  Send me an email (sheryl@ladybehindthecurtain.com) letting me know you have followed me with the email address you use for Pinterest (I need that to invite you).
THANKS  🙂
It's time for Cast Party Wednesday!  You know what that means?  Time to celebrate our hard work and the wonderful creations that have come from it.  PLEASE feel free to add as many posts as you like.  I love it when creative minds come together!  Forget about the rules lets just HAVE FUN!
THANK YOU FOR VISITING LADY BEHIND THE CURTAIN AND CAST PARTY WEDNESDAY!
Today I am sharing a fun Flag Pull Apart.  Just in time for 4th of July!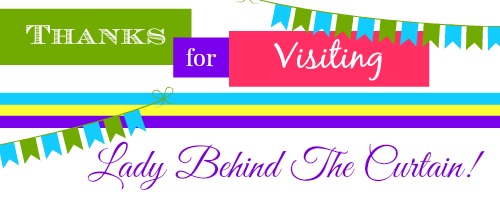 LET'S PARTY!