Cast Party Wednesday: Link Party #30
Hi Everyone and WELCOME to another CAST PARTY WEDNESDAY!!! THANK YOU for visiting LADY BEHIND THE CURTAIN.  I LOVE looking at all the creative and tasty recipes you bring to the party!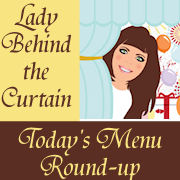 THIS WEEKS MENU ROUND UP
Menu #1
BREAKFAST
Apple Fritters by Life is Sweets, Pineapple Mango Juice by Let Birds Fly
LUNCH
Chinese Chicken Tangerine Salad by Sumptuous Spoonfuls
DINNER
Pork Roast, Sweet Potatoes and Fried Apples by A Pinch of Joy
DESSERT
Cupcake Topped with Rainbow Cupcakes by Crazy for Crust
Menu #2
BREAKFAST
French Breakfast Muffins by Talking Dollars & Cents, Triple Berry Muffins by Young Living Oil Lady, Chocolate Chocolate Chip Muffins by 365 Days of Baking
LUNCH
Herb Pepperoni Grilled Cheese Sandwich by Sumptuous Spoonfuls
DINNER
Orange Glazed Chicken by Just Winging It, Cheddar Bacon Stuffed Mushrooms by Mrs. Happy Homemaker
DESSERT
 Carrot Cake Cake Balls by Kristin's kNook
Menu #3
BREAKFAST
Snickerdoodle Donuts by Sweet Mornings, Homemade Donuts by Beautiful Chaos, Baked Chocolate Donuts by A Little Nosh
LUNCH
Taco Soup by My Blog Review
DINNER
Crispy Baked Tilapia by Girls and Their Meals
DESSERT
Bittersweet Chip Coffee Ice Cream By Sugar Beams
CONGRATULATIONS TO THE FEATURED RECIPES FROM LAST WEEKS CAST PARTY WEDNESDAY #29!!!
TODAY I AM SHARING MY APPETIZER SANDWICHES!
Now you can make your own slider sized buns!  These are so much better then the pre-made ones you buy at the store plus they are REALLY easy and cheap to make.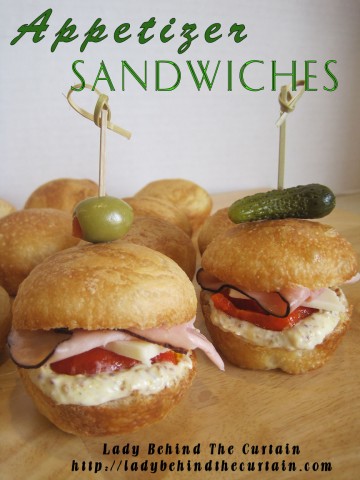 I HAVE A FEW RULES I WOULD LIKE YOU TO FOLLOW
1. RECIPES ONLY PLEASE (Must be made by you)
2. You may post as many recipes as you like after all this is a party! Right?
3. Link up to your specific post not to your main blog.
4. A link back to this website must appear somewhere on your post or side bar. A Link Back qualifies you to be a featured blog for the following week.
5. Visit some of the other posts and leave a nice comment. Everyone loves a comment.
That's It!
NOW GRAB A BUTTON and LET'S PARTY!!!!!