Cast Party Wednesday: Link Party #34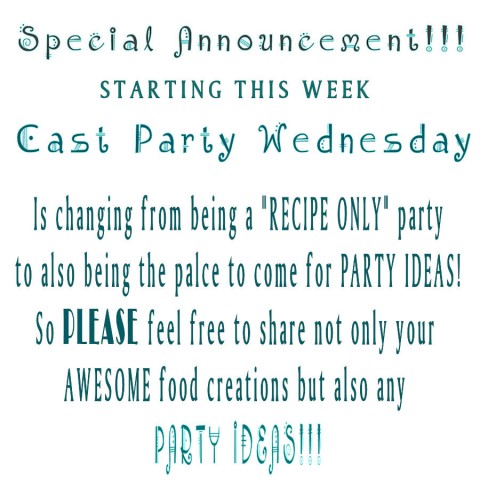 Hi Everyone and WELCOME to another CAST PARTY WEDNESDAY!!!   THANK YOU for visiting LADY BEHIND THE CURTAIN.  I LOVED looking at all the creative and tasty recipes you brought to the party last week.  I am so EXCITED about  the changes to our party!!!   I not only LOVE to cook but I also LOVE to create FUN PARTIES!!!  So I thought it would be fun to add party ideas to "our" party.
If you missed last weeks Today's Menu Round Ups Here is the links for those.
MENU #1
Caramelized Onion Quiche by Home Cooking; Corn & Bacon Empanadas with Orange Infused Honey by Gallery Kitchen; Loaded Potato & Buffalo Chicken Casserole by Cook Lisa Cook; Low Fat Apple Berry Granola Crisp by Sumptuous Spoonfuls
MENU #2
Copy Cat Krispe Kreme by Home Grown Beanes; Potato Crusted Fresh Mozzarella Pizza by Whole Lifestyle Nutrition; Honey Cashew Chicken by Feeding My Temple; 108 Oreo Cookies in a Cake by Something Swanky
MENU #3
Cream Cheese Cinnamon Rolls by Chocolate, Chocolate and More; Grilled Pizza by Mrs. Green Jeans; Rosemary Soft Pretzels by Will Cook For Smiles; Sausage with Penne and Vodka Sauce by What's Cooking Love?; Peanut Butter Cup Popcorn by Five Little Chefs
CONGRATULATIONS to TODAY'S MENU ROUND UP featured recipes! Thank You for sharing your recipes with us at Cast Party Wednesday #33!
TODAY I AM SHARING!
Easter Table:  Learn how to make yarn grass!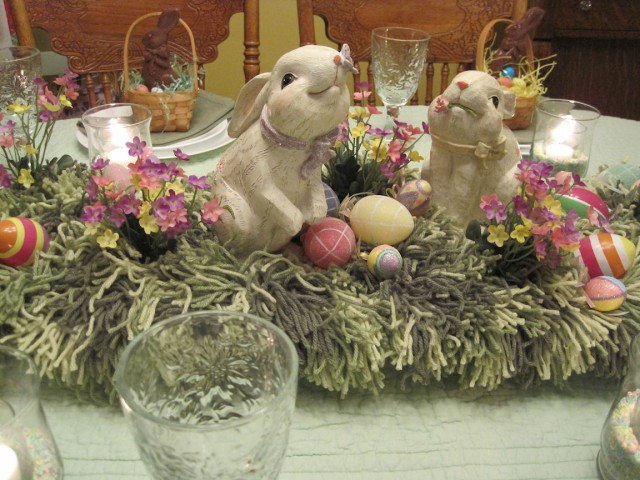 Mini Carrot Cakes:  Set these cute cakes at each place setting!
LET'S HAVE SOME FUN!  PLEASE SHARE YOUR AWESOME RECIPES AND YOUR PARTY IDEAS!!!  🙂
I HAVE A FEW RULES I WOULD LIKE YOU TO FOLLOW
1. THIS PARTY IS FOR RECIPES AND PARTY IDEAS ONLY  (Must be made by you)
2. You may post as many recipes or party ideas as you like after all this is a party! Right?  But PLEASE if you have already posted a recipe or party idea from past weeks  DO NOT post it again.  Your post MUST be a NEW post to this party.  🙂
3. Link up to your specific post not to your main blog.
4. A link back to this website must appear somewhere on your post or side bar. A Link Back qualifies you to be a featured blog for the following week.
5. Visit some of the other posts and leave a nice comment. Everyone loves a comment.
THAT'S IT!
NOW GRAB A BUTTON and LET'S PARTY!!!!!