Cast Party Wednesday: Link Party #42
WELCOME to another CAST PARTY WEDNESDAY!  I'm so glad you decided to join us!
HERE ARE ALL THE FEATURED RECIPES AND PARTY IDEAS FROM CAST PARTY WEDNESDAY #41.
CONGRATULATIONS TO YOU ALL!!!
Today I am sharing two ideas from my Red, White and Blue Celebration!
IT'S PARTY TIME!  Whose bringing the pie?  Make your next cherry pie extra special by making a small hand held pie.  Everyone will love having their own piece of pie in a cute hand made pouch.  These pies can be made with a ready made pie crust or one from scratch!  So easy and DELICIOUS!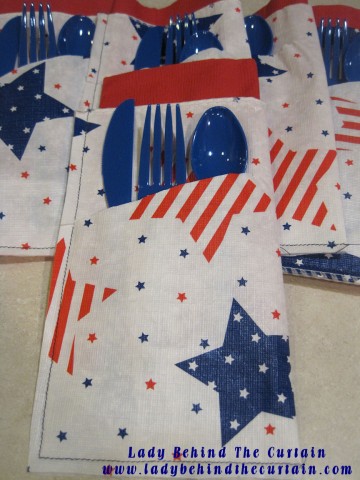 Keep cutlery and napkins in one place for barbecues, picnics or any other party!
LET'S HAVE SOME FUN!
PLEASE SHARE YOUR AWESOME FOOD RECIPES AND PARTY IDEAS!!! 🙂
I HAVE A FEW RULES I WOULD LIKE YOU TO FOLLOW
1. THIS PARTY IS FOR FOOD RECIPES AND PARTY IDEAS ONLY (Must be made by you)
2. You may post as many recipes or party ideas as you like after all this is a party! Right? But PLEASE if you have already posted a recipe or party idea from past weeks DO NOT post it again. Your post MUST be a NEW post to this party. 🙂
3. Link up to your specific post not to your main blog.
4. A link back to this website MUST appear somewhere on your post. A TEXT LINK, BUTTON, SIDEBAR. OR A LIST is fine with me.
5. Visit some of the other posts and leave a nice comment. Everyone loves a comment.
THAT'S IT!
NOW GRAB A BUTTON and LET'S PARTY!!!!!