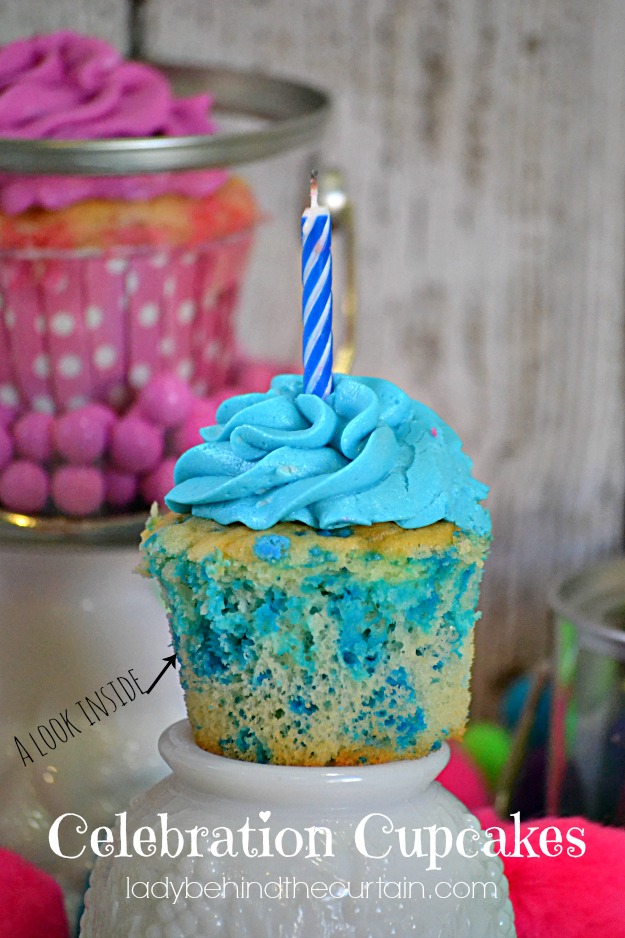 Is a celebration in your near future?  Take these celebration cupcakes!  They are easy to make and so colorful.
Co ordinate the colors of your cupcake liners, sprinkles, frosting and candy to make an eye catching statement.
There really is no "special" recipe for these cupcakes.  It's all about color.
The cute polka dot cupcake liners are really candy cups from Shop Sweet Lulu.
If you're wondering where I found the clear paint containers…I found them at Michaels on the isle with the gift bags and tissue paper.
Create your own Recipe Box and save your favorite Lady Behind The Curtain recipes.  Make a Meal Plan with your favorite recipes and ZipList will automatically add the ingredients to a Shopping List.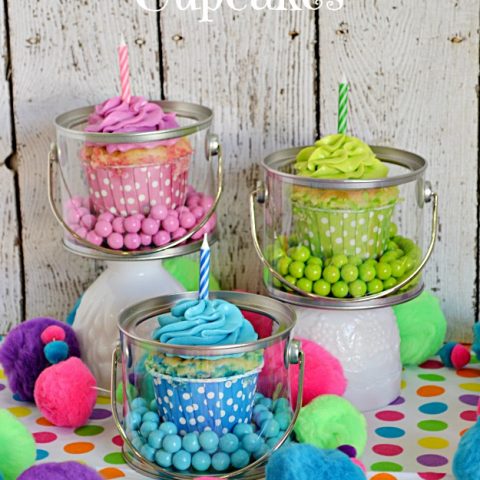 Celebration Cupcakes
Ingredients
For the Vanilla Cupcakes:
1 (15.25 ounce) box vanilla cake mix plus the ingredients to make cupcakes
2 tablespoons sprinkles per color (total of 6 tablespoons)
For the Vanilla Butter Frosting:
3/4 cup butter, softened
1 teaspoon vanilla extract
4 cups confectioners' sugar
2 tablespoons milk
Gel food coloring- electric green, electric blue and fushia
Instructions
For the Cupcakes:
Follow the box directions for cupcakes.
Divide batter into three bowls.
Add one color of sprinkles to each bowl.
Bake according to the package directions.
TIP: Pay attention. Make sure you are adding the same sprinkle colored batter to the same color of liner.
For the Vanilla Butter Frosting:
Mix butter until light and fluffy about 5 minutes.
Add the vanilla and mix until combined.
Add the sugar 1 cup at a time.
If frosting is too thick for piping add milk 1 tablespoon at a time.
Mix until creamy about 3 minutes.
Divide the frosting into 3 batches.
Add one color to each bowl, stir to combine.
Pipe onto the cupcake with the same color wrapper and sprinkles.
MORE CELEBRATION DESSERTS
1. RUBBER DUCKIE BABY SHOWER CUPCAKES  3. CARNIVAL POPCORN POPS  4. MAI TAI CUPCAKES  5. CARNIVAL CAKE WALK SODA CAN CUPCAKES  6. MOVIE TIME CUPCAKES  7. CELEBRATION CUPCAKES