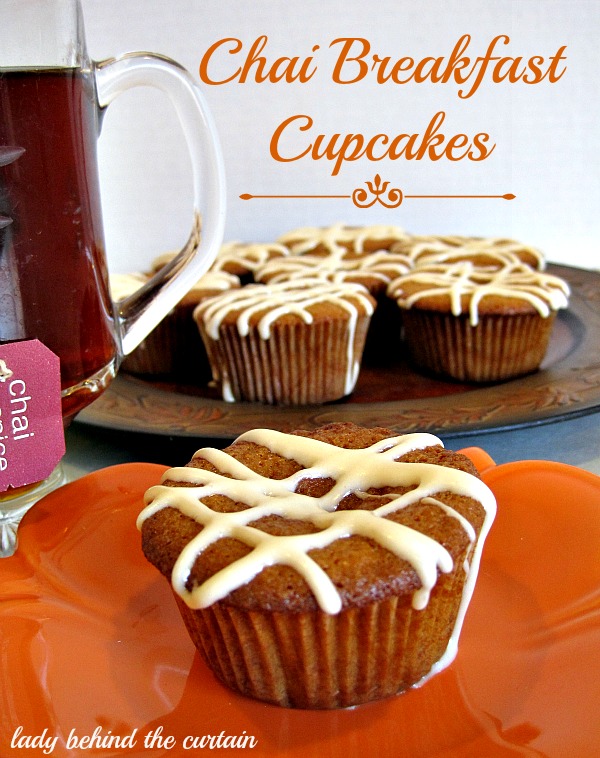 WAKE UP and smell the tea with chai breakfast cupcakes!  Because I am not a coffee drinker I LOVE tea and I LOVE the chai tea from Starbucks.  So here's a treat for all you tea drinkers.  For an on-the-go breakfast, brunch, Christmas morning, Thanksgiving morning, New Year's Day morning or a bake sale these chai breakfast cupcakes would be PERFECT! 
BAKE THEM NOW AND FREEZE FOR LATER!
These cupcakes freeze beautifully so you can make them before the chaos of the holidays get here.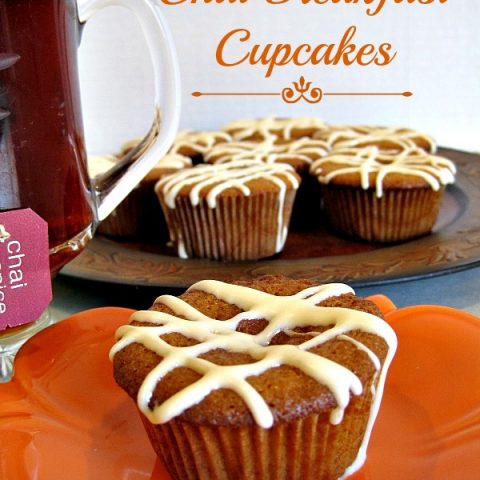 Chai Breakfast Cupcakes
YES! A Cupcake for BREAKFAST!
Ingredients
For the Cupcakes:
1-1/2 cups all-purpose flour
1/2 cup whole wheat flour
1-1/2 teaspoons baking powder
1/2 teaspoon baking soda
1/2 teaspoon ground ginger
1/4 teaspoon salt
1-1/4 cups milk
4 chai tea bags
1/2 cup butter, softened
1-1/2 cups sugar
1/2 teaspoon vanilla
2 eggs
3/4 cup maple-flavored granola or granola with dried fruit
For the Chai-Cream Cheese Icing:
3 ounces package cream cheese, softened
2 tablespoons butter, softened
1 teaspoon vanilla
1-1/4 cups powdered sugar
1 tablespoon strong brewed chai tea, divided
Instructions
For the Cupcakes:
Preheat oven to 350 degrees.
Line twenty-four muffin cups with paper bake cups; set aside.
Stir together flours, baking powder, baking soda, ginger, and salt; set aside.
In a small saucepan heat milk just until simmering.
Remove from heat.
Add tea bags; steep for 5 minutes.
Remove tea bags, pressing bags to release liquid back into saucepan.
Set aside to cool.
Beat butter until fluffy.
Add sugar and vanilla; beat until well mixed.
Add eggs, one at a time, beating well after each addition.
Alternately add flour mixture and milk mixture to beaten mixture, beating on low speed after each addition just until combined.
Spoon into prepared muffin cups, filling each about two-thirds full. Sprinkle with granola.
Bake for 15 to 20 minutes or until a toothpick inserted in centers comes out clean.
Remove cupcakes from muffin cups; cool on a wire rack.
If desired, drizzle with Chai-Cream Cheese Icing.
For the Chai-Cream Cheese Icing:
Cream together cream cheese, butter and vanilla; beat until light and fluffy.
Gradually beat in powdered sugar.
Whisk in enough cooled strong brewed chai tea, 1 teaspoon at a time, to reach drizzling consistency.
Notes
Better Homes and Gardens Fall Baking 2011