Cherry Almond Cupcake Pull Apart
This Cherry Almond Cupcake Pull Apart is full of cherry flavored chips and made with a cake mix and 7-Up.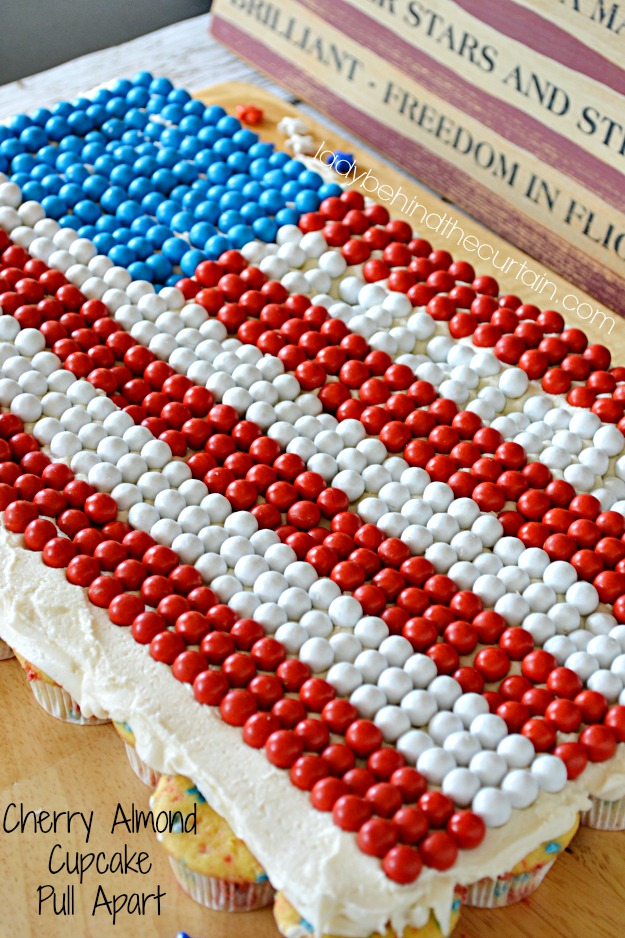 Making a pull apart cake is easy.  All you do is line up the cupcakes as close as possible and spread frosting over the whole thing as if it were a cake.  To your guests surprise there are 4 dozen mini cupcakes hidden under the frosting.
Celebrate the great red, white and blue with this fun Cherry almond cupcake Pull Apart!  To give this pull apart it's festive look I used red, white and blue Sixlets from SweetWorks.  I love using Sixlets not only for decorating sweets but also for decorating my table.  You can get them in any color and they taste great too!  Like malt balls.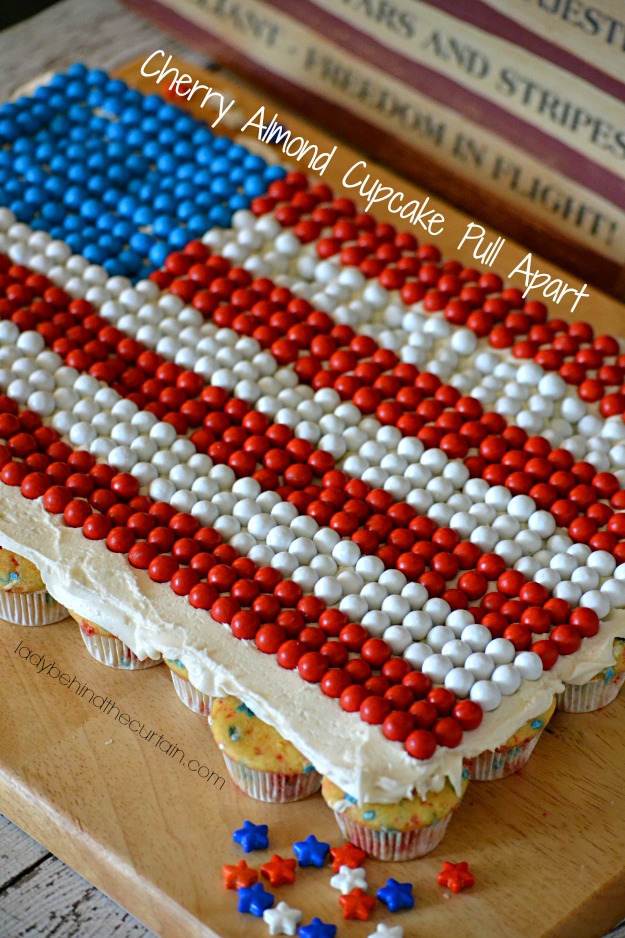 For this pull apart you will approximately 312 red Sixlets, 312 white Sixlets and 108 blue Sixlets.
To make this pull apart, line up the cupcakes as close as possible.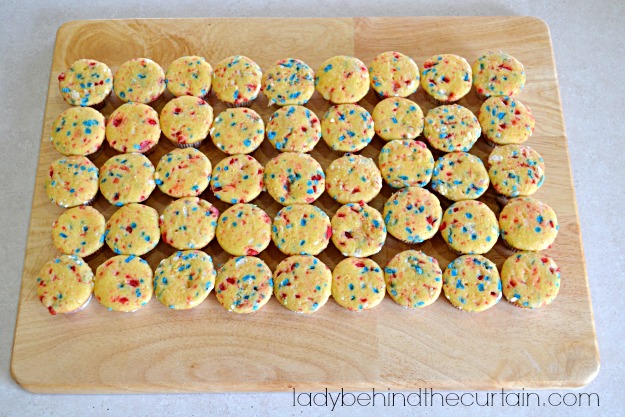 Pipe or spread on frosting like you would a cake ( as one piece).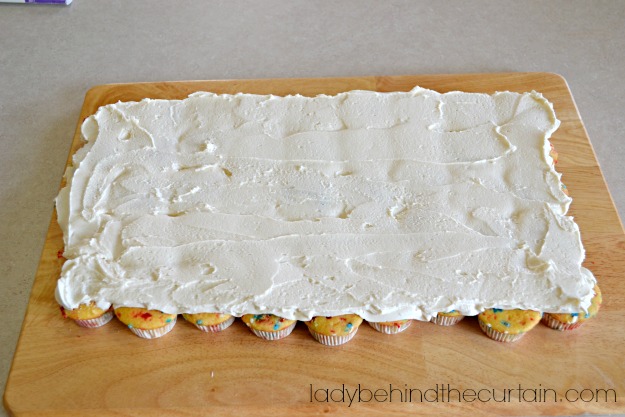 Decide where you want the blue area to be.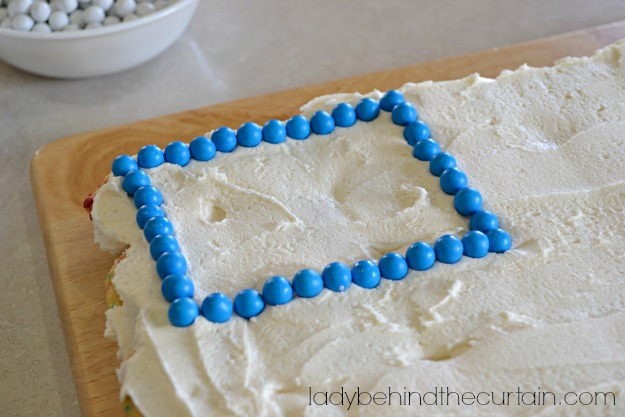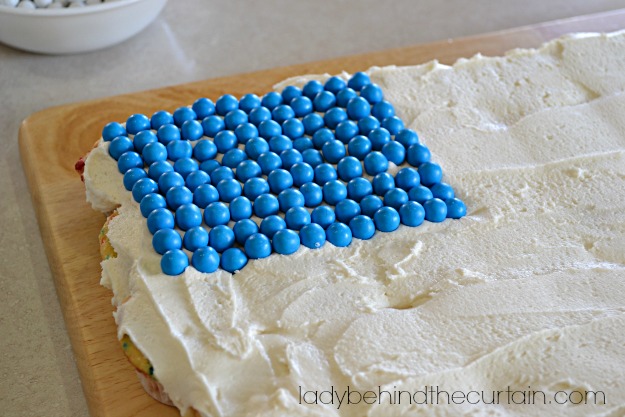 Fill in the blue and then the strips.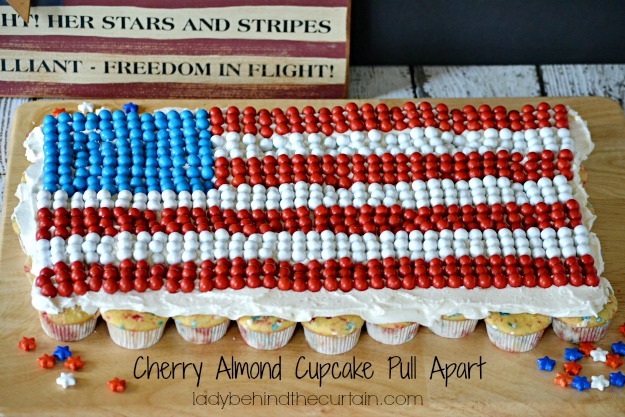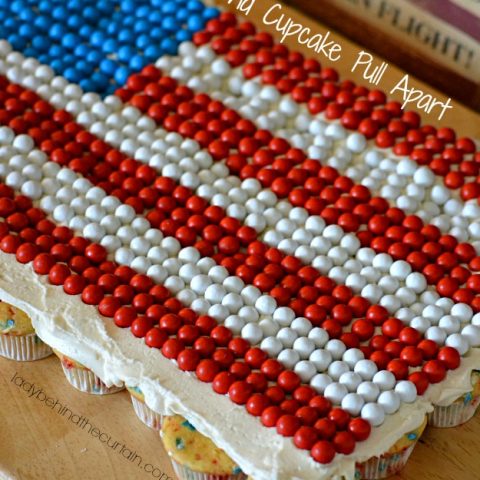 Cherry Almond Cupcake Pull Apart
Yield:
Makes 45 Mini Cupcakes
Ingredients
For the Cupcakes:
1 yellow cake mix
12 ounces 7-Up
1 teaspoon almond extract
3/4 cup cherry chips, chopped
1 1/2 tablespoons blue sprinkles
1 1/2 tablespoons white sprinkles
For the Butter Frosting:
3/4 cup butter, softened
2 teaspoons vanilla extract
6 cups confectioners' sugar
4 tablespoons milk
Instructions
Preheat oven to 350 degrees.
Line mini cupcake tins with 48 liners.
Add the cake mix, 7-Up and almond extract to a medium mixing bowl.
Mix until combined; add chips and sprinkles.
Beat to combine.
Fill lined cupcake tins 3/4 full.
Bake 12 to 14 minutes of until a toothpick inserted into the center comes out clean.
Cool in the pan 10 minutes, transfer to a wire rack and cool completely.
For the butter Frosting:
Cream butter until light and fluffy; add vanilla and combine.
Add sugar 1 cup at a time adding milk as needed until the correct consistency is reached.
Spread onto the cupcakes with an offset spatula.
decorate with red, white and blue Sixlets.
MORE PULL APART CUPCAKE IDEAS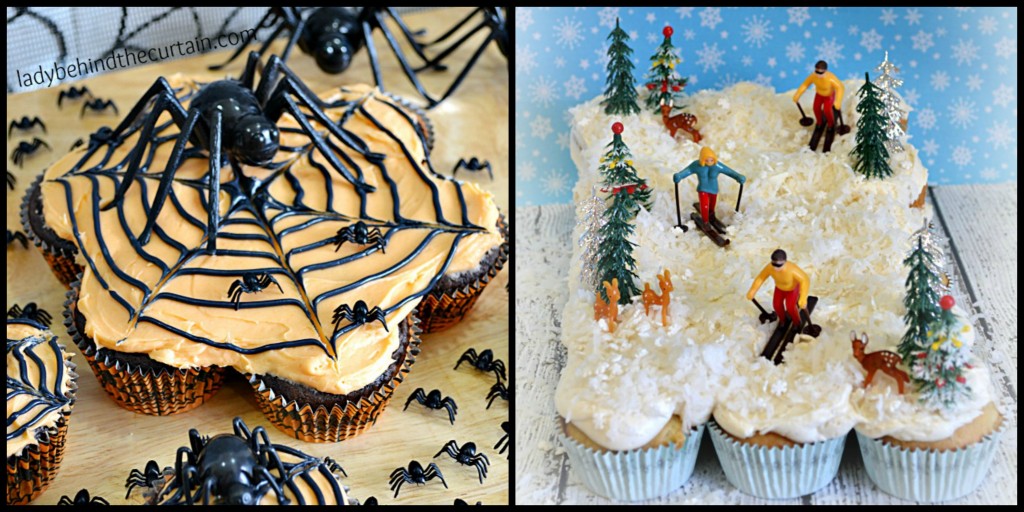 1.  MOMMA SPIDER PULL APART CUPCAKES  2. WHITE CHOCOLATE RASPBERRY CUPCAKES