Cherry Brownie Cookies with Cherry Cream Cheese Drizzle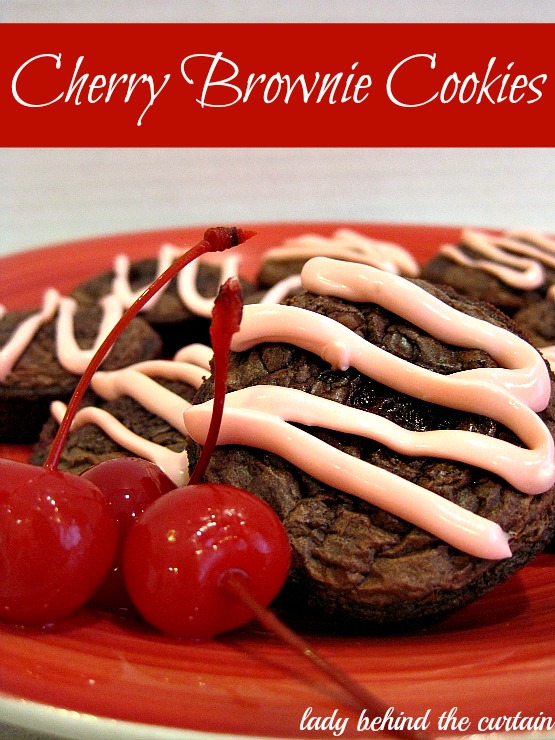 Chewy and full of chocolate with a pop of cherry sweetness!  That's what you get when you bite into these yummy morsels.
Cherry Brownie Cookie Recipe
Ingredients
1 boxed brownie mix
1/4 cup flour
1/4 cup vegetable oil
3 tablespoons cherry juice from the maraschino cherry jar
2 eggs
1-10 ounce jar maraschino cherries, drained and sliced in half
cooking spray
1 Cherry Cream Cheese Drizzle recipe *below
Directions
Preheat oven to 350 degrees.
Combine the brownie mix, flour, oil, cherry juice and eggs.  Mix until combined.  Fold in the sliced cherries.
Spray 24 muffin cups with cooking spray.  Spoon 1 tablespoon of batter into each muffin cup.  Bake 9 to 12 minutes.  Until tops are set.  Just like brownies you DON'T want to over bake these cookies.  Once cookie are out of the oven run a small knife around the edge of each cookie to loosen them from the pan while they continue to cool.  Cool Completely in muffin pans.  Using your small knife pop them out of the muffin cups.
Cherry Cream Cheese Drizzle Recipe
Ingredients
4 ounces cream cheese, at room temperature
4 tablespoons powdered sugar
2 tablespoons cherry juice
Directions
Blend the cream cheese until fluffy.  Add the powdered sugar and blend until well combined.  Add cherry juice 1 tablespoon at a time.
Place drizzle in a plastic zip top bag.  Clip the corner and drizzle over your cookies.  NOTE:  I wanted my drizzle to be thick if you want it to be more like a glaze then add more cherry juice.
This is a LBC original!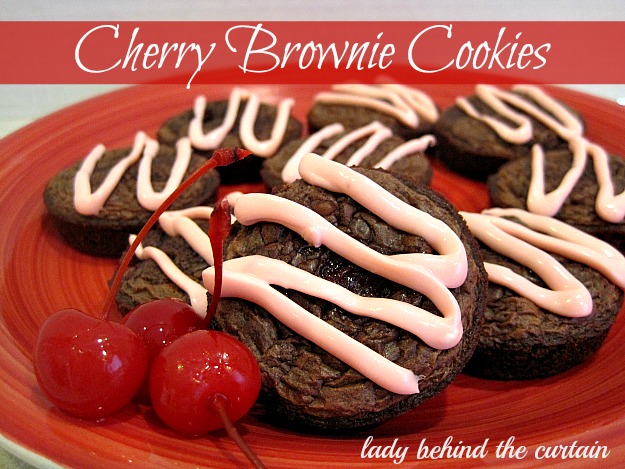 OTHER GREAT BROWNIE RECIPES!