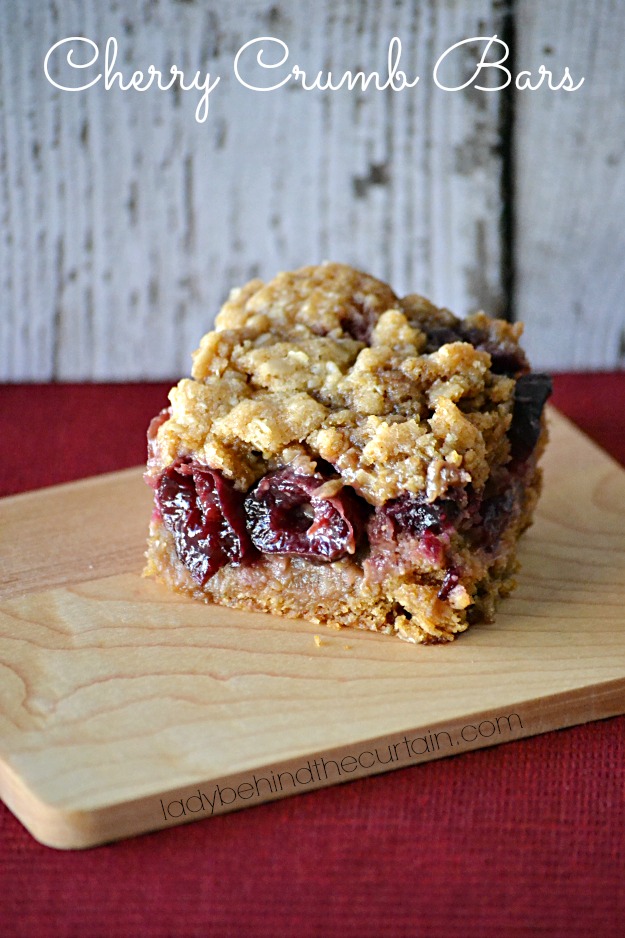 Pot lucks, church social, backyard barbecue you name it these cherry crumb bars is the dessert to bring!
Made with a store bought oatmeal cookie mix and some simple ingredients.  Easy and delicious too!  PERFECT!  🙂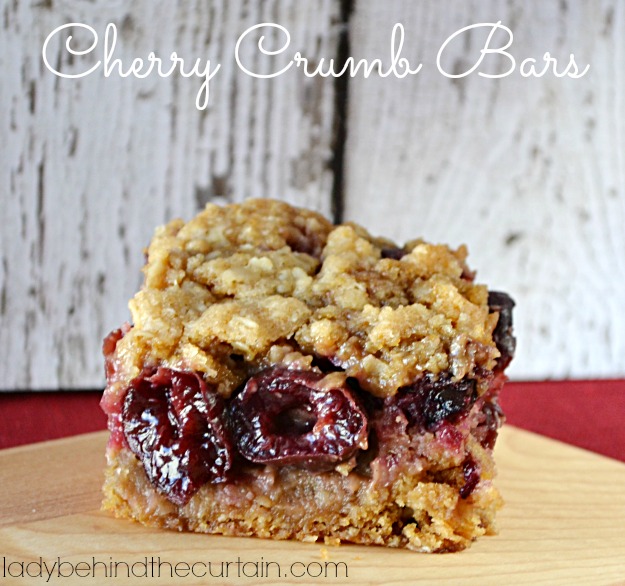 Create your own Recipe Box and save your favorite Lady Behind The Curtain recipes.  Make a Meal Plan with your favorite recipes and ZipList will automatically add the ingredients to a Shopping List.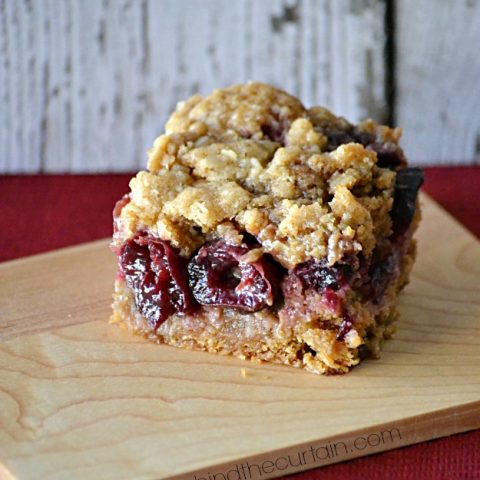 Cherry Crumb Bars
Total Time:
1 hour
5 minutes
Ingredients
17.5 ounce package oatmeal cookie mix
1/2 cup butter
1 egg, lightly beaten
1 teaspoon vanilla
1/2 teaspoon almond extract
16 ounce package frozen unsweetened pitted tart red cherries, thawed and drained
1/4 cup granulated sugar
Instructions
Preheat oven to 350 degrees.
Line a 9x9x2-inch baking pan with foil and lightly spray with non stick cooking spray.
Add cookie mix and butter to a medium bowl.
Using your fingers or a pastry blender, mix until the mixture resembles coarse crumbs.
Reserve 1 cup of oatmeal mixture.
To the remaining oatmeal mixture add the egg, vanilla and almond extract.
Mix until well combined.
Press mixture evenly into the bottom of the prepared baking pan.
In a medium bowl stir together cherries and sugar; spoon evenly over pressed mixture.
Sprinkle with reserved oatmeal mixture.
Bake 45 minutes or until golden.