Chocolate Banana Breakfast Cookies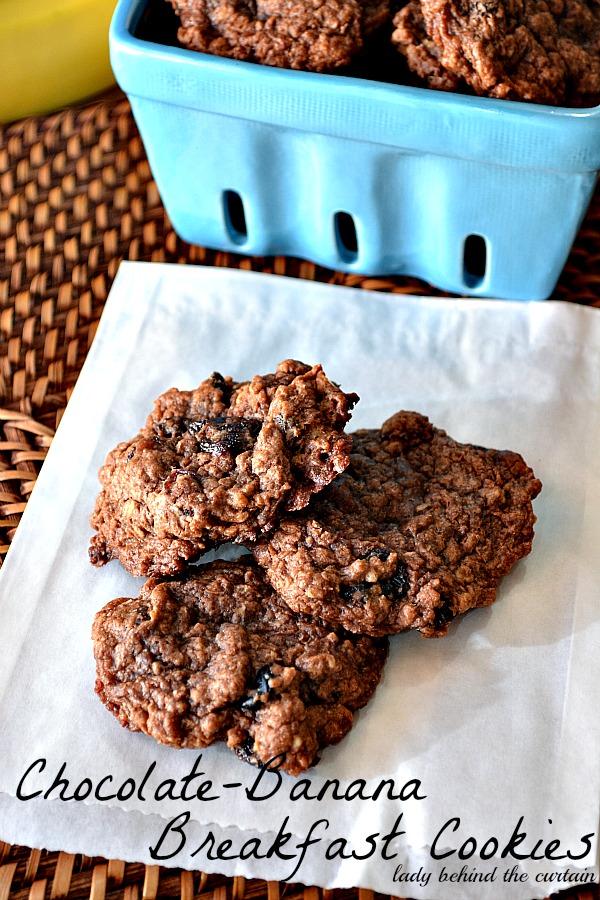 For a quick grab-n-go breakfast take a couple of these breakfast cookies.  Made with oats and whole wheat these breakfast cookies will keep you going.  But you don't have to wait for breakfast they also make a great snack.
Chocolate Banana Breakfast Cookie Recipe (makes 17 cookies)
Ingredients
1/2 cup mashed banana
1/2 cup chocolate hazelnut spread (Nutella)
1/2 cup brown sugar, packed
1 teaspoon vanilla extract
1/2 cup raisins
1/2 cup dried mixed berries
1/2 cup quick rolled oats
1/2 cup whole wheat flour
1/4 cup nonfat dry milk
Directions
Preheat oven to 350 degrees.  line baking sheet with parchment paper or spray with non stick spray.
Stir together banana, chocolate, brown sugar and vanilla.  Add raisins, dried berries, oats, flour and dry milk; stir well to mix.  Drop by a spoonful onto prepared baking sheets; slightly flatten cookies with the bottom of your hand dampened with water.  Bake 12-14 minutes.  This recipe was adapted from Studio5.com