Chocolate Cherry Cola Ice Cream Sundaes
This chocolate cherry cola ice cream sundaes is made with homemade cola ice cream and topped with cherry cordial chocolate mixed with chopped peanuts!  A delight in a little cup.
Nothing like topping a delicious ice cream with candy!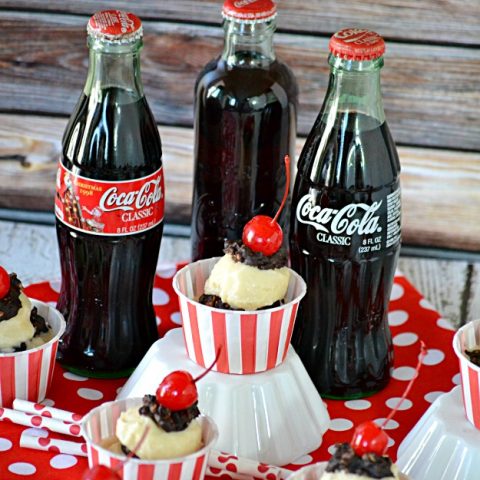 Chocolate Cherry Cola Ice Cream Sundae
Yield:
Half Gallon Ice Cream
Ingredients
For the Cola Ice Cream:
6 eggs, separated
2 1/2 cups granulated sugar
14 ounce evaporated milk
12 ounce Coca Cola
1 tablespoon vanilla extract
2 cups whole milk
For the Cherry Cordial Topping:
10 ounce bag Cordial Chocolate flavored Wilton's Candy Melts
1 cup roasted peanuts, chopped
Optional: maraschino cherries with stems
Instructions
For the Cola Ice Cream:
Beat egg white until stiff
Mix in egg yolks until well combined.
Add sugar, mix well, add the evaporated milk, mix well, add the coke, mix well, add the vanilla and mix well.
TIP: This mixture is VERY fluffy and will not fit in your ice cream maker. I made this the night before to allow the egg whites to flatten a bit.
Pour egg mixture into the ice cream freezer and top with milk.
Freeze according to the freezer instructions.
For the Cherry Cordial Topping:
When ready to serve.
Place candy melts in a microwave safe bowl and melt, starting with 1 minute, stir and ending with 30 second intervals until chocolate is melted and smooth.
Add chopped nuts.
Spoon the warm chocolate over a scoop of ice cream, add another scoop, spoon more chocolate.
While the chocolate is still hot add a maraschino cherry.