Chocolate Frosted Brownies
When I'm in a pinch for time and need a big dessert for a crowd I usually turn to store a bought brownie mix.  These Chocolate Frosted Brownies are the perfect treat to take to a church social or for a family get together.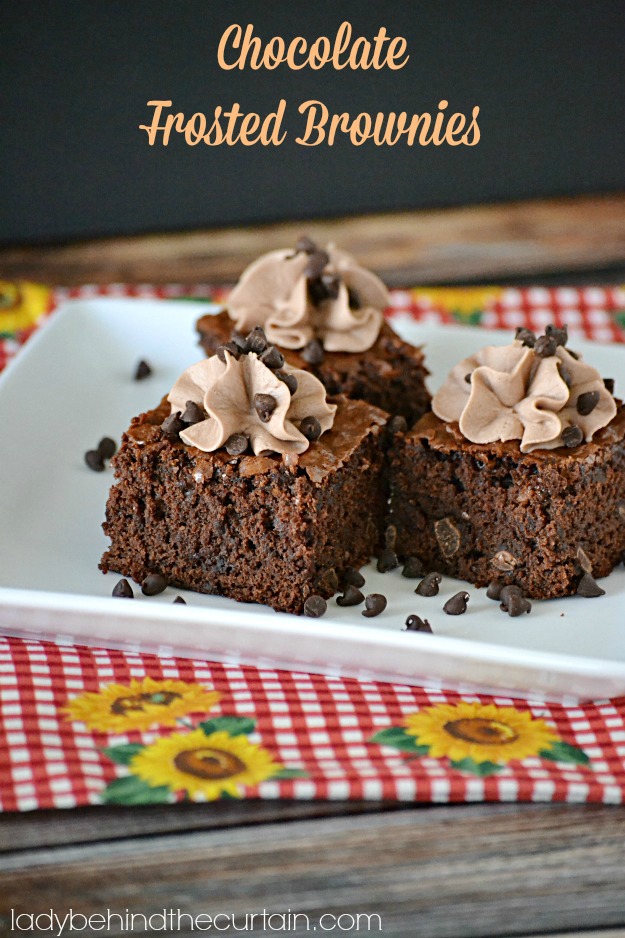 These Chocolate Frosted Brownies are easy to make and delicious on their own.  One of the great things about brownies is their versatility.  By adding a few more ingredients you can have a whole new brownie creation.  Like the coconut frosting I added to my GERMAN CHOCOLATE BROWNIES or the peanut butter frosting I added to my BROWNIES WITH PEANUT BUTTER FROSTING.
For these crowd pleasing brownies I added a chocolate butter cream frosting.  Nothing like chocolate chocolate!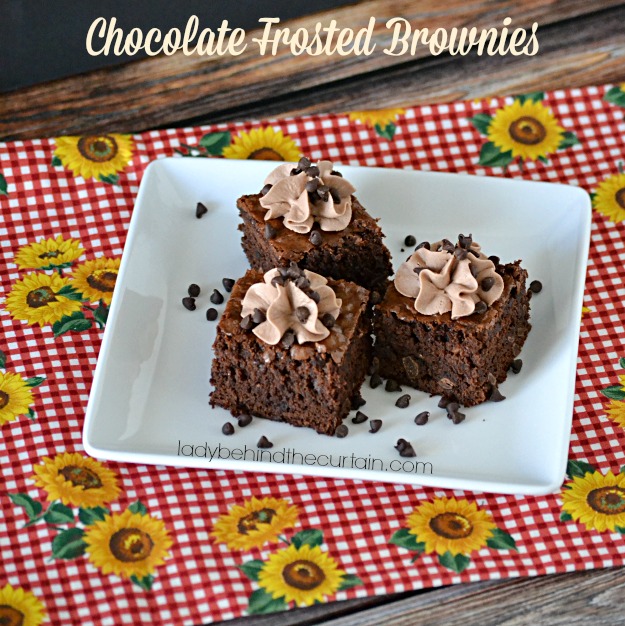 Create your own Recipe Box and save your favorite Lady Behind The Curtain recipes.  Make a Meal Plan with your favorite recipes and ZipList will automatically add the ingredients to a Shopping List.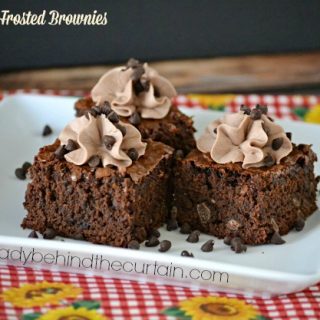 Chocolate Frosted Brownies
Take a brownie mix up a notch by adding a delicious Chocolate Butter Cream Frosting.
Ingredients
For the Brownies:
3 boxes brownie mix plus ingredients to make brownies
3 eggs
For the Chocolate Butter Cream Frosting:
3/4 cup butter, softened
1 cup milk chocolate chips, melted
2 teaspoons vanilla extract
5 cups confectioners' sugar
3 tablespoons milk
garnish mini chocolate chips (optional)
Instructions
Preheat oven to the temperature indicated on the brownie mix box.
Spray a 16x21x1 -inch baking sheet with non stick cooking spray.
Add all 3 dry brownie mixes to a mixing bowl, add all the ingredients listed on the box to make brownies plus 3 eggs.
Mix until combined.
Pour into prepared pan and smooth with an off set spatula.
Bake 35 minutes or until the edges come away from the pan.
Cool completely.
Cut into 48 bars.
Use tip #1m and pipe on star shape, sprinkle with mini chocolate chips.
For the Chocolate Butter Cream Frosting:
Beat butter until fluffy. (2 to 3 minutes)
Add the melted chocolate and vanilla and beat to combine.
Add the sugar 1 cup at a time, adding milk as needed to come to either a spreading or piping consistency.
MORE BROWNIES RECIPES
1. CHERRY CABERNET BROWNIES  2. COMPANY BROWNIES  3. PEANUT BUTTER CHEESECAKE BROWNIES  4. CLASSIC BROWNIES  5. MINT BROWNIES  6. DECADENT BROWNIE PIE