Christmas Bread Pudding | A moist bread pudding filled with fresh apples and dried or fresh cranberries.  Like eating a fluffy delicious apple pie…FOR BREAKFAST!  The perfect Christmas morning treat!  Serve at a breakfast buffet.
Do you have a Christmas breakfast tradition?  For my family it's all about bread pudding.  I can make it and bake it the day before.  With a variety of wake up times that my guests have this is perfect.  It's a help yourself kind of breakfast.  All they have to do is cut them a piece, pop it into the microwave and heat.  I also like to serve it with bacon, juice, maple syrup and some confectioners' sugar in a sprinkle can.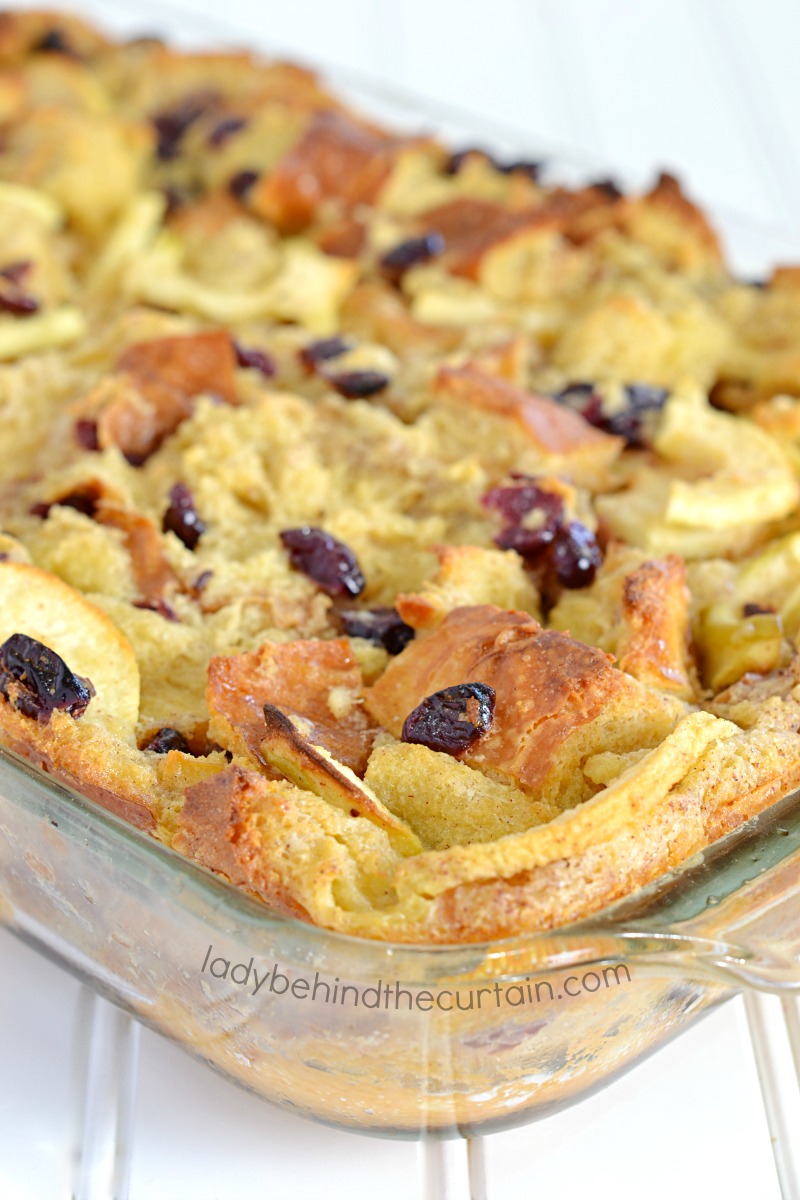 With crisp big chunks of apple and the sweet and sour flavor of cranberries this bread pudding is the perfect morning treat.  This Christmas relax and enjoy the morning with a ready made breakfast.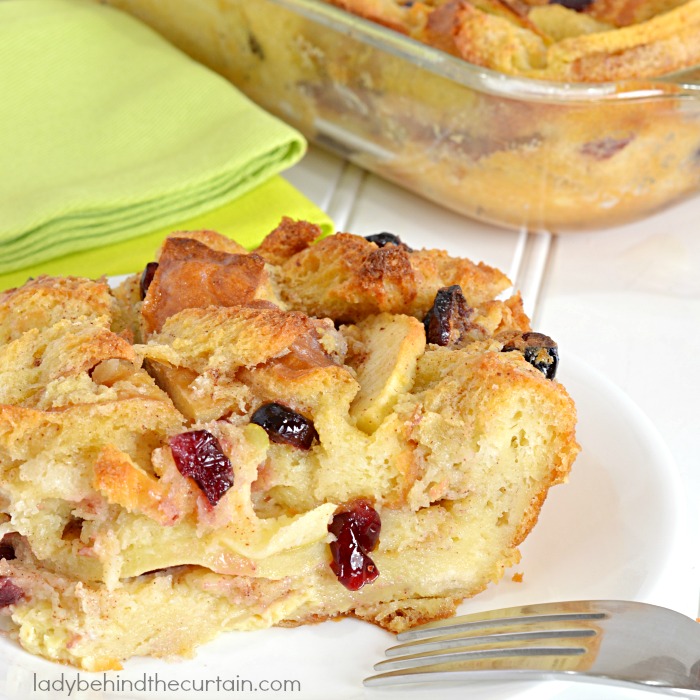 Are fresh cranberries out of season?  Don't worry this Christmas Bread Pudding is also delicious made with dried cranberries.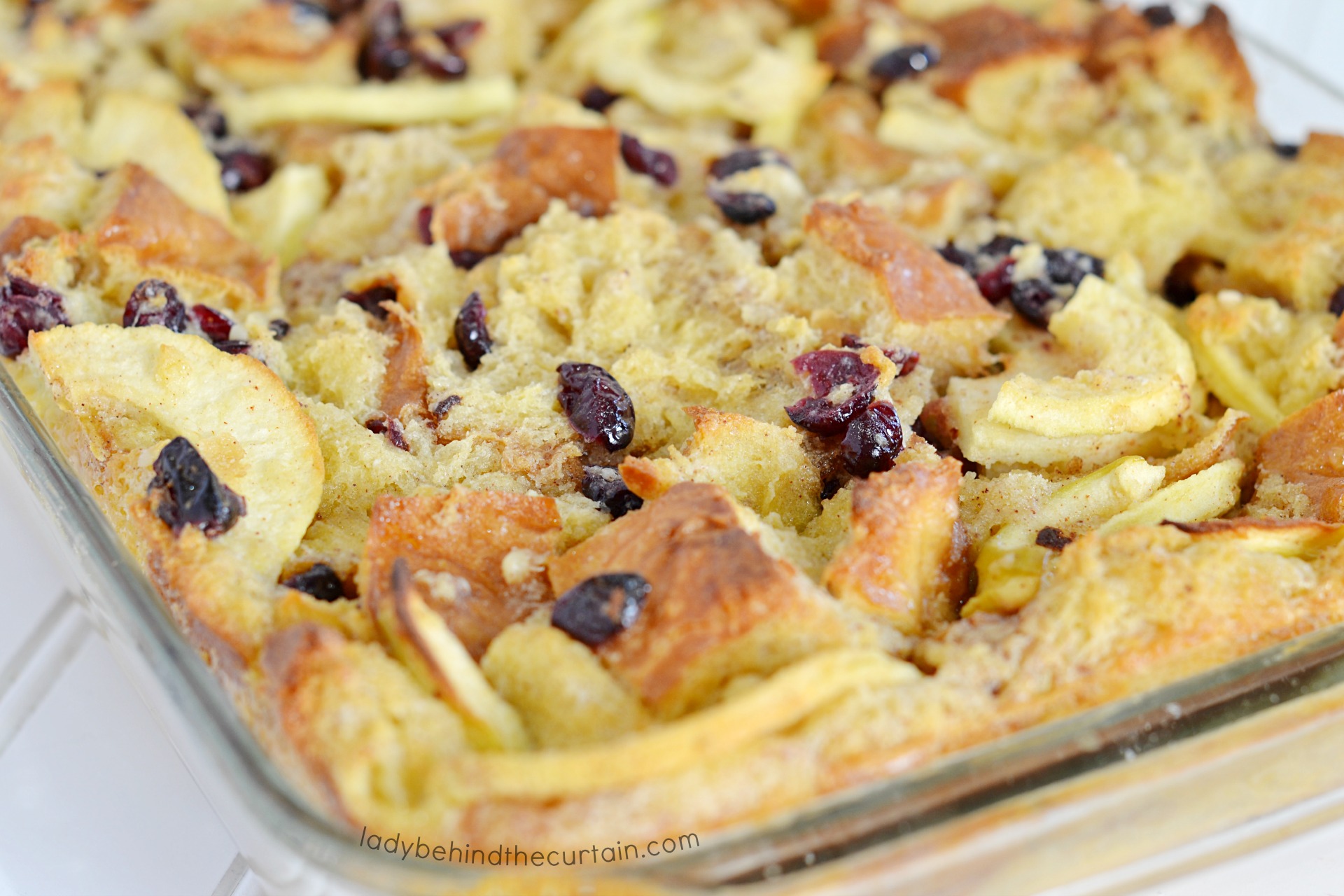 CHRISTMAS BREAKFAST BUFFET MENU:
CHRISTMAS BREAD PUDDING (this recipe)
A moist bread pudding filled with fresh apples and dried or fresh cranberries.  Like eating a fluffy delicious apple pie…FOR BREAKFAST!  The perfect Christmas morning treat!
CROQUE MONSIEUR BREAD PUDDING (link)
This bread pudding adds just the right amount of savoriness to your breakfast buffet or brunch!  Croque Monsieur is a very popular grilled ham and cheese sandwich in France.  I took my favorite sandwich and created a delicious creamy bread pudding!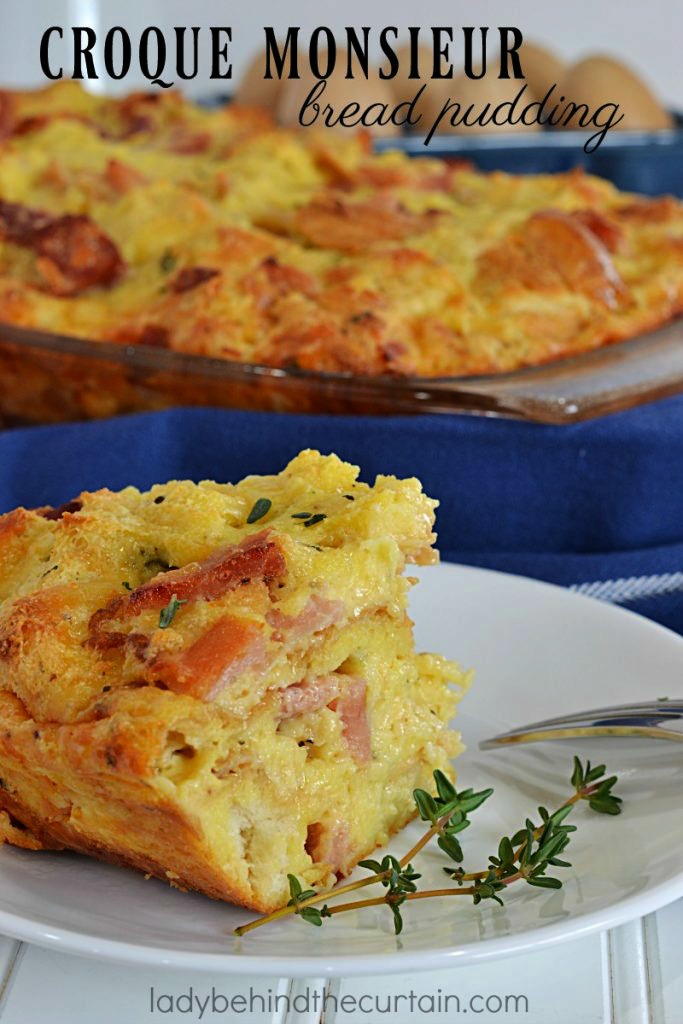 BAKED OATMEAL FILLED APPLES (link)
Breakfast never looked so good or tasted so good!  Add more flavor to your baked oatmeal by filling hollowed out apples.
GREEN CHILES AND RICE FRITTATA (link)
Serve a little bit of the Southwest at your next brunch!  Packed with fresh vegetables a kick of hot pepper sauce all encased in cheese, eggs and rice.  The perfect food!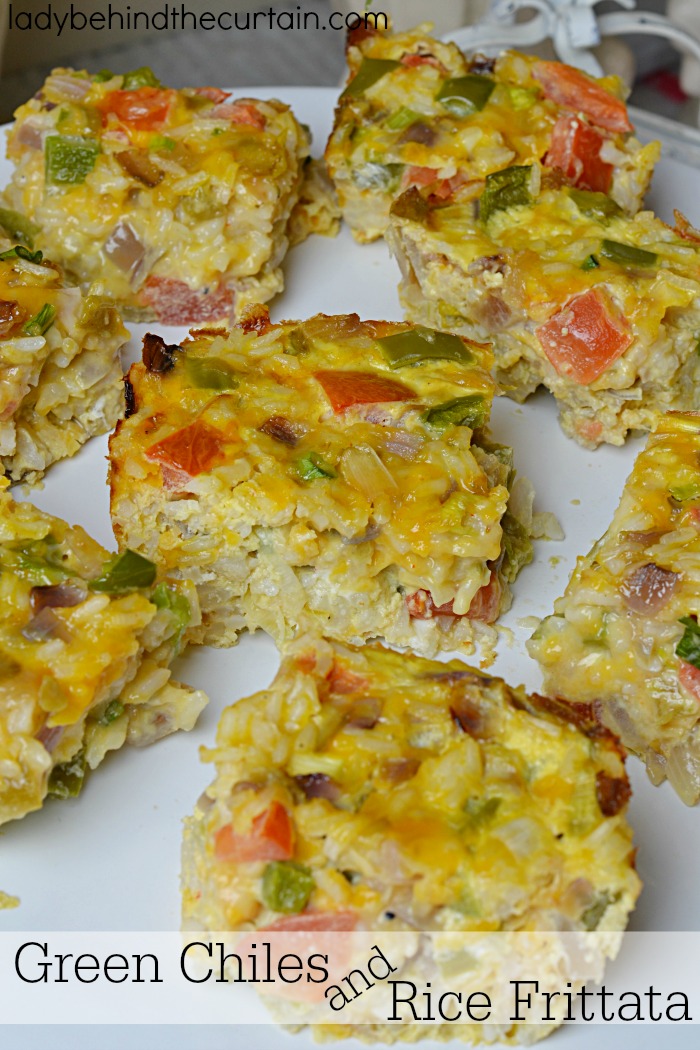 CHRISTMAS SCONES (link)
Everything about these Christmas Scones says it's the holiday season.
AMBROSIA MUFFINS (link)
A moist muffin with pineapple, coconut, cherries and a delicious coconut pecan topping.  The perfect grab and go breakfast for those busy mornings or add them to your Christmas morning buffet.
CRANBERRY SWEET ROLL PULL APART (link)
Tender sweet rolls filled with cranberries and pecans with a wonderful sweet orange drizzle.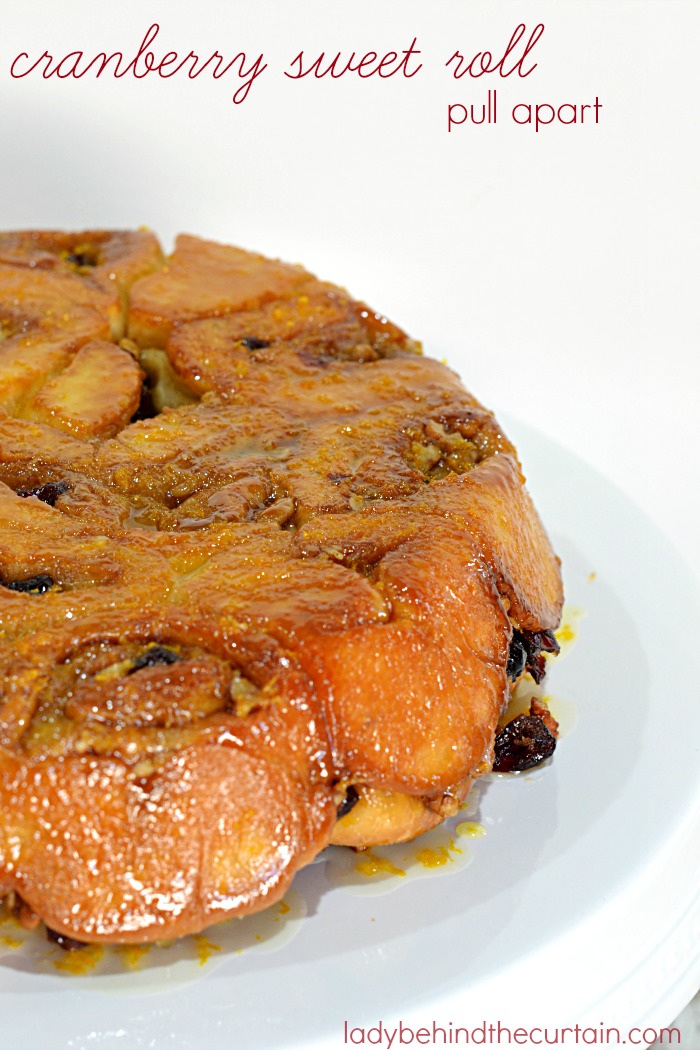 Don't forget to add this delicious Christmas Bread Pudding to the menu!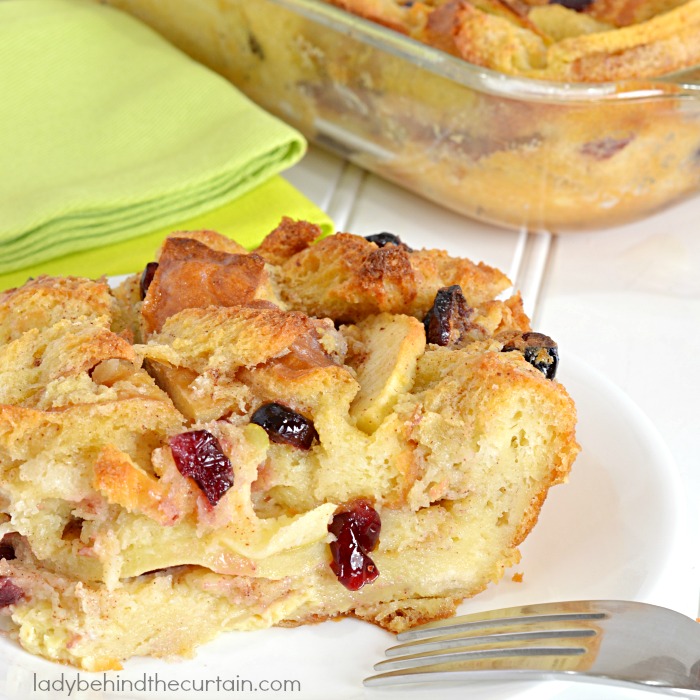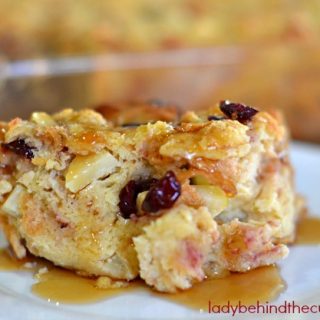 Christmas Bread Pudding
Cook Time:
1 hour
10 minutes
Total Time:
1 hour
40 minutes
Ingredients
14 cups or 1 large loaf of Challah bread cubes, cut into bite sized pieces
2 cups milk
2 cups half & half or light cream
8 large eggs, lightly beaten
1 1/3 cups granulated sugar
4 teaspoons vanilla extract
12 tablespoons unsalted butter, melted and cooled
2/3 cup all purpose flour
1 tablespoon baking powder
1 teaspoon salt
1 teaspoon ground cinnamon
1 cup dried cranberries
2 Small Granny Smith apples, peeled, cored, and diced
Optional Toppings:
confectioners' sugar
maple syrup
Instructions
Preheat oven to 350 degrees.
Place rack in the middle of the oven.
Spray a 9x13-inch baking dish with non stick cooking spray.
Place the bread cubes in a large mixing bowl and add the cream and milk.
Let stand for five minutes.
Then stir in the beaten eggs, sugar, vanilla, and melted and cooled butter.
In a separate bowl, combine the flour, baking powder, salt and ground cinnamon.
Stir this mixture into the bread cube mixture and then fold in the cranberries and apple chunks.
Pour into prepared baking dish.
Bake covered with foil for 30 minutes, uncover and bake an additional 40 minutes or until fluffy and golden brown.
Place on a wire rack to slightly cool.
Optional: Dust with confections sugar and drizzle maple syrup on top before serving.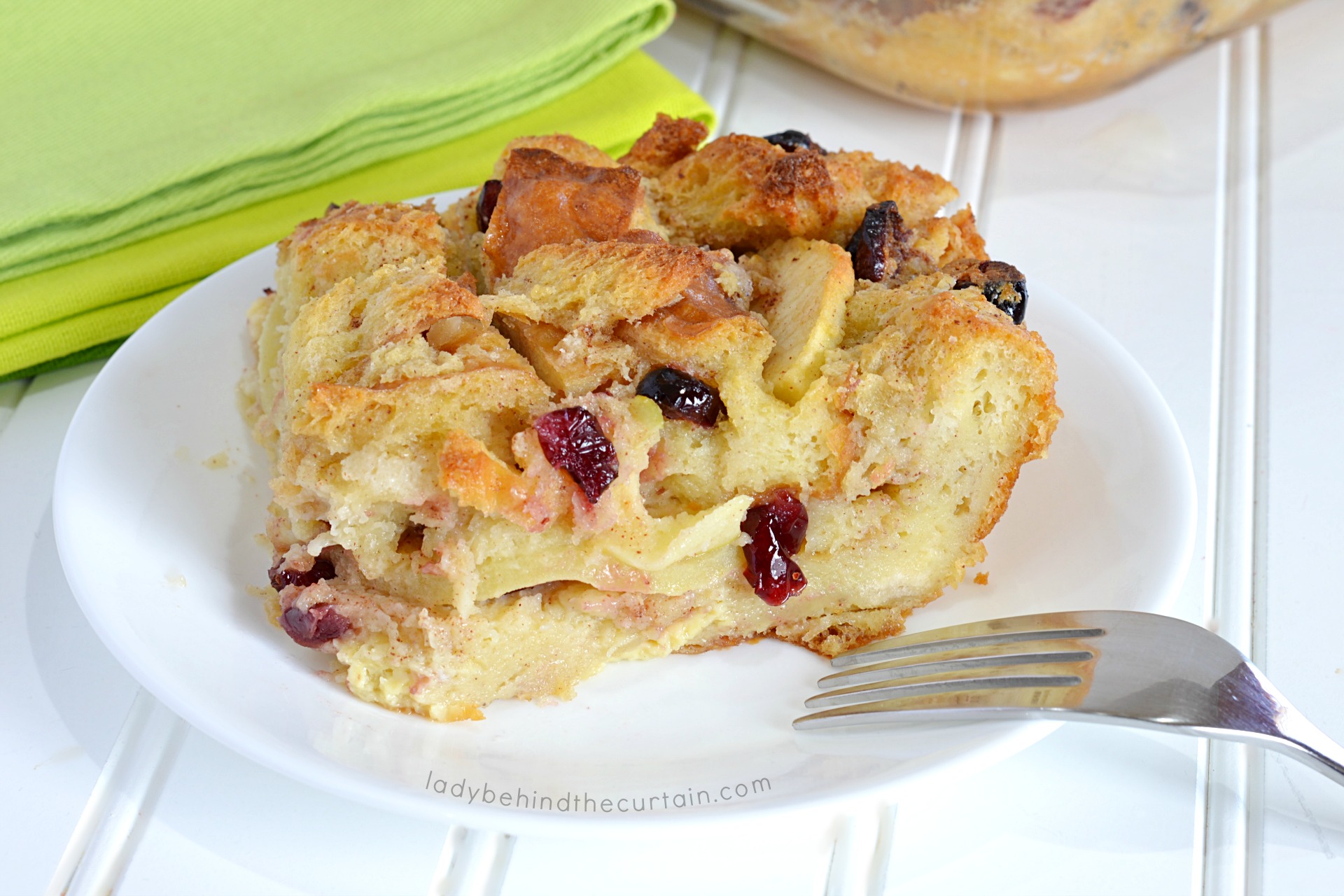 MORE BREAD PUDDING RECIPES
1. SLOW COOKER SAVORY WAFFLE BREAD PUDDING  2. CINNAMON ROLL BREAD PUDDING  3. PECAN PIE BREAD PUDDING
NEVER MISS A POST!
Sign up for my newsletter and receive my recipes in your inbox. Easy to see anytime and saved for safe keeping. Click Here and sign up today! —->>>>CURTAIN CALL NEWSLETTER