Cranberry Apple Slab Pie: This juicy sweet pie is filled with apples, cranberries, raspberries, spices and a hint of orange. Creating the perfect Fall dessert worthy of any Thanksgiving dessert table. There's nothing like a homemade flaky buttery crust to amp up a dessert.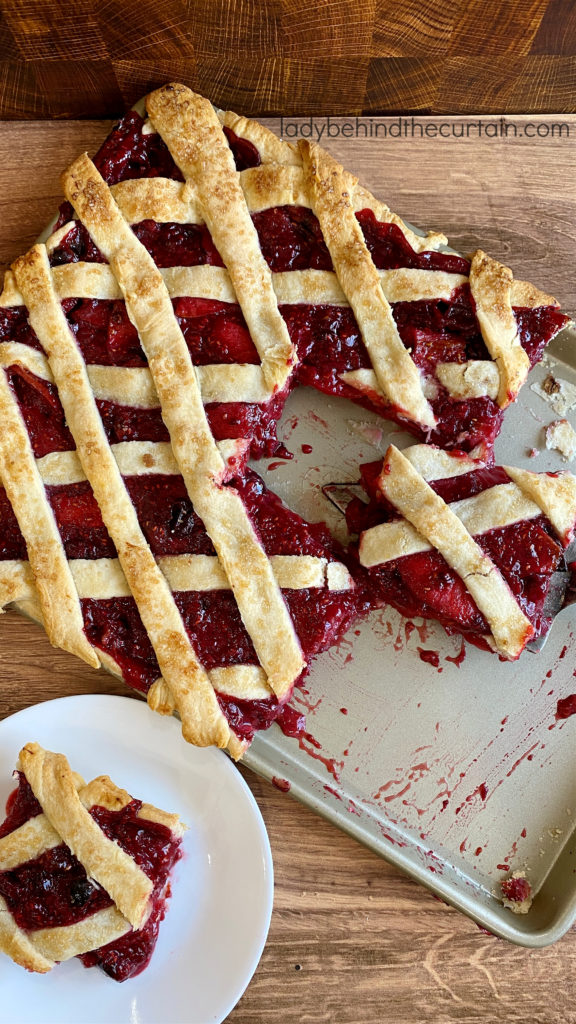 What is a Slab Pie?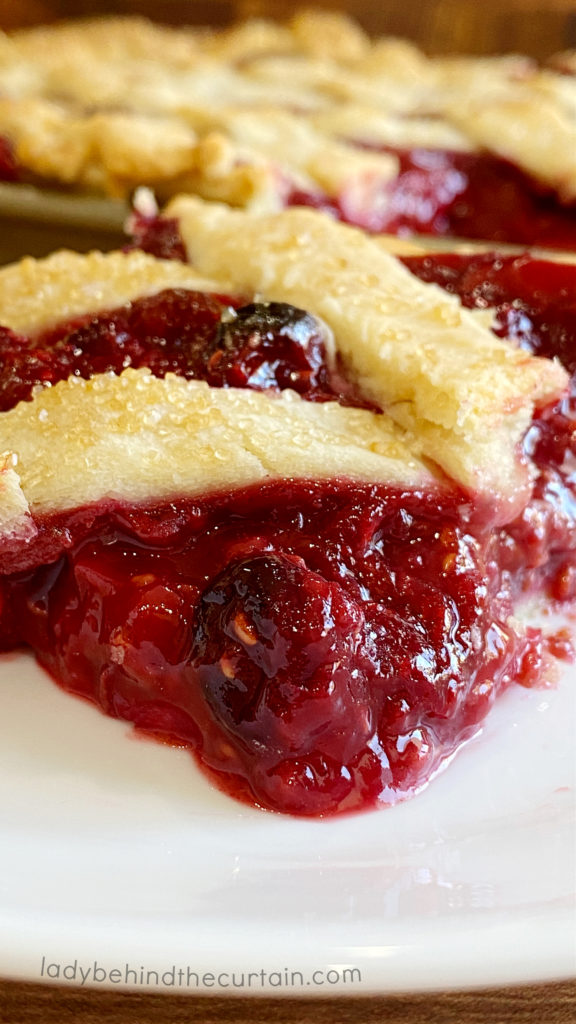 This Cranberry Apple Slab Pie is the solution to easy entertaining! THE PIE VERSION OF A SHEET CAKE. A pie baked in a sheet pan verses a pie dish. You don't have to make multiple pies to feed everyone. You can also apply this to savory pies like BARBECUE CHICKEN PIZZA SLAB PIE OR HAM AND CHEESE SLAB PIE.
Pies are one of the most delicious, flavor-packed desserts out there. But who wants to bake several pies so all the guests can enjoy your incredible pie? There's nothing worse then leaving guests without dessert.
ENTERS THE SLAB PIE: Simply, a slab pie is the solution to this entertaining conundrum, the pie version of a sheet cake. It is a pie that has been sized up to fit a rectangular pan (typically a 15- x 10-inch jelly roll pan or a 9- x 13-inch baking pan) instead of a standard 8-inch or 9-inch round pie plate.
That means that when it is cut into squares or rectangles (instead of triangular slices), a slab pie can typically serve twice as many people as a round pie can. Plus, the rectangular pieces make it perfect for enjoying a dessert plate perched on your knee instead of seated around the table during those too-big-for-the-dining-room get-togethers and holiday parties.
How to Make Cranberry Apple Jelly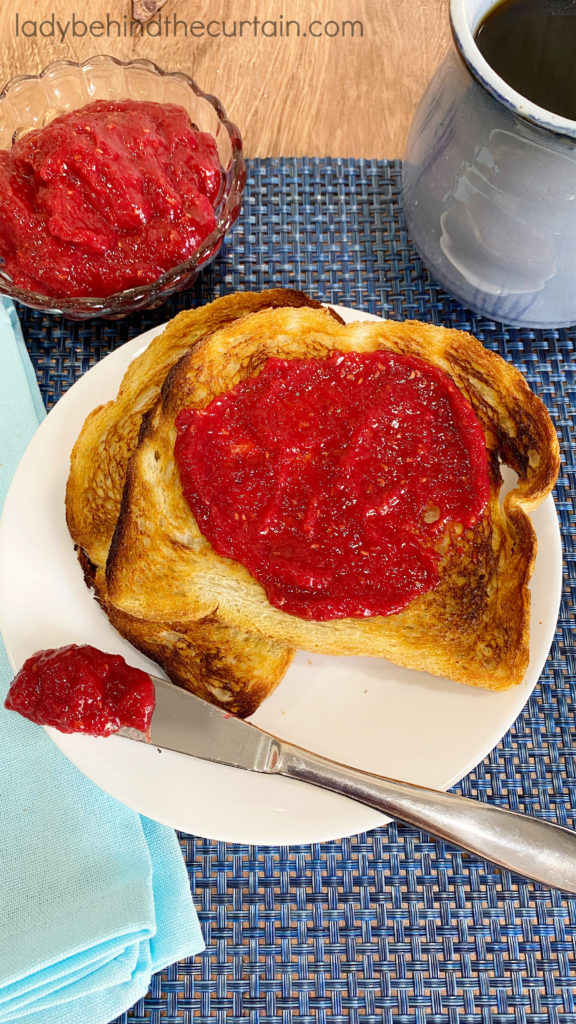 DIRECTIONS

Once my pie was filled I had about 2 cups of berry sauce left. The berries lent more juice then I needed.
Pour extra sauce in a medium bowl.
Use a blender to chop the fruit ( I used an immersion blender).
Pour hot liquid into a container with a tight fitting lid and refrigerate.
As the sauce cools it becomes thick. Let the sauce become completely cold before using.
The natural pectin in the fruit will thicken and become jelly.
Stays fresh in the refrigerator up to a month.
Not only is this jelly delicious on toast it will also make a fantastic cheese ball or dip!
FOR THE CHEESE BALL—ADD 16 OUNCE OF CREAM CHEESE, SOFTENED WITH 1 CUP JELLY. FORM INTO A BALL AND ROLL IN 2 CUPS CHOPPED WALNUTS. TO MAKE A DIP ADD MORE JELLY.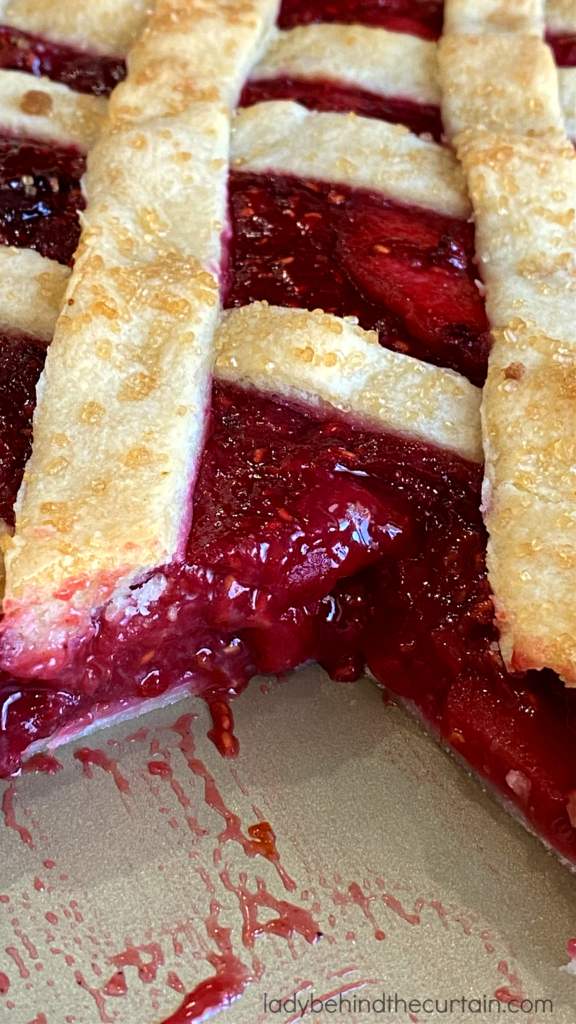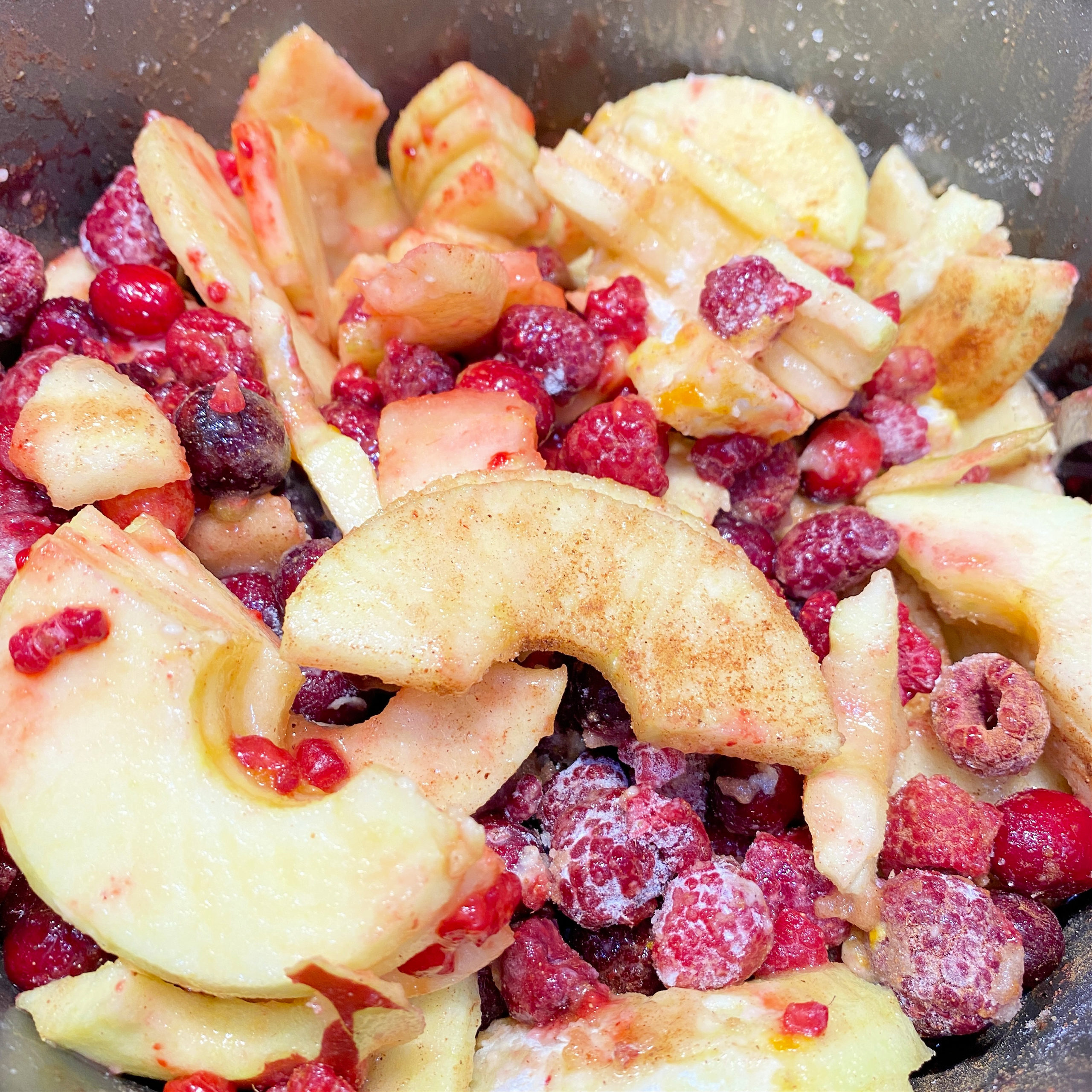 How to Use Pre-Made Store Bought Dough For A Slab Pie
You COULD use 2 boxes of pre-made pie dough for this slab pie recipe in place of my all butter, really flaky pie dough (or your own favorite homemade pie dough recipe). But it's kind of a hassle and it doesn't taste NEARLY as good as homemade pie crust does.
You would need to roll out 2 of the pieces of dough on top of one another to make a piece large enough to fit the bottom of the pan.
And let's be real here: pre-made pie dough has NOTHING on the flavor and flakiness of homemade pie dough. There's just no comparison! But….if you're in a pinch….
APPLES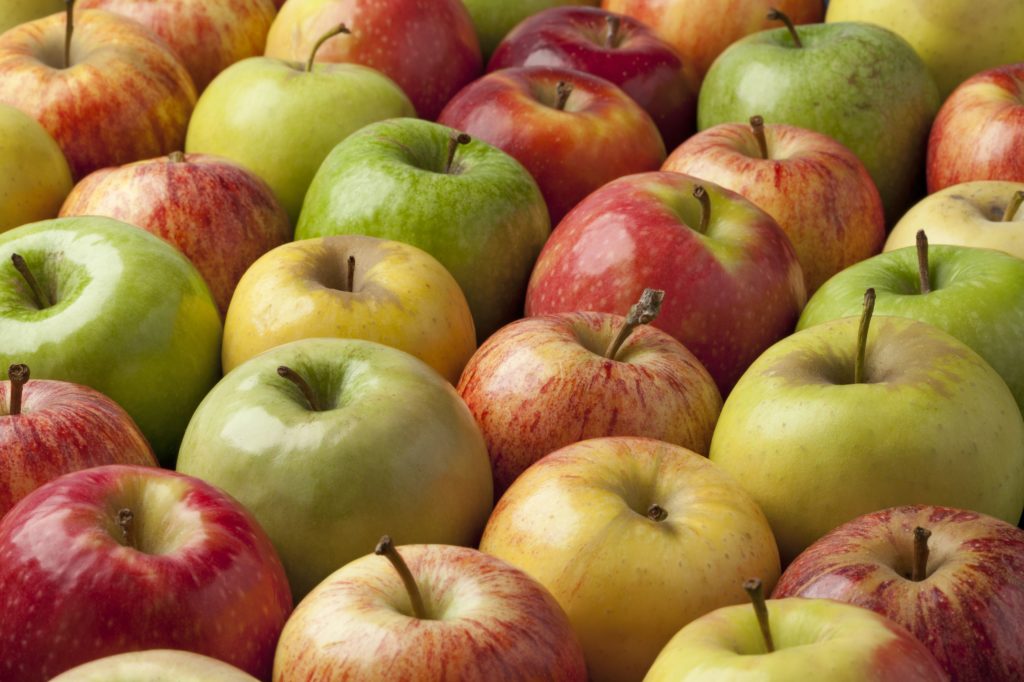 THE BEST APPLES FOR BAKING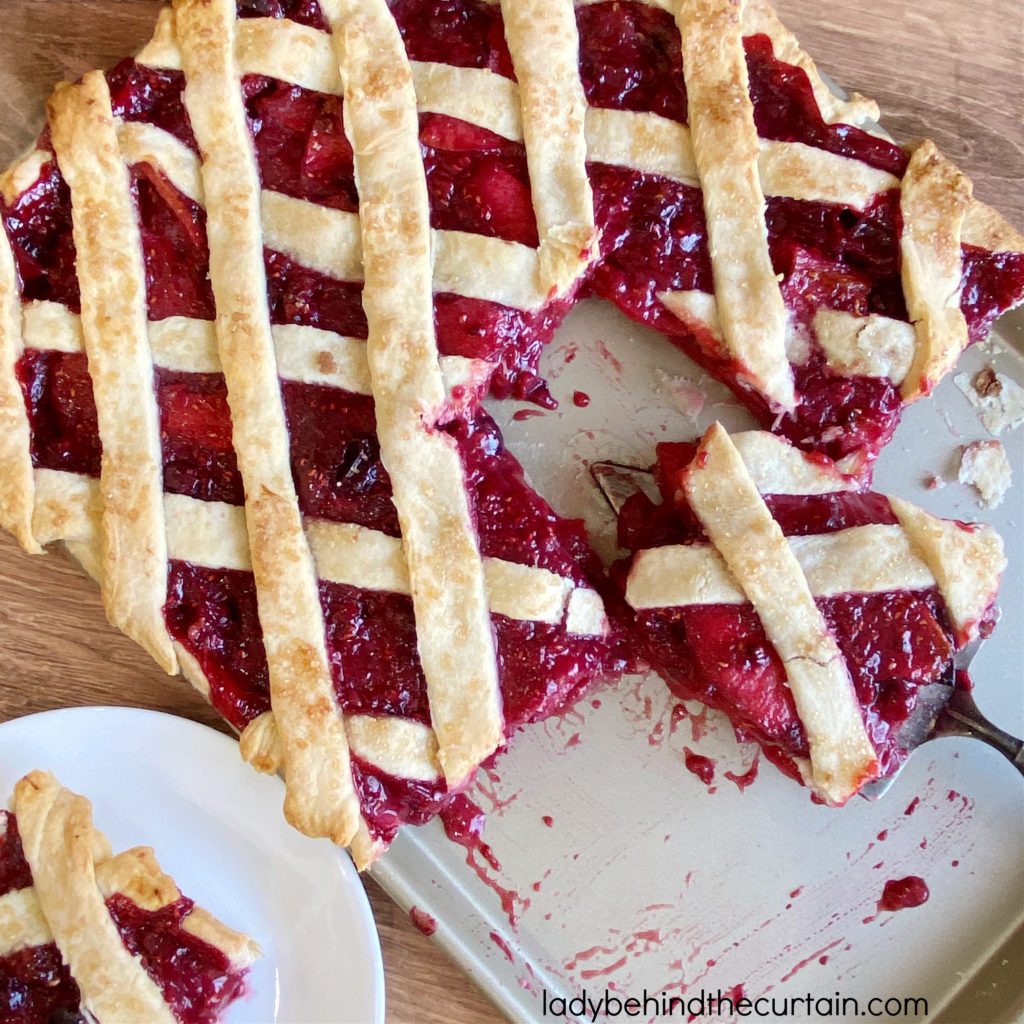 The best apples for baking are crisp, firm, sweet-tart and can stand up to the heat of the oven or stove without turning mushy. Some apples maintain their shape in an odd way by dehydrating and not actually cooking. There are apples that have so much water in their flesh that they become grainy apple soup in the oven.
Braeburn: Crisp, with a strong apple flavor that doesn't need another apple to balance the flavor in a pie, these apples will bake up juicy but not mushy. Braeburns can stand up to strong warm spices like cinnamon, ginger and nutmeg.
Golden Delicious: The word "delicious" is the only thing that links Golden Delicious to Red Delicious apples, and it's best not to confuse the two when planning to bake a pie or crisp. With a mild flavor that's on the sweeter side, golden delicious hold their shape well, and pairing them with an apple with a stronger flavor like a Braeburn will give you a better filling.
Granny Smith: Granny Smiths have all the same qualities as Honeycrisps: juicy, crisp and great for baking. The only difference is that Granny Smiths are as tart as a Honeycrisps are sweet. You may need a bit more sugar in the mix when making a filling with Granny Smith apples.
Honeycrisp: This apple took the U.S. apple market by storm in the early 1990's when it hit the market. Created by the University of Minnesota in the 80's, it was only available in small quantities for several years. Now it is the most widely planted type of apple tree in the country – and for good reason. More sweet than tart, it's juicy and will hold up well when baked.
Gala: With their crisp, mellow sweetness, Gala apples are great for baking, especially because you can typically use less sugar due to their natural sweetness.
Fuji: Firm, crisp and juicy, Fuji apples are among the most popular apples for eating fresh, but they're also great for baking, as they hold their shape when they cook.
My Trick to Baking with Apples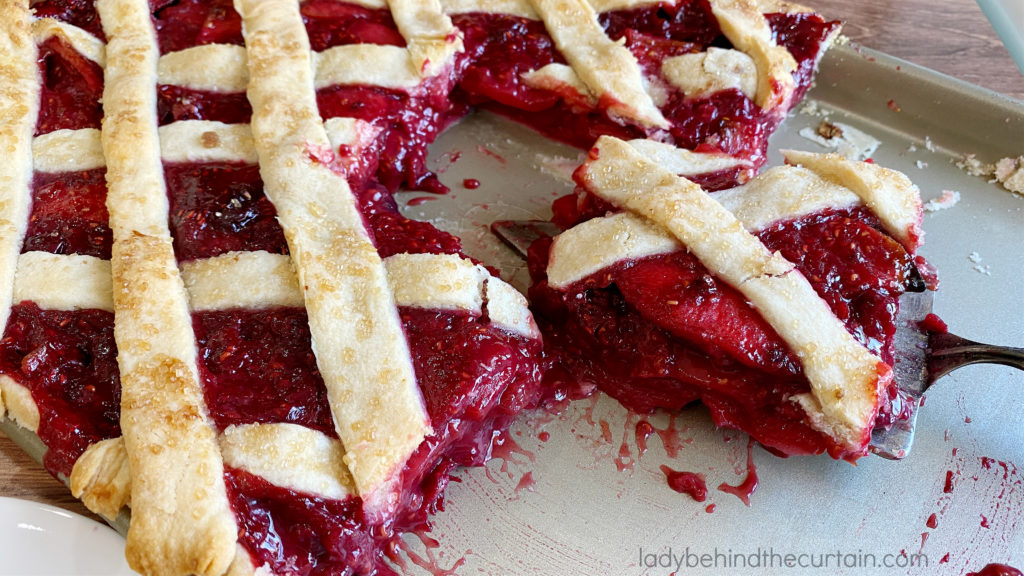 MIX YOUR APPLES: I like using a tart apple (like a Granny Smith) and mixing it with a sweet apple (like a Fuji). Split the equally to create the perfectly balanced apple pie or any apple dessert. FOR THIS RECIPE…I USED A MIXTURE OF HONEY CRISP AND FUJI APPLES.
MORE FALL INSPIRED APPLE DESSERT RECIPES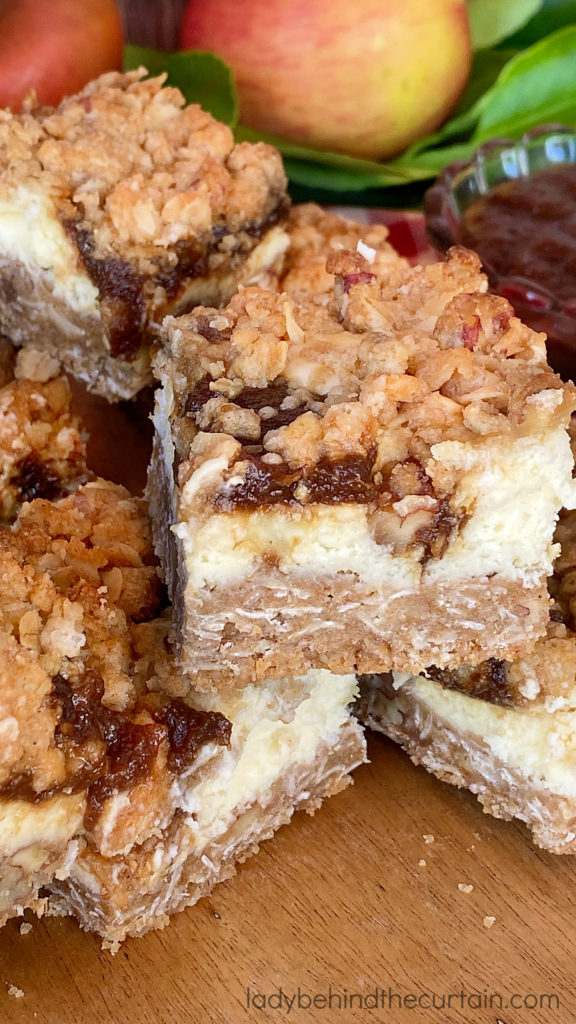 APPLE BUTTER CHEESECAKE BARS 2. SEMI HOMEMADE COUNTRY CARAMEL APPLE DUMPLINGS 3. TRADITIONAL APPLE SPICE CAKE 4. APPLE PIE CAKE ROLL
SIGN UP FOR THE LADY BEHIND THE CURTAIN NEWSLETTER AND FOLLOW THE LADY BEHIND THE PARTY ETSY SHOP
THANKS FOR VISITING♥