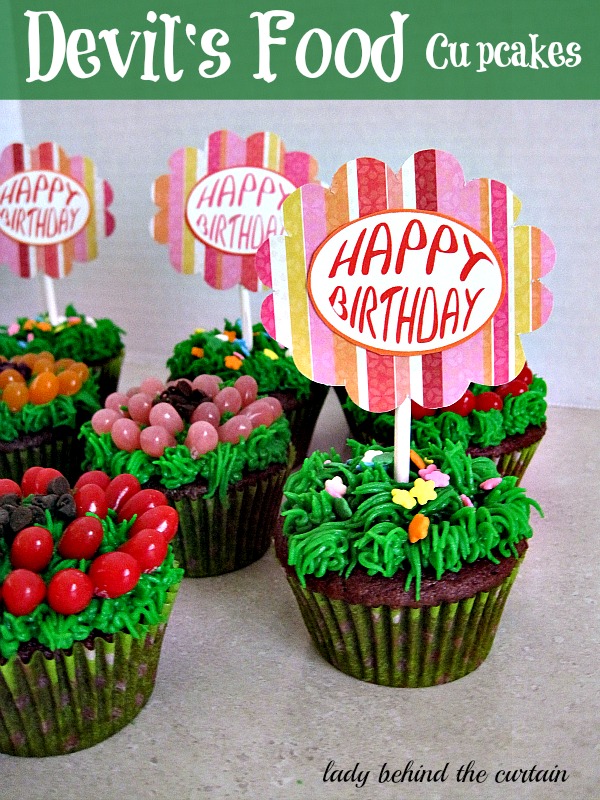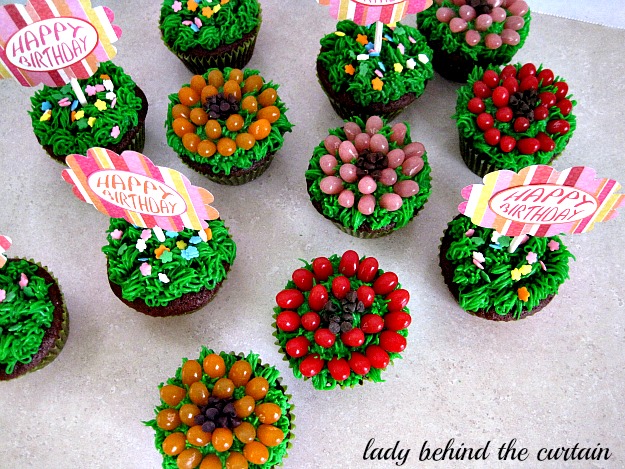 This chocolate cupcake it so rich with chocolate flavor you won't have any problem with them being eaten.  In fact you might want to hide some for you!  An easy way to dress up a cupcake for any occasion.  NOTE:Make sure to use  rich cocoa  like Ghirardelli that will give you a nice dark chocolate, unlike Hershey's which won't get it for you.
Devil's Food Cupcakes
Devil's Food Cupcake Recipe (from Martha Stewart's Cupcakes Book)
Ingredients
3/4 cup unsweetened Dutch-process cocoa powder
3/4 cup hot water
3 cups all-purpose flour
1 teaspoon baking soda
1 teaspoon baking powder
1-1/4 teaspoons coarse salt
1-1/2 cups (3 sticks) unsalted butter
2-1/4 cups sugar
4 large eggs, room temperature
1 tablespoons vanilla extract
1 cup sour cream, room temperature
Directions
Preheat oven to 350 degrees. Line standard muffin tins with paper liners. Whisk together cocoa and hot water until smooth. In another bowl, whisk together flour, baking soda, baking powder, and salt.
Melt butter with sugar in a saucepan over medium-low heat, stirring to combine. Remove from heat, and pour into a mixing bowl. With an electric mixer on medium-low speed, beat until mixture is cooled, 4 to 5 minutes. Add eggs, one at a time, beating until each is incorporated, scraping down sides of bowl as needed. Add vanilla, then cocoa mixture, and beat until combined. Reduce speed to low. Add flour mixture in two batches, alternating with the sour cream, and beating until just combined after each.
Divide batter evenly amoung lined cups, filling each three-quarters full. Bake, rotating tins halfway through, until a cake tester inserted in center comes out clean, about 20 minutes. Transfer tins to wire racks to cool 15 minutes; turn out cupcakes onto racks and let cool completely. Cupcakes can be stored overnight at room temperature, or frozen up to 2 months, in airtight containers. Makes 32 cupcakes
Butter Cream Frosting Recipe
Ingredients
1/2 cup (1 stick) unsalted butter, room temperature
8 ounces cream cheese, room temperature
1/2 teaspoon vanilla
4 cups powdered sugar
add milk if necessary
Directions
In a medium bowl cream together the butter, cream cheese and vanilla until light. Add powder sugar 1 cup at a time until all is corporated. If icing is too thick add milk 1 tablespoon at a time until it reaches desire consistency.
To make the frosting look like grass I used tip # 233. Hold the tip onto the top of the cupcake and while pressing out the frosting pull up. It's that easy to make grass! I also added jelly bellies to make flowers and put mini chocolate chips in the center. FUN!