Dill And Cheese Beer Bread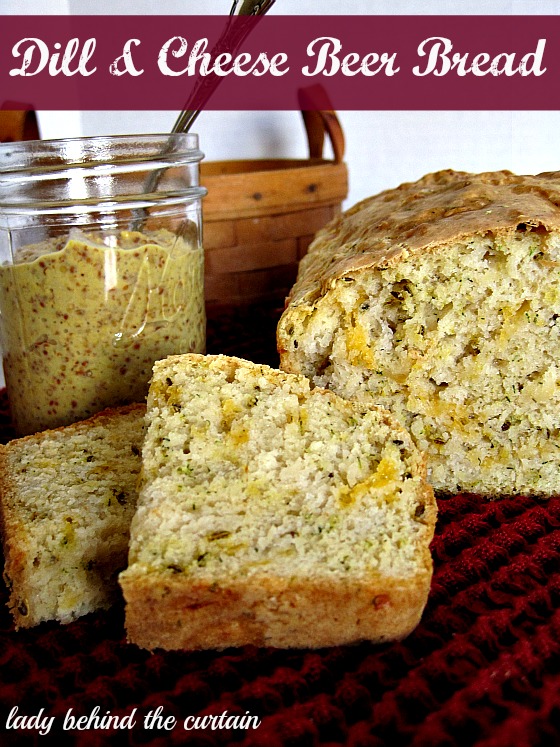 All this bread needs is a swipe or two of course ground mustard.  Or serve with slices of your favorite cheese.  Take this bread to your next TAILGATE!  Serve it with a juicy steak!
Dill and Cheese Beer Bread Recipe
Ingredients
3 cups all-purpose flour
2 tablespoons sugar
1 tablespoon baking powder
1 tablespoon dill seeds
1 teaspoon salt
1 teaspoon dried dill
3/4 teaspoon baking soda
1/2 cup shredded cheddar cheese
1/2 cup shredded Pepper Jack cheese
1 – 12 ounce can beer
Directions
Preheat oven to 350 degrees.  Grease the bottom and 1/2 inch up the sides of a 9x5x3-inch loaf pan; set aside.
Stir together the flour, sugar, baking powder, dill seeds, salt, dried dill, and baking soda.  Add cheddar cheese and Pepper Jack cheese; toss gently to coat.  Stir in beer until combined (batter will be very thick).  Spoon batter into the prepared pan, spreading evenly.
Bake about 45 minutes or until a toothpick inserted near the center comes out clean.  Cool in pan on a wire rack for 10 minutes.  Remove bread from pan.  Cool completely on wire rack.  Tightly wrap bread and let stand at room temperature.
TALIGATE DAY: Tote bread at room temperature.  Makes 1 loaf (16 servings)  Better Homes and Gardens Tailgating Magazine 2011.