No Bake Disappear Cookies
Is it a cookie or candy?  You be the judge.  Whatever category you put these No Bake Disappear Cookies into, you can't deny that they are awesome!  The perfect cookie for a bake sale, Christmas cookie tray,a cookie social or a cookie swap party.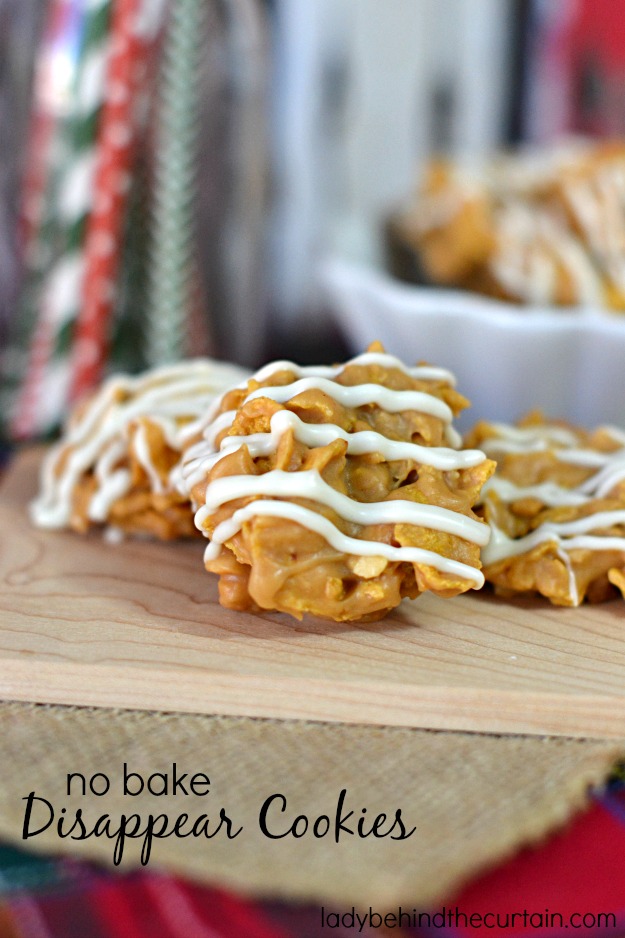 I first had these when a friend of mine brought them to a church bake sale and have been making them ever since.  So, it's safe to say that if you take these delicious treats somewhere you should also take along the recipe.  😉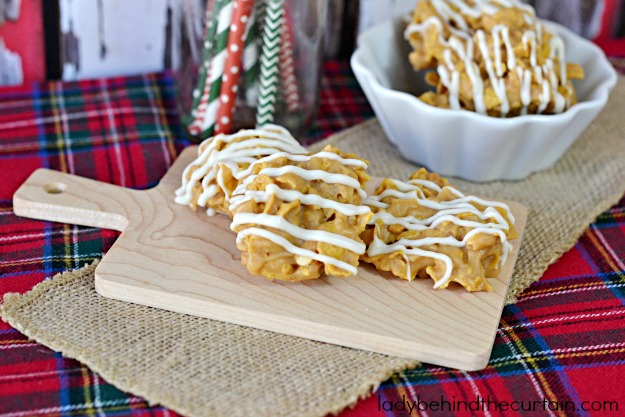 These NO BAKE Disappear Cookies are simple to make with loads or crunchy peanut butter and a drizzle of white chocolate.  There's a reason we call them Disappear Cookies.  🙂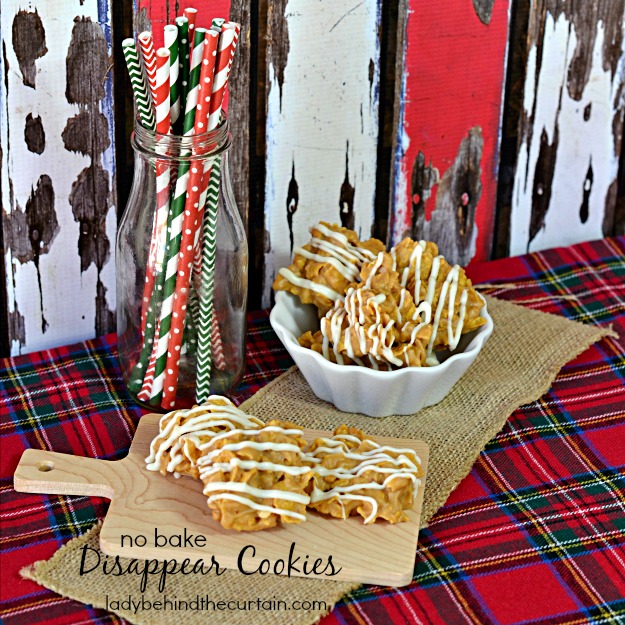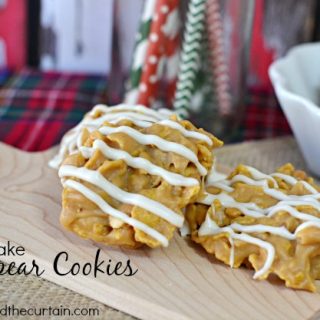 Disappear Cookies
Yield:
Makes 33 to 36 cookies
Ingredients
1/2 cup light corn syrup
1/2 cup granulated sugar
1 cup crunchy peanut butter
2 cups cornflakes
1 cup white chocolate chips for drizzling
1 tablespoon shortening
Instructions
In a sauce pan, bring to boil corn syrup and sugar.
Remove from heat and stir in crunchy peanut butter and cornflakes.
Mix well.
Drop a teaspoon of cookie mixture onto wax paper.
Add white chocolate chips and shrotening to a medium microwave safe bowl, microwave on high 30 seconds, stir, microwave another 30 seconds, stir and microwave an additional 15 seconds and stir until creamy.
Use a fork to drizzle or pour into a squeeze bottle and drizzle over cookies in a back and forth motion.
MORE COOKIE RECIPES

1. CRANBERRY ORANGE PINWHEELS  2. TRAIL MIX OATMEAL COOKIES  3. SEMI HOMEMADE SAMOAS COOKIES