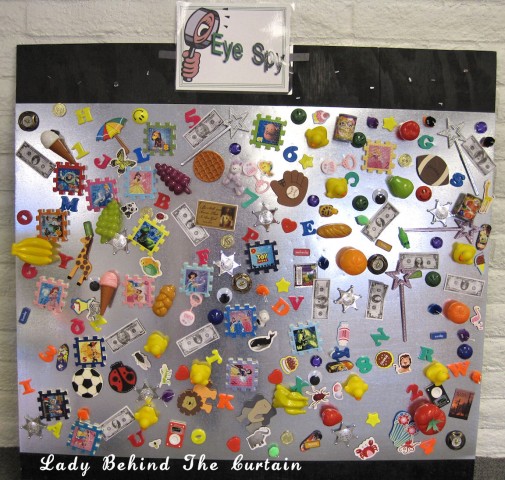 This is a perfect toddler game.
What I did for this game was buy all kinds of things, (the dollar store is a great place to find things) and because of how expensive magnets are I made my own with magnetic strips.  To re enforce them I also hot glued the tape to the item.  I also took a picture of each item, printed it, cut it into squares and laminated them.  This way they can be used for many years.
Add a piece of metal to plywood and you're set for a fun kid's game.
Object:  The object of this game is to find the item on the drawn card.
Age Group: 7 years and under
Eye Spy Game Rules
1.Each player draws a card.
2.On a wall of magnets the player is to find the picture of the object on their card.
3.In this room EVERY Child is a WINNER!  If the child is having a hard time finding the magnet the Volunteer (you) or the parent can help them
4.Finding the magnet  5 Tickets