Fiesta Churro Party Mix | Add a touch of fun to your Fiesta with this easy to make Fiesta Churro Party Mix. We all LOVE a good churro, but unless we're at Disneyland having a fresh hot churro it isn't something that's going to happen. With some key ingredients and a sprinkling of sugar and cinnamon now you can make your own churro flavored party mix and never be deprived of having a churro again!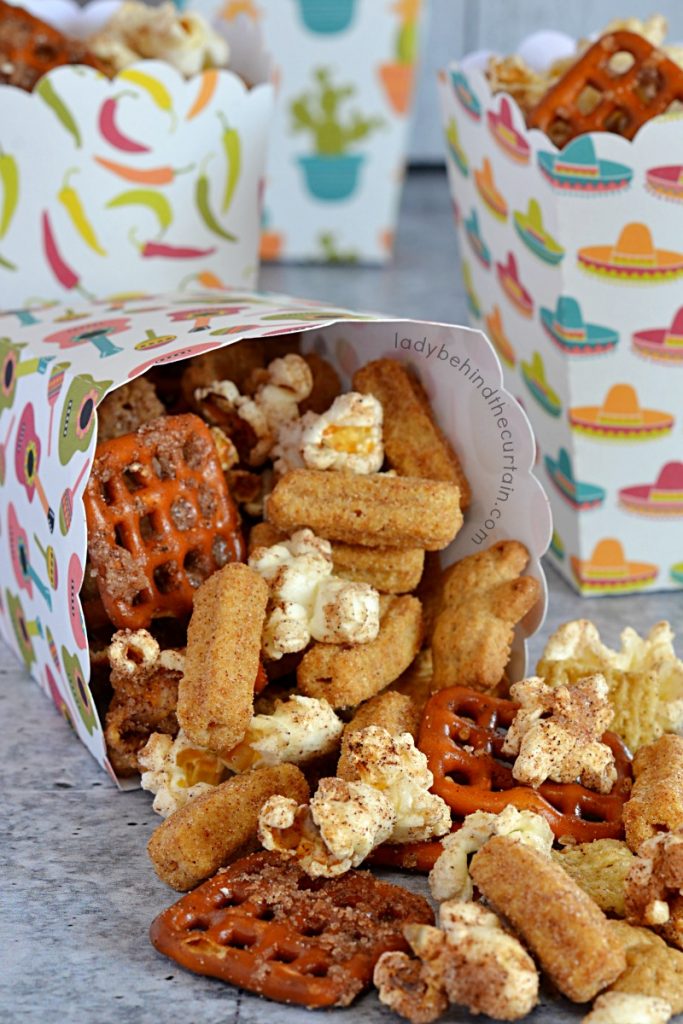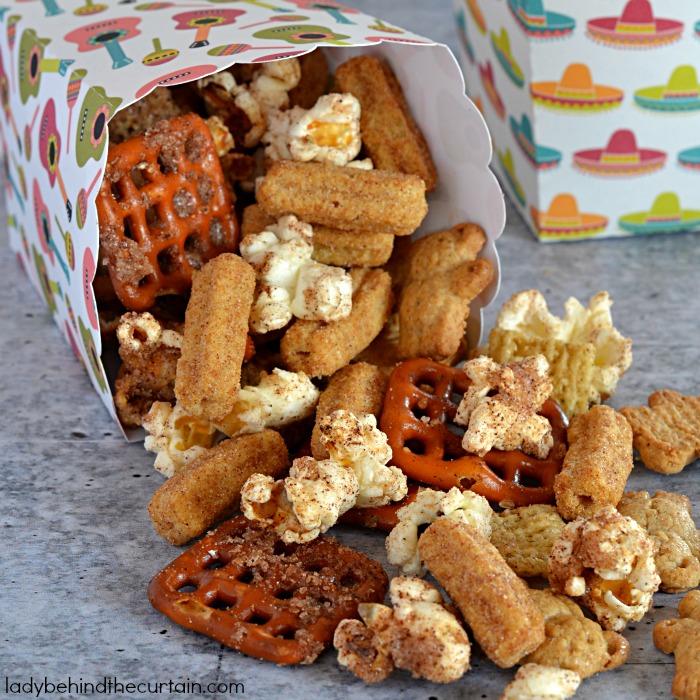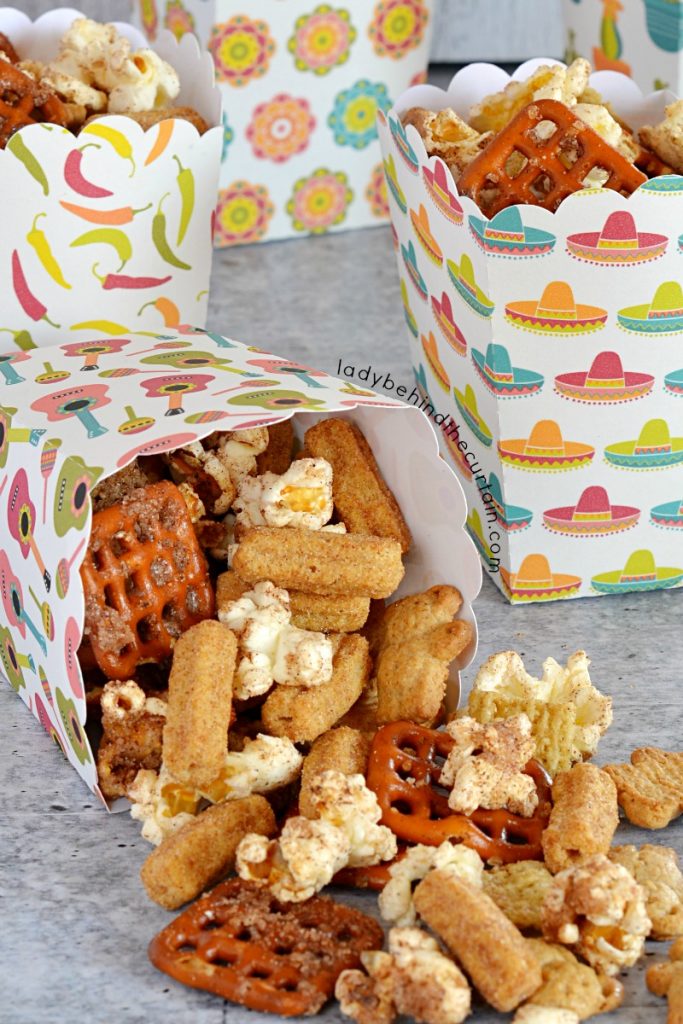 NEW! NEW! NEW! SNACK BOXES FOR PURCHASE!
After lots of requests I am finely creating my own party line of party supplies. Now it's not just about getting great recipes for your party but also being able to purchase the decorations too!

DECORATE YOUR FIESTA PARTY IN STYLE! Take all the guess work out of planning a party! Everything is colorful and coordinated with a fun theme. One stop shopping is the way to go and at Lady Behind The Party, that's exactly what you're going to find. Whether you're planning a Birthday Party, Wedding Reception or celebrating Cinco de Mayo this Let's Fiesta Party Pack will set you up in style. It's a Party in a Box! Look at the picture below for a sneak peek. There are over 25 Fiesta Party Supplies to choose from!
CLICK HERE AND SHOP NOW FOR GREAT PARTY SUPPLIES…in my shop—->>>>Lady Behind The Party.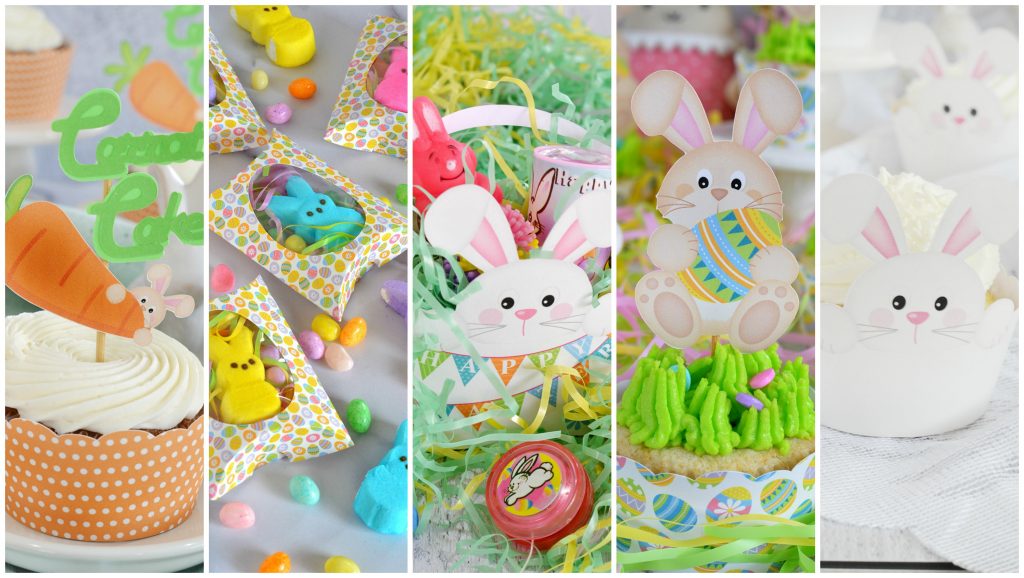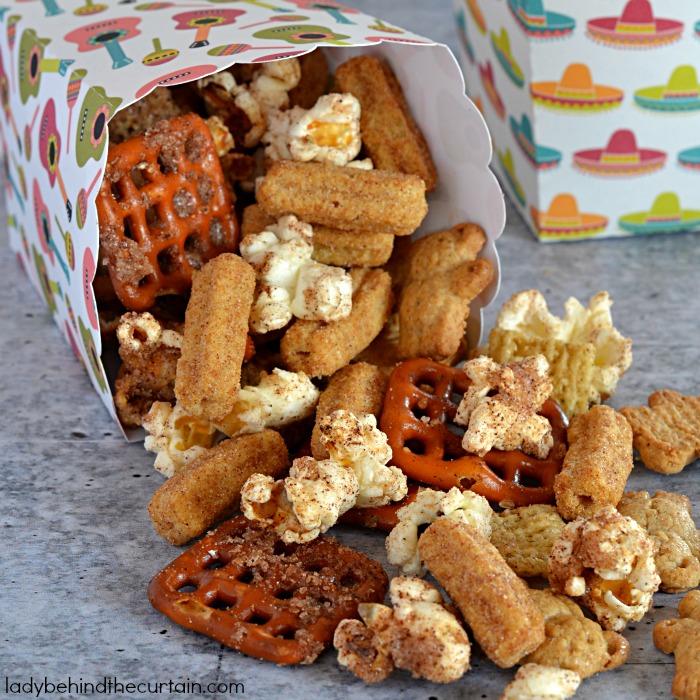 Fiesta Churro Party Mix
Ingredients
8 cups popped popcorn (about 1- 3.2 ounce bag of microwave popcorn)
2 1/2 cups mini pretzels
2 1/2 cups rice chex cereal
1/3 cup unsalted butter, melted
2 teaspoons ground cinnamon
1/3 cup granulated sugar
2 1/2 cups cinnamon toast crunch churros cereal
2 1/2 cups cinnamon teddy grahams
Instructions
Preheat oven to 325°. In a large bow, combine the popcorn, pretzels and rice cereal.
In a small microwave safe bowl melt butter, stir in the cinnamon and sugar. Pour over popcorn mixture; gently stir to coat. Spread on a 15x10-inch baking pan. Bake 10 to 15 minutes, stirring once during baking. Pour into a large bowl to cool.
To the baked mixture add the churro cereal and teddy grahams, stir to combine.
Store at room temperature in an air tight container up to a week.
MORE PARTY MIX RECIPES
SPICY CARAMEL CORN PARTY MIX 2. MAPLE POPCORN 3. TEX MEX SNACK MIX
NEVER MISS A POST!
Sign up for my newsletter and receive my recipes and Etsy store updates in your inbox. Easy to see anytime and saved for safe keeping. Click here and sign up today—->>>>CURTAIN CALL NEWSLETTER

More party mix recipes you might like. THE ULTIMATE CHEX PARTY MIX and CHOCOLATE ORANGE PARTY MIX.