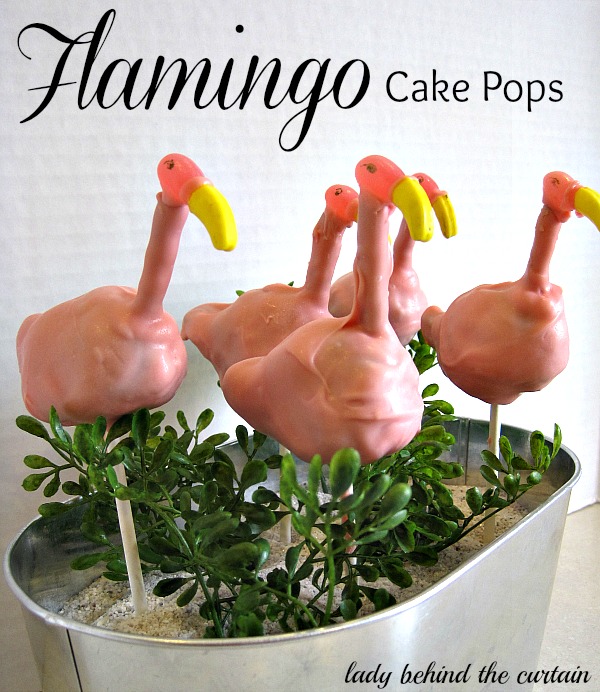 I love the presentation a cake pop makes and how easy they are to make!  These cake pops are a little on the fun side.  These would be perfect to serve at my Flip Flops and Flamingos Party.
Here's how you make them:
1. Bake a cake, any cake you like.  It can be from scratch or from a box.  I used a brownie mix (because that's all I had) and added an extra egg to make the batter more cake like.  (Adding an extra egg adds more volume to your batter).
2. Let the cake cool completely.
3.  Once the cake has cooled either crumble it or put it into a food processor (that's what I did) and let the processor do the work for you.
4.  Add 3/4 of a container of store bought frosting.  Any frosting you like.  I used chocolate fudge.  Mix with the back of a large spoon until the frosting is completely incorporated into the cake crumbs.
5.  Shape 1-1/2-inch balls ( you should get around 48).   Shape the tail and make the cake ball into an oval shape. Place on a cookie sheet lined with wax paper.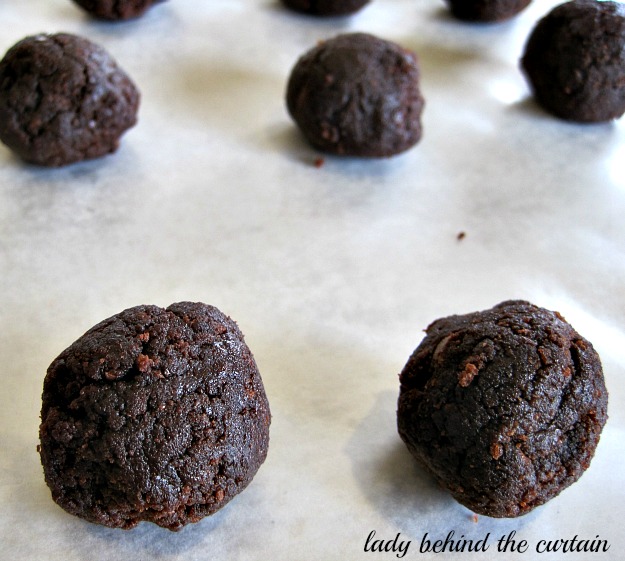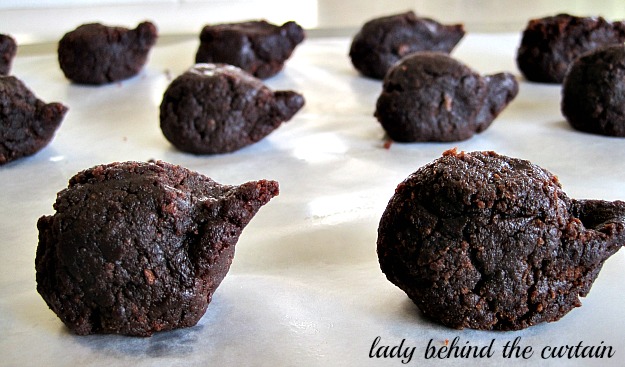 6. Put cookie sheet into freezer for 5 minutes.
7.  While the cake balls are in the freezer, melt your candy melts in a deep bowl.
8.  Take cake balls from freezer, dip pretzel stick into  melted candy and push into cake ball.   Put the cake balls back into the freezer for 1 minute or until the melted candy has hardened.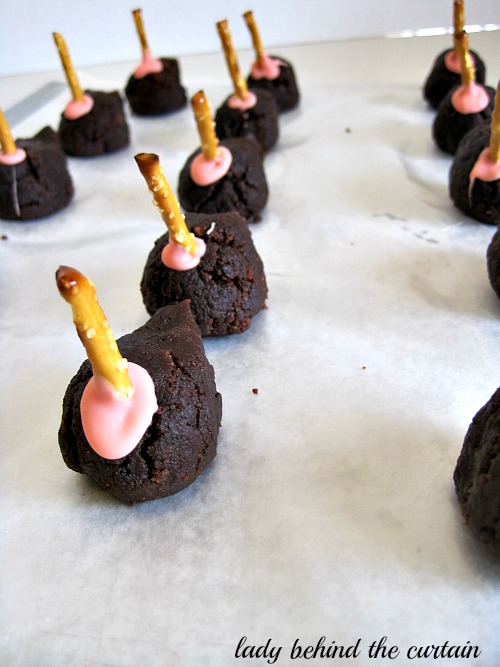 9.  Take cake balls out of freezer, dip sucker stick into melted candy and insert into bottom of cake pop.  Insert  the sucker stick into Styrofoam.  Place back into freezer for 1 minute or until the melted candy has hardened.
10.  Re heat the melted candy to make sure it's soft.  Take the cake pops from the freezer and dip the whole cake pop into the melted candy.  Hold up side down by the sucker stick and whirl around to allow the excess melted candy to drip off.  Once you have the excess off insert back into the hole.  Place cake pops back into the freezer until the melted candy has hardened. (Sorry for the graphic picture)  🙂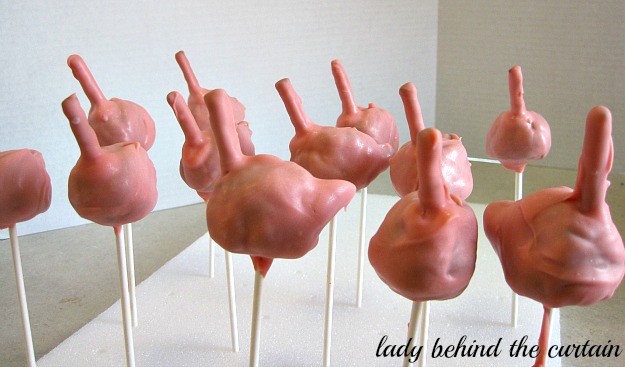 11.  Select the jelly beans for the head and cut the banana runts in half.  Put the rest of the melted candy into a squeeze bottle.  Attach the half banana to the jelly bean with the melted candy.  Place in freezer to harden.  Glue the head to the top of the pretzel.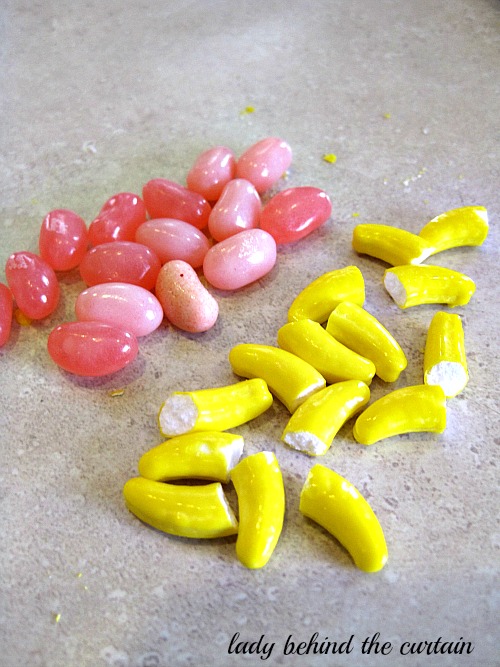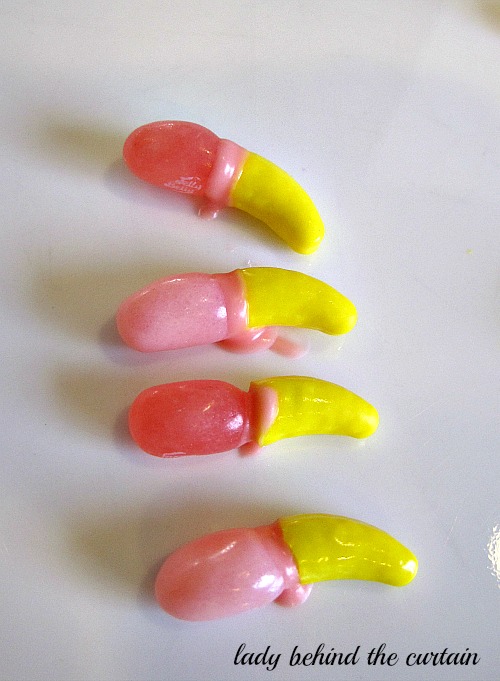 12. Using a food safe marker add eyes.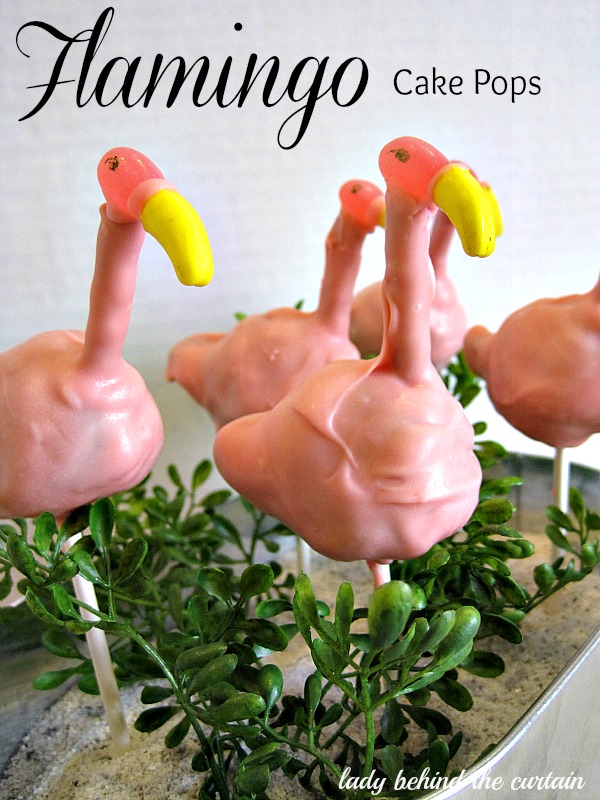 This is a LBC original!
MORE GREAT FLAMINGO IDEAS
FLIP FLOP & FLAMINGO PARTY TABLE