Fruit and Walnut Stuffed Pork Tenderloin
Fruit and Walnut Stuffed Pork Tenderloin | A juicy dish filled with a fruit-nut mixture and also coated with crunchy bread crumbs makes for a guest-worthy entree!  This Tenderloin is totally worthy to be featured on any Holiday table.  Instead of serving the same old turkey this year try something new!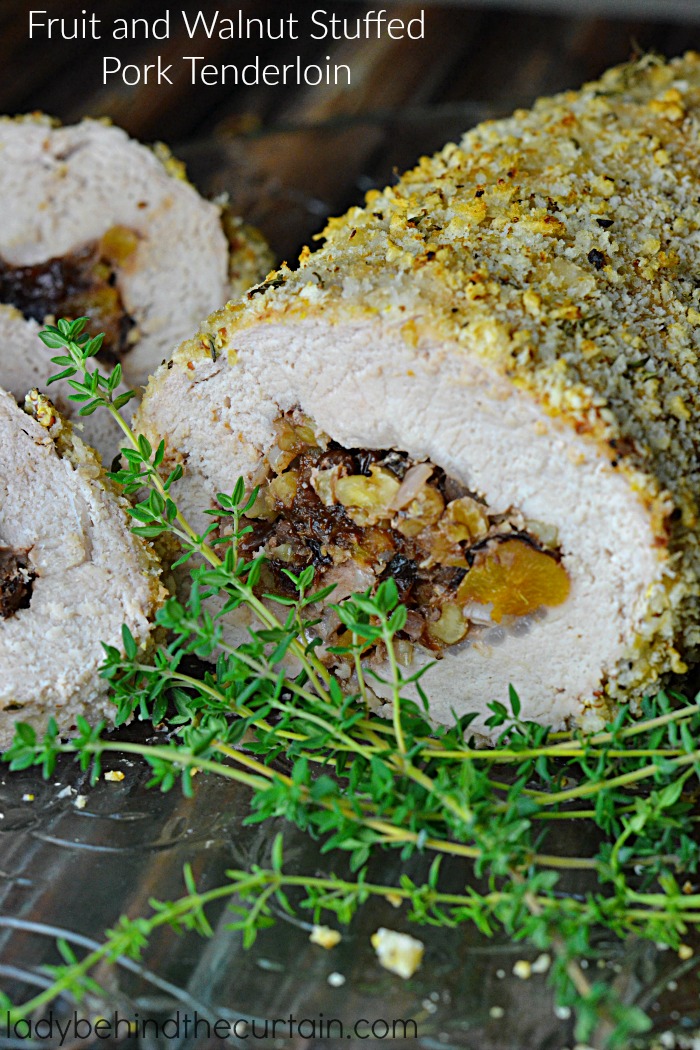 All the prep work can be done a day or two before you serve your meal.  Cut the pork tenderloin in lengthwise, cutting tom but NOT through the other side.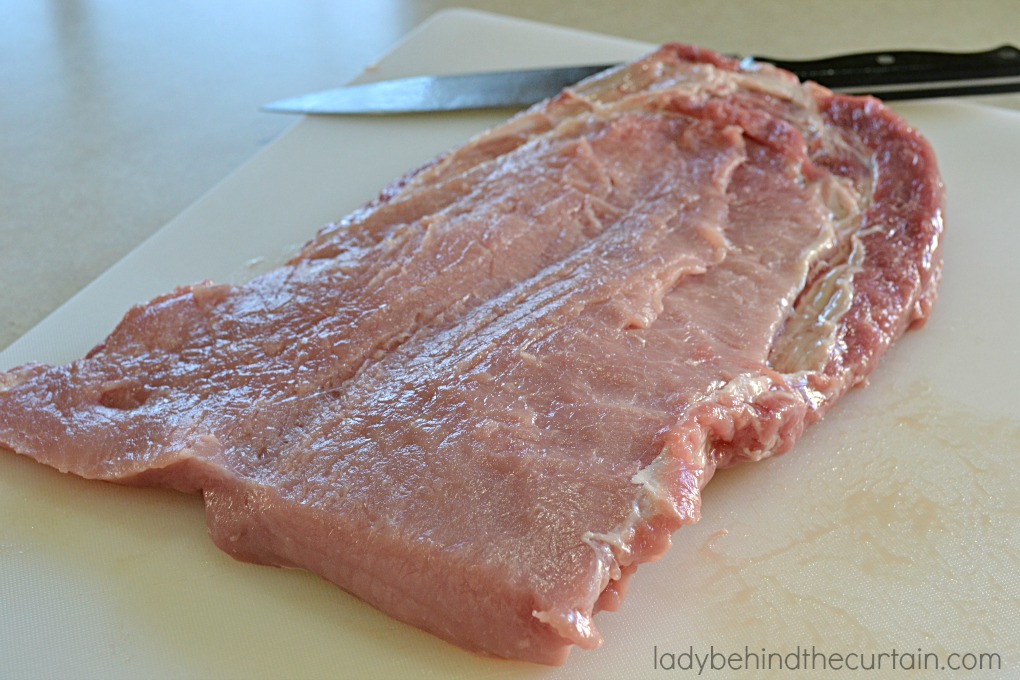 Lay plastic wrap on top and pound until both sides are equal.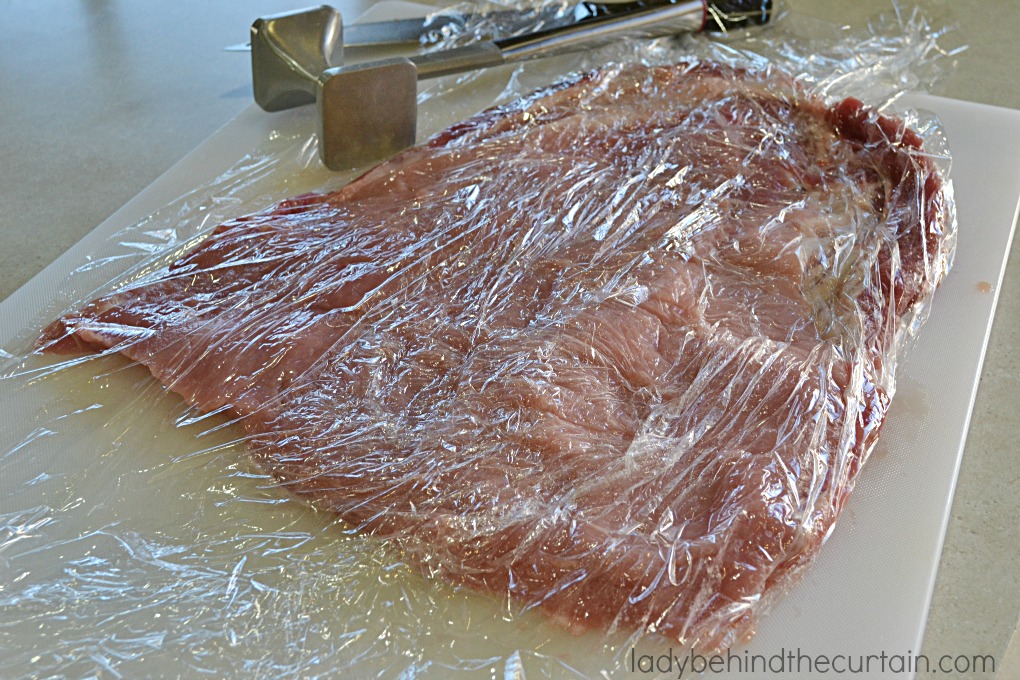 Spread the fruit mixture on the pork leaving a 1/2-inch border.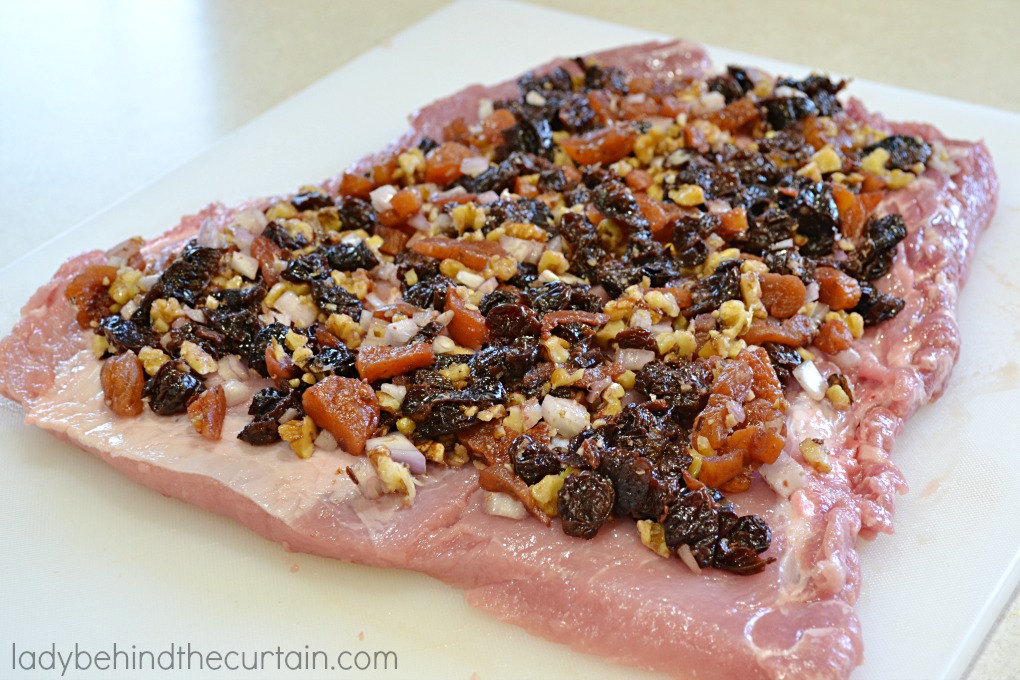 Roll up jelly roll style starting with the long side and secure with cotton kitchen twine.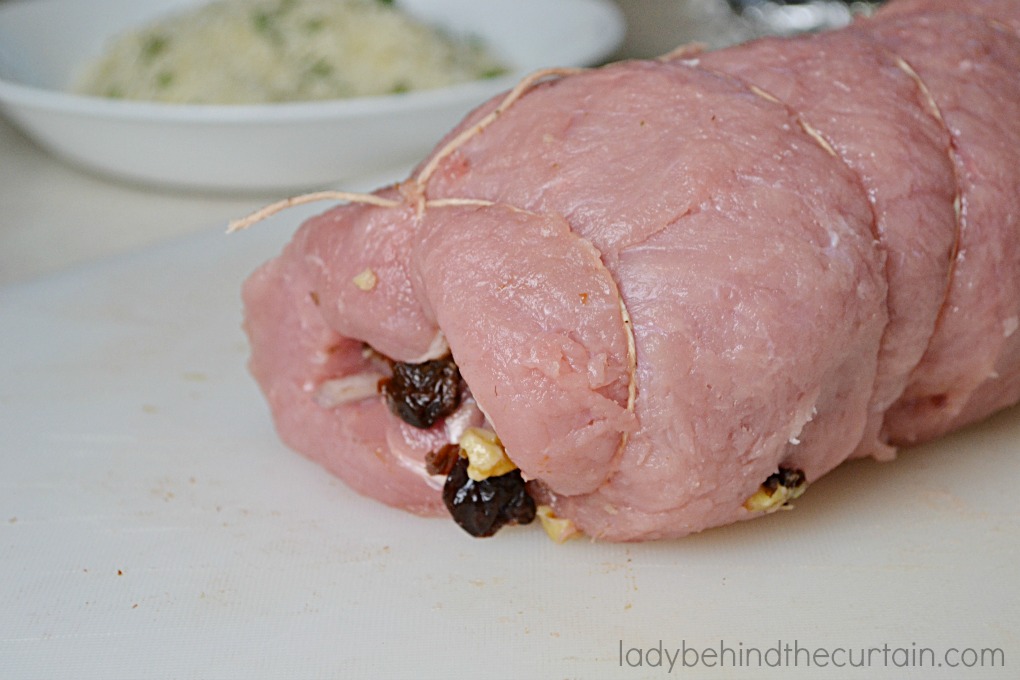 Brush on mustard and press on the topping.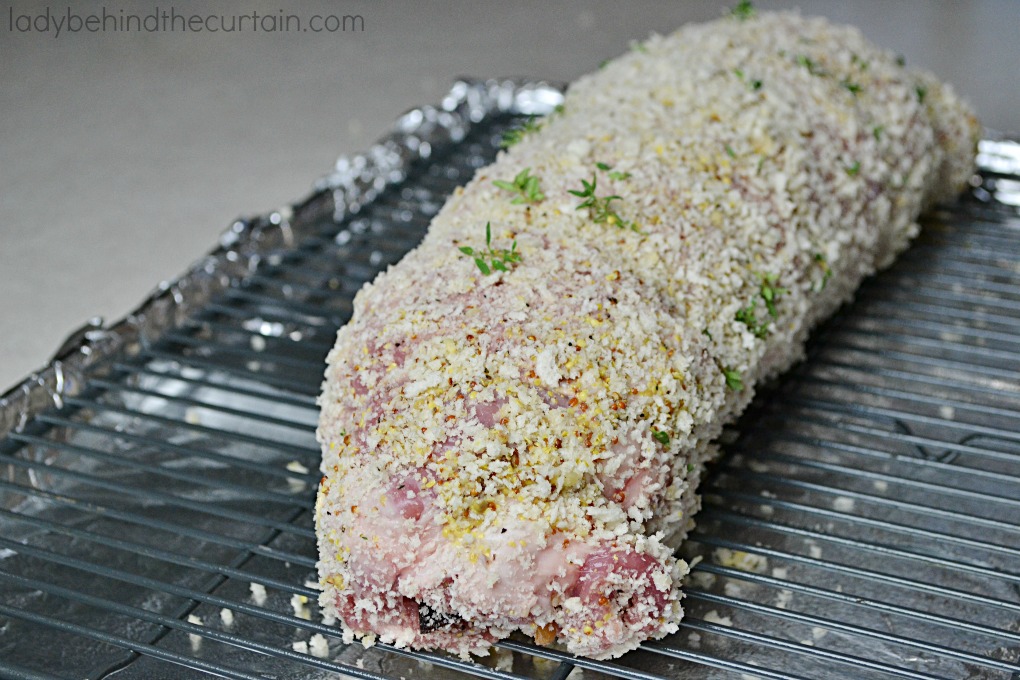 What you get is a beautifully flavored tenderloin!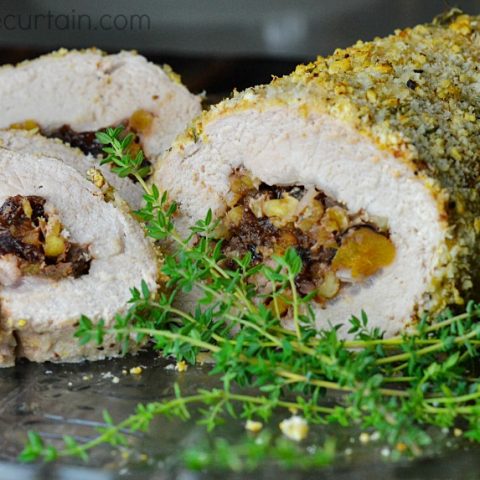 Fruit And Walnut-Stuffed Pork Loin
Total Time:
1 hour
25 minutes
Ingredients
For the Filling:
1/2 cup dry red wine
1/4 cup dried cherries
1/4 cup dried apricots, chopped
1/4 cup dried plums, chopped
2 tablespoons orange juice
1/3 cup walnuts, chopped
2 tablespoons shallots, chopped
1/2 teaspoon salt
1/2 teaspoon grated lemon zest
For the Coating:
3/4 teaspoon salt
2 ounces panko bread crumbs
1 teaspoon fresh thyme, chopped
1/4 teaspoon black pepper
2 garlic cloves, minced
For the Tenderloin:
1 (2-1/2 pound) boneless center-cut pork loin roast, whole
2 tablespoons Dijon mustard
cooking spray
Instructions
Preheat oven to 400 degrees.
For the Filling:
Add the wine, cherries, apricots, plums and orange juice to a medium microwave-safe bowl; microwave at high 2 minutes.
Let stand 10 minutes or until fruit is plump.
Drain mixture through a sieve, reserving fruit mixture.
Combine fruit mixture, walnuts, shallots, salt and zest.
For the Coating:
In a small bowl mix together salt, panko, thyme, pepper and garlic.
For the Tenderloin:
Starting from the center,cut pork in half lengthwise, cutting to, but NOT through, other side; open halves, laying the pork flat.
Cover with plastic warp; pound to an even thickness.
Discard plastic wrap.
Spread fruit mixture over pork, leaving a 1/2-inch border; roll up pork, jelly-roll fashion, starting with one long side; secure with cotton kitchen twine.
Brush evenly with mustard.
Sprinkle bread-crumb mixture over pork; press gently to adhere.
Place a wire rack in a pan lined with foil; spray rack with non stick cooking spray.
Bake 55 minutes or until a meat thermometer inserted in the thickest party registers 155 degrees.
Let stand 10 minutes; remove twine and cut into 16 (1/2-inch-thick) slices.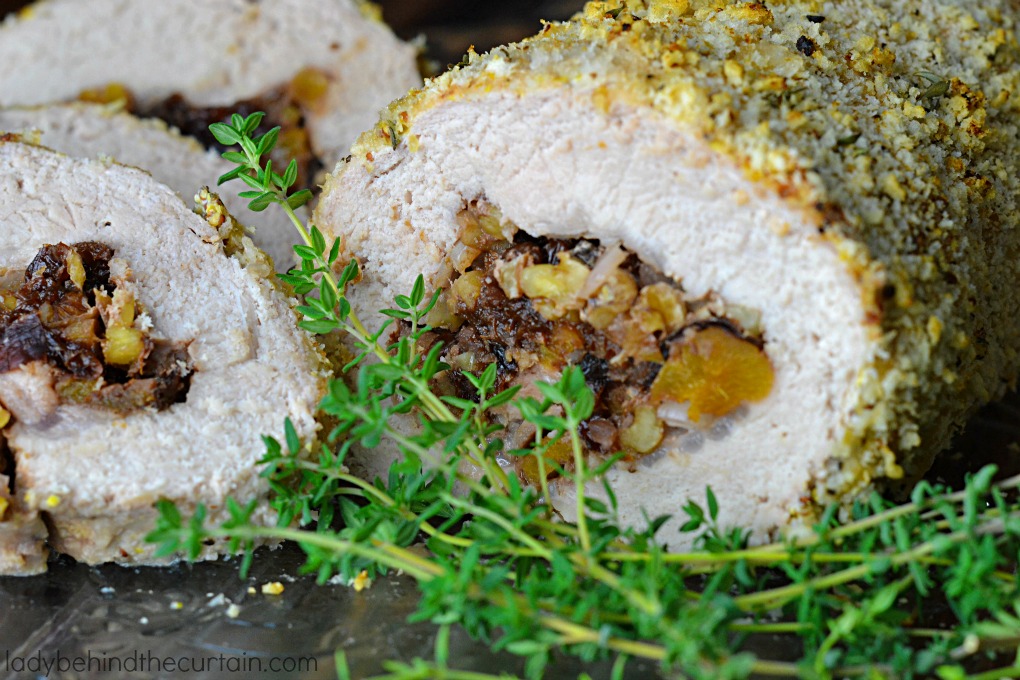 MORE DINNER RECIPES

ROASTED CHICKEN WITH POTATOES AND BACON 2. ALMOND CRUSTED COD  3. JALAPENO STEAK AND MUSHROOMS