Gingerbread Turtle Thumbprint Cookies
Disclosure:  I am associated with Pillsbury through the Holiday Bloggers Event.  Pillsbury paid for my expenses and provided me with Pillsbury dough products to use while at General Mills.  All opinions are 100% mine.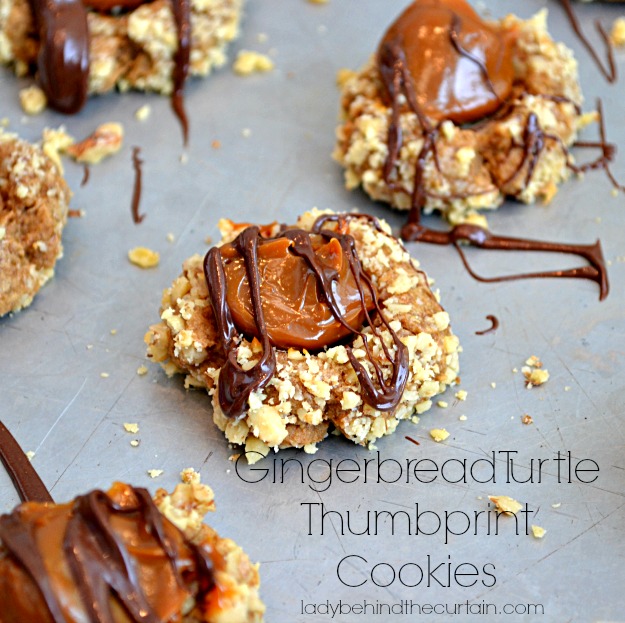 Make your holidays bright with these easy to make gingerbread turtle thumbprint  cookies!  Festive with all the holiday flavor!  A must for your holiday cookie tray.
With only 6 ingredients you can make these gingerbread turtle thumbprint cookies for your kids to take to the neighbor, teacher or babysitter.
I made these cookies while visiting the General Mill Headquarters in Minnesota, Minneapolis at the Pillsbury Kitchens.  Read HERE all about the Pillsbury Holiday Bloggers Event.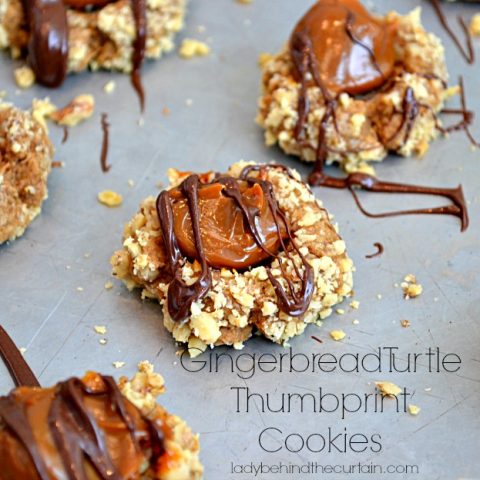 Gingerbread Turtle Thumbprint Cookies
Ingredients
1 (30 ounce) roll Pillsbury refrigerated gingerbread cookies
2/3 cup all-purpose flour
2 egg whites, beaten
2 cups finely chopped walnuts
1 cup dulce de leche or caramel dessert topping
1 cup semisweet chocolate chips
Instructions
Heat oven to 350 degrees.
In a large bowl, break up cookie dough.
Stir or knead in flour until well blended.
Shape dough into 40 balls.
Place egg whites in a shallow bowl.
Place chopped walnuts in another shallow bowl.
Dip each ball into egg whites, then roll each ball in chopped walnuts.
Place cookie 2 inches apart on ungreased cookie sheets.
Press thumb in center of each cookie to make indentation.
Bake 10 to 14 minutes or until cookies are set around edges.
Remove cookies to cooling rack to cool completely, about 30 minutes.
Place 1 teaspoon dulce de leche in indentation of each cookie.
In a small microwavable bowl, microwave chocolate uncovered on high 30 seconds; stir.
Continue to microwave in 15-second increments until chocolate is melted and smooth.
Drizzle chocolate mixture over cookies.