Glazed Lemon Curd Muffins
Get ready to pucker up with these delicious Glazed Lemon Curd Muffins.  A mouth full of sunshine with every bite!  If you love lemon like I do then you are going to love these lemon curd filled muffins.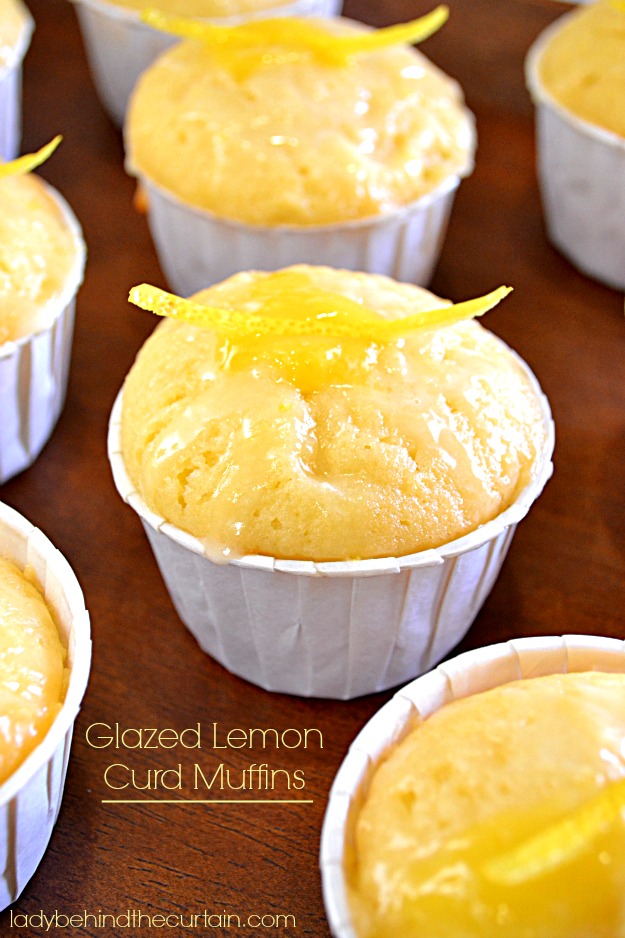 The wonderful bright flavor of summer!  LEMON!  Pack these up for a breakfast in the park, serve at your next brunch or just have as a great snack.  For this recipe you'll also need to make my delicious creamy lemon curd!  Click here for the recipe—->>>>HOW TO MAKE LEMON CURD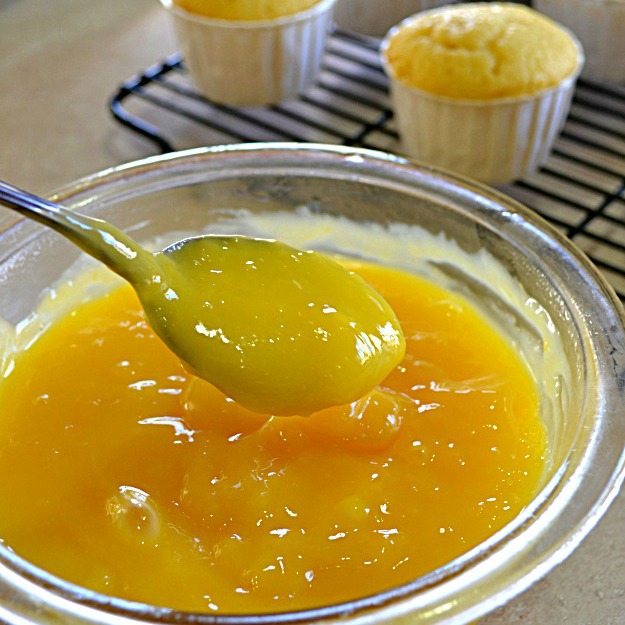 These delicious muffins not only have a sweet and tart lemon curd filling but the also have a lemon glaze to satisfy all your lemon cravings!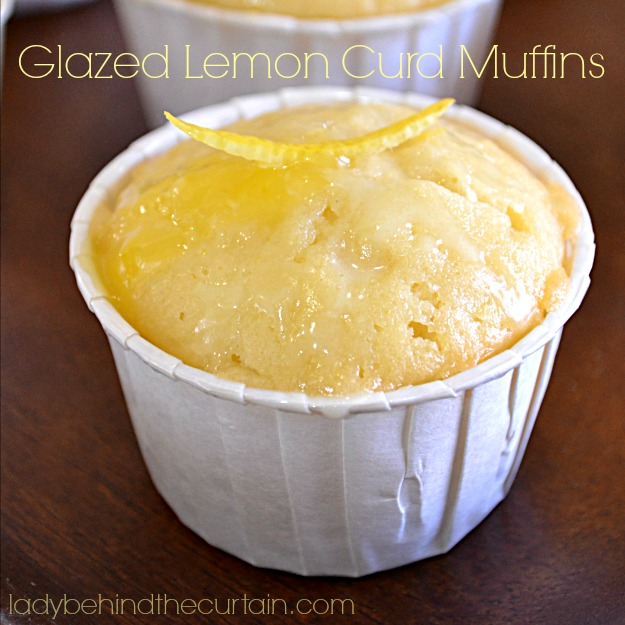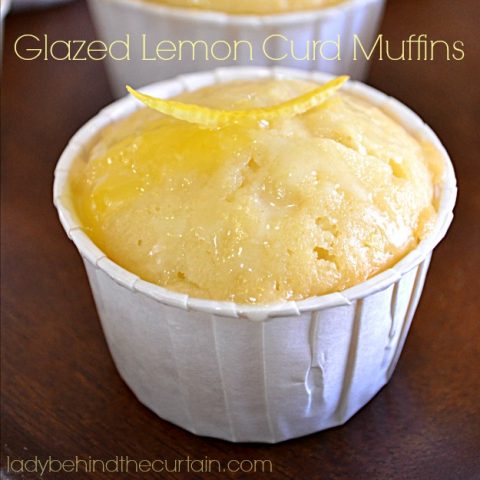 Glazed Lemon Curd Muffins
Ingredients
For the Muffins:
1-1/2 cups butter, softened
3 cups granulated sugar
6 eggs
1-1/2 cups sour cream
3 tablespoons lemon juice
2 tablespoons grated lemon peel
4-1/2 cups all-purpose flour
1/2 teaspoon baking soda
1/2 teaspoon salt
For the Lemon Curd Glaze:
1/2 cup confectioners' sugar
1 tablespoon lemon curd
2 teaspoons water
Instructions
For the Muffins:
Preheat oven to 350 degrees.
Line muffin tin with paper liners.
Cream together butter and sugar until fluffy.
Beat in eggs one at a time until well combined.
Add sour cream, lemon juice and lemon peel.
Combine the flour, baking soda and salt; gradually add to creamed mixture just until moistened. Fill muffin cups two-thirds full.
Bake 25 to 30 minutes or until toothpick inserted in the center comes out clean.
Meanwhile make the glaze.
Cool muffins in pan 3 minutes.
Remove to a wire cooling rack.
Fill a piping bag with lemon curd fitted with a piping tip, insert lemon curd into muffins, pulling out as you fill.
Drizzle with lemon curd glaze.
For the Lemon Curd Glaze:
Combine the sugar and curd until it reaches a thick cream.
Add the water and drizzle over muffins 1/4 teaspoon at a time.
Serve immediately or refrigerate.

MORE MUFFIN RECIPES

PEACH CRUMB CAKE MUFFINS  2. BLUSHBERRY TEA OATMEAL MUFFINS  3. GLAZED DONUT MUFFINS
NEVER MISS A POST!
Sign up for my newsletter and receive my recipes in your inbox. Easy to see anytime and saved for safe keeping. Click Here and sign up today! —->>>>CURTAIN CALL NEWSLETTER