These Granola Garbage Sticks are more like a delicious chewy candy bar.  I love these granola sticks!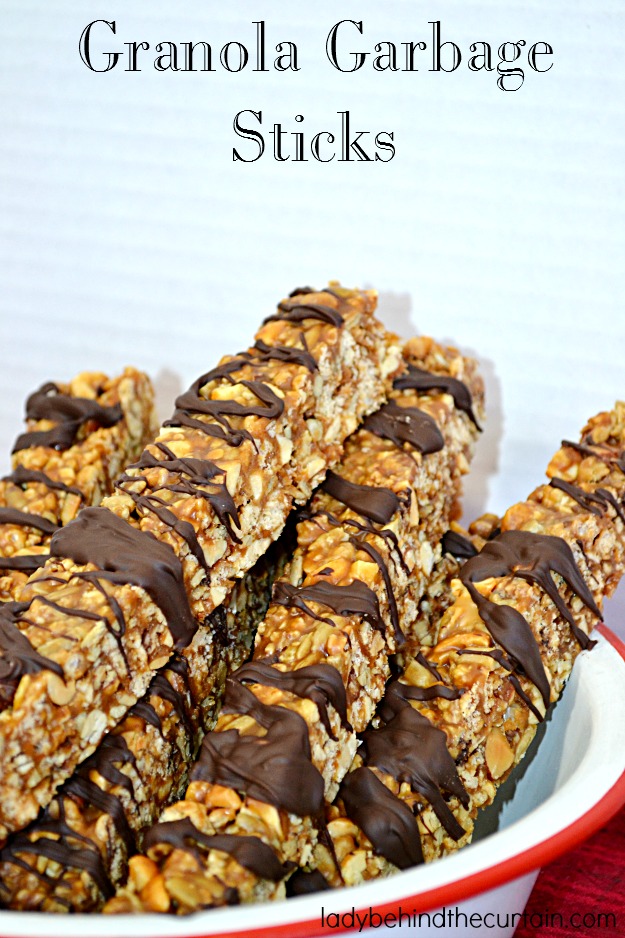 These Granola Garbage Sticks are perfect for snacking, an on the go breakfast or taking on hiking trips.  A creamy mixture of brown sugar, honey and peanut butters mixed with granola, sun flower seeds, peanuts, almonds, and peanut butter chips.  All topped with a chocolate drizzle to make these the BEST granola bars I've ever had!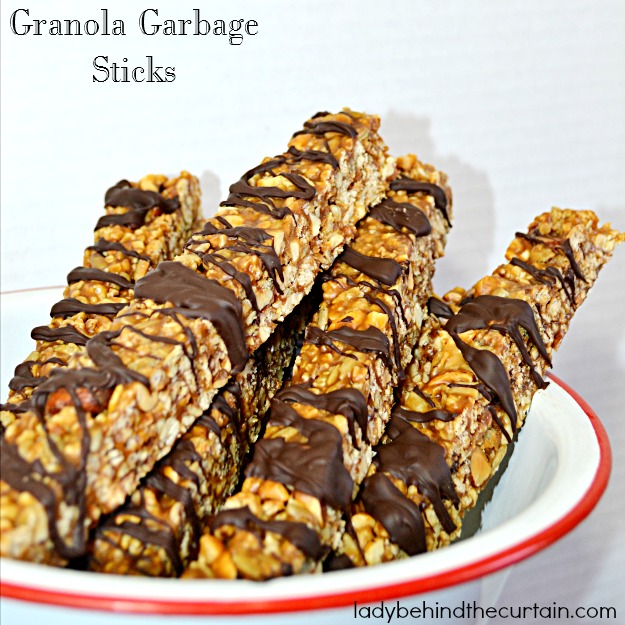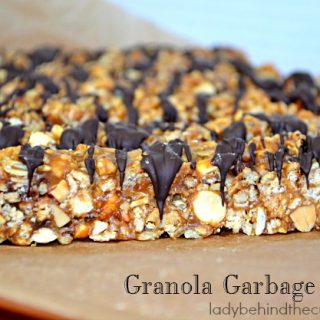 Granola Garbage Sticks
Total Time:
1 hour
2 minutes
Ingredients
3/4 cup packed dark brown sugar
1/3 cup honey
3 tablespoons butter
3 tablespoons creamy peanut butter
2 cups granola, large clusters broken up
1/2 cup dry roasted sunflower kernels
1/2 cup roasted peanuts, coarsely chopped
1/4 cup honey roasted almonds, coarsely chopped
1/4/ cup peanut butter flavor baking pieces
1/2 cup dark chocolate baking pieces, melted
Instructions
Line a 8x8-inch baking pan with foil, extending foil over the edges of the pan.
Grease foil; set aside.
In a small saucepan combine brown sugar, honey, butter, and peanut butter.
Bring to boil over medium heat, stirring constantly; reduce heat, simmer for 2 minutes.
Remove from heat.
In a large bowl stir together granola, sunflower kernels, peanut, almonds and peanut butter pieces.
Add brown sugar mixture to granola mixture; toss to combine.
Immediately press granola mixture evenly into the prepared pan.
Chill about 15 minutes or until firm.
Use foil to lift uncut bars out of pan.
Place on a cutting board; cut into 8 x 1-inch bars.
Transfer bars to a sheet of waxed paper.
Drizzle with melted chocolate.
Let stand about 15 minutes or until chocolate is set.
RECIPES YOU MIGHT ALSO LIKE:
1.  QUINOA GRANOLA  2.  HOMEMADE GRANOLA BARS  3.  PEANUT BUTTER CEREAL BARS  4.  RASPBERRY PARFAIT AND MINI MUFFINS