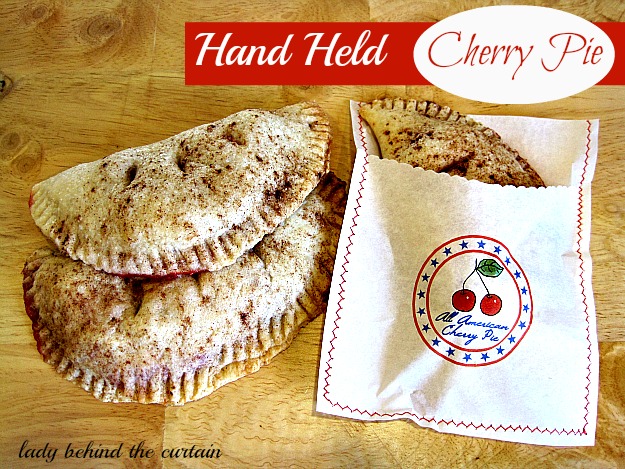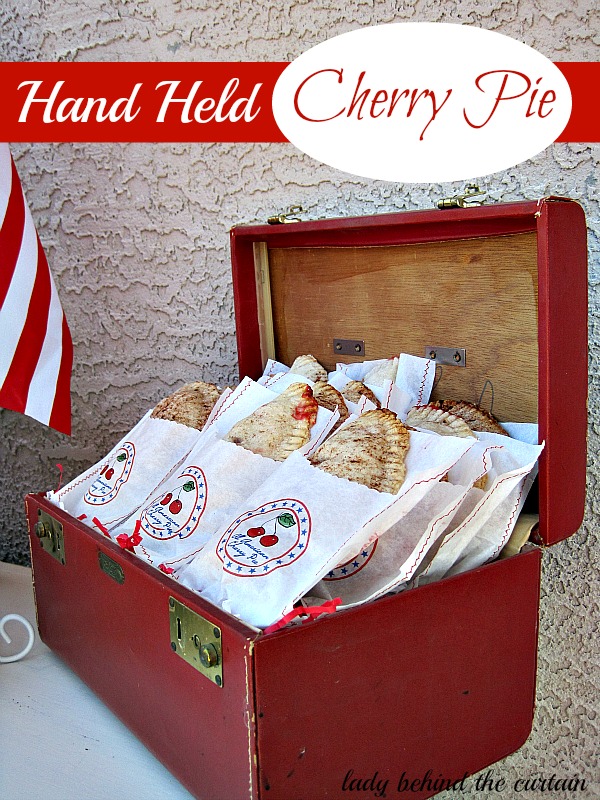 IT'S PARTY TIME!  Whose bringing the pie?  Make your next cherry pie extra special by making a small hand held pie.  Everyone will love having their own piece of pie in a cute hand made DIY PIE POUCH.  These pies can be made with a ready made pie crust or one from scratch!  So easy and DELICIOUS!
PIE CRUST:
1 – 9-inch pie crust recipe or store bought makes 3 – 6-inch circles with scrapes leftover.  I made 5 – 9-inch pie crusts (recipe below) and made 20 – 6-inch pies.
I made my pie circles the day before I made the pies.  I thought the job of making 20 pie circles would take a lot of time.  But I had them made and in the refrigerator in less then a hour.
I made the original 3 circles from one pie crust recipe, put the scrapes in a small zip top bag and as I made each recipe I added to the bag and was able to make 5 more pie circles.  I layered them between wax paper in a container with a lid and stored them in the refrigerator.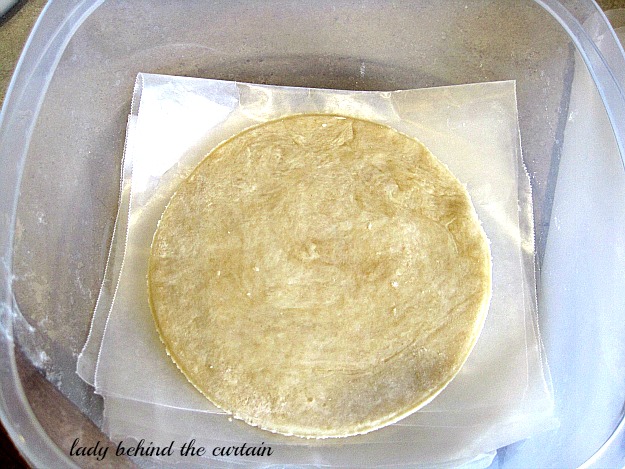 1 – 9-inch Pie Crust Recipe
Ingredients
1-1/4 cups all-purpose flour
1/2 teaspoon salt
1/3 cup shortening
6-7 tablespoons cold water
Directions
Stir together the flour and salt.  Cut in shortening till pieces are the size of small peas.  Add water to the flour mixture and mix until it forms a dough ball.  Flour surface and roll dough into a 9-inch pie crust.  Using a 6-inch bowl and a pointed knife, cut around to form your 6-inch circle.  I only got 2 – 6-inch circles for the first round.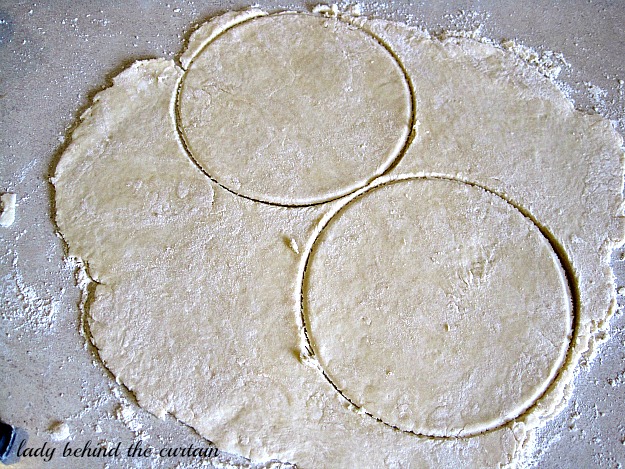 I rolled the dough out a second time to get the third circle.
Layer circles between wax paper and chill overnight or until dough has hardened.
Cherry Pie Ingredients
3 cans cherry pie filling
butter
sugar
cinnamon
Directions
Add 2 heaping spoonfuls of cherries ( I used canned) into the center of the circle.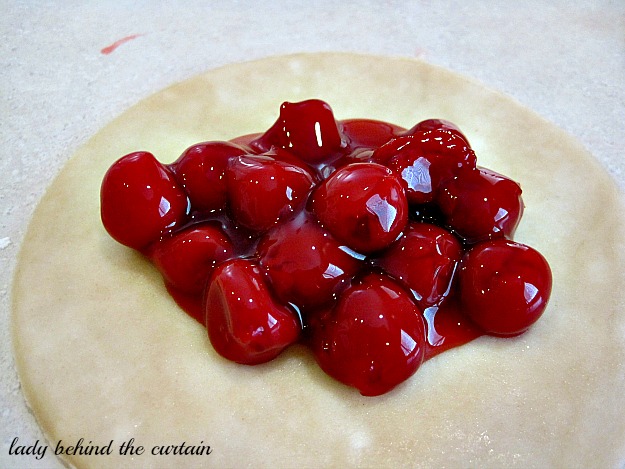 Pull outside centers together like a taco.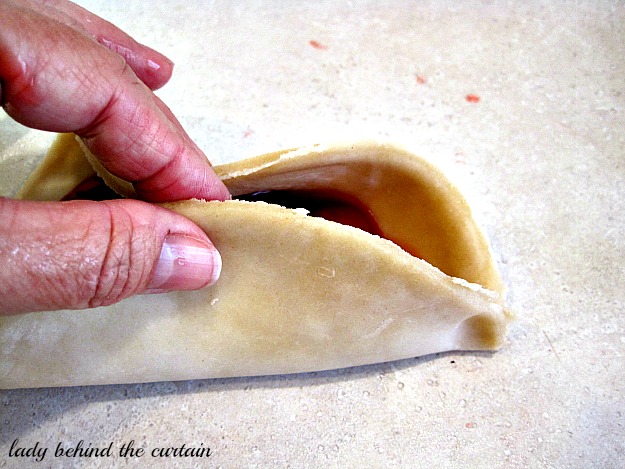 Starting at one side pinch the edges together to the center.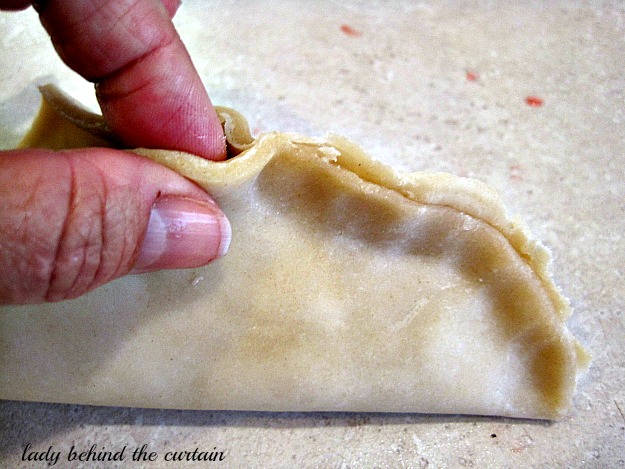 Hold up right so the filling moves to the other end and pinch the rest of the circle together.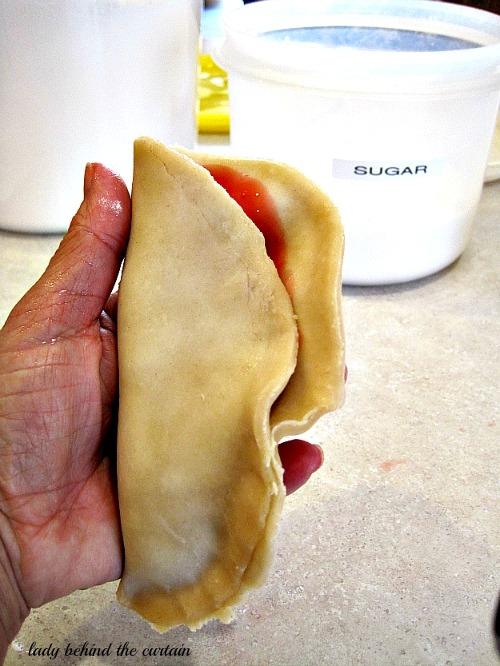 Using a fork crimp the edges, place on a cookie sheet.  (about 6 per cookie sheet)  Brush melted butter over top and sides of pie, sprinkle with sugar and cinnamon.  Using a sharp paring knife cut 3 slits on the top for vents.  Bake at 375 degrees for 25 minutes.  Cool on cooling rack.  This is a LBC original!