Healthy Peanut Butter Oatmeal Bites
I love that these Healthy Peanut Butter Oatmeal Bites are full of healthy and energizing ingredients.  Bahahaha…….do you know how I get kids to eat what they normally wouldn't eat?  I puree it!  As long as it tastes good and it's good for them they don't have to know what's in it.  Right?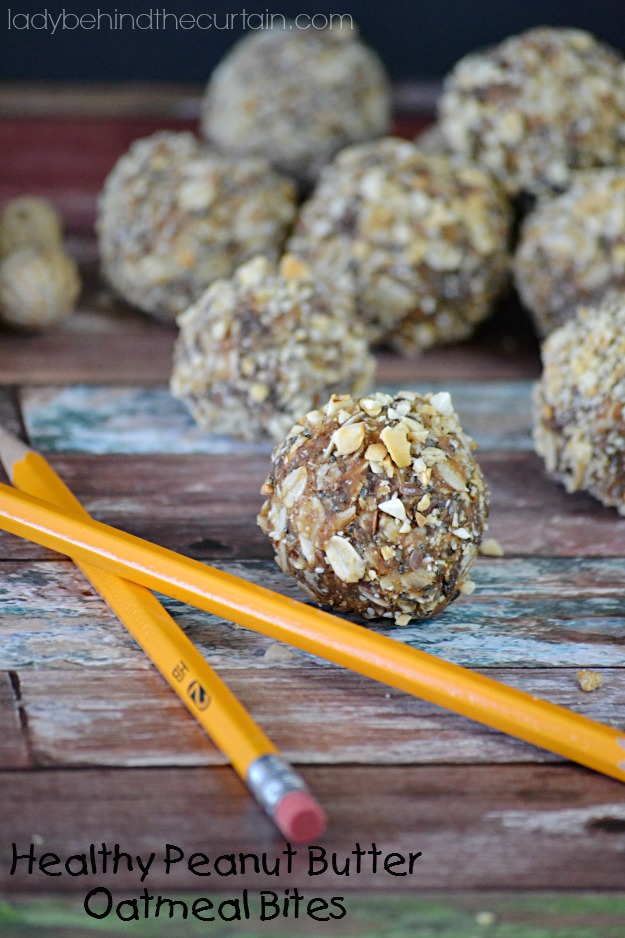 Pack something great in your kids lunch like these Healthy Peanut Butter Oatmeal Bites.  They also make the perfect pick me up snack to push your child forward through the rest of the day.  Don't forget breakfast or as an after school snack.
These Healthy Peanut Butter Oatmeal Bites are pretty much perfect for ANY time of the day.  With VERY limited sugar and wholesome ingredients. This is something you can feel good about feeding your kids.  Oh, and YOU TOO!  🙂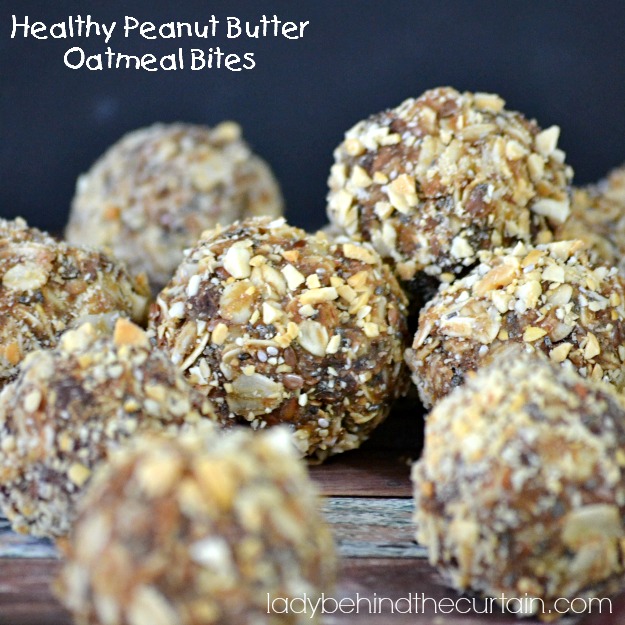 Create your own Recipe Box and save your favorite Lady Behind The Curtain recipes.  Make a Meal Plan with your favorite recipes and ZipList will automatically add the ingredients to a Shopping List.
Yield: Makes 24 to 28 1-inch balls
Healthy Peanut Butter Oatmeal Bites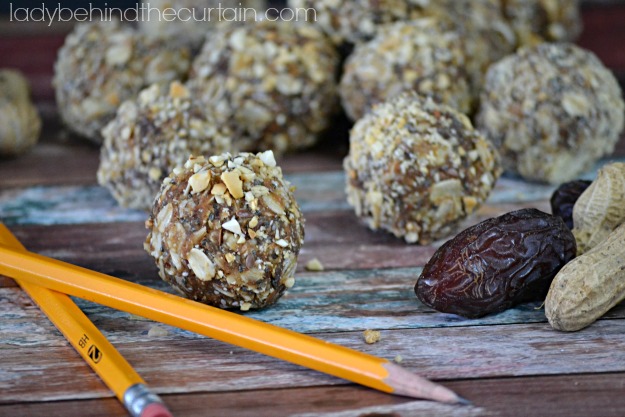 Ingredients
For the Bites:
2 cups old fashioned rolled oats
1/2 cup wheat bran
1/2 cup sliced almonds, chopped
4 tablespoons chia seeds
4 tablespoons whole flaxseeds
1/4 teaspoon ground cinnamon
1/4 teaspoon salt
1/2 cup plus 4 tablespoons natural peanut butter
1/2 cup date puree ingredients and instructions below
1/2 teaspoon vanilla extract
4 tablespoons mini chocolate chips
2/3 cup peanuts, finely chopped
For the Date Puree:
12 Medjool dates, seeded
5 tablespoons hot water
Instructions
For the Bites:
In a large bowl combine the oats, wheat bran, almonds, chia seeds, flaxseeds, cinnamon and salt.
Place peanut butter in a medium microwave safe bowl; microwave 30 seconds.
Stir in the date puree and vanilla.
Pour over oatmeal mixture and mix well.
Fold in chocolate chips.
Roll into 1-inch balls and roll in the ground peanuts.
Serve a room temperature or cold.
For the Date Puree:
Take seeds out of the dates and place in a blender with water.
Pulse until the dates are pureed.