Having some ladies over for a meeting or just to visit?  This Honey Walnut Tea Cake is what you'll want to serve with some delicious tea.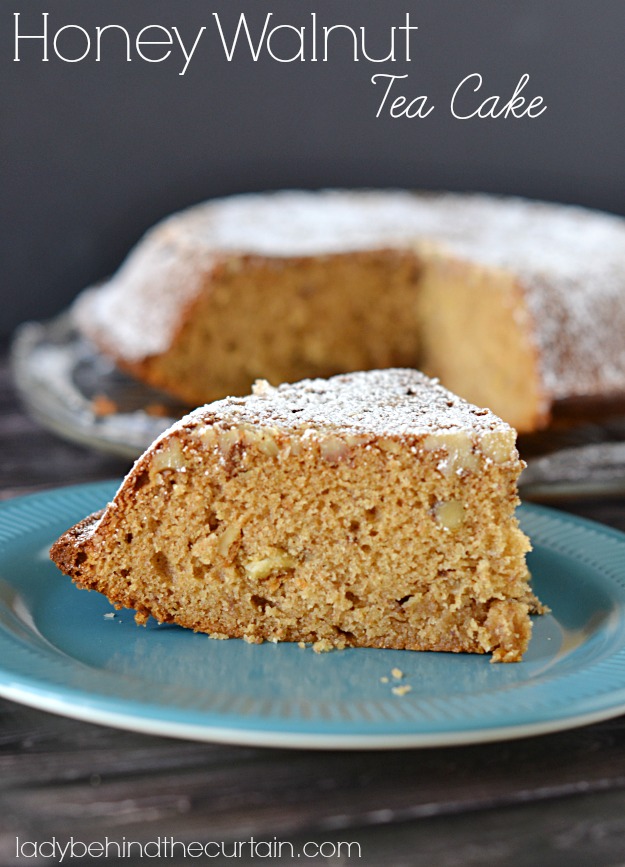 This Honey Walnut Tea Cake is not a sweet cake.  If you want to sweeten it up a bit I suggest adding my easy to make HOT FUDGE SAUCE.  Add a drizzle or pour into small containers for dipping.
Having a tea?  Make this cake in mini form to serve with tea.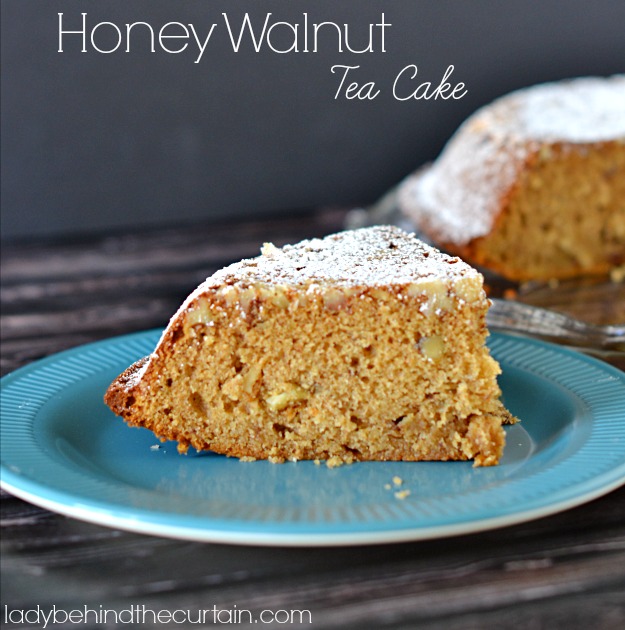 Create your own Recipe Box and save your favorite Lady Behind The Curtain recipes.  Make a Meal Plan with your favorite recipes and ZipList will automatically add the ingredients to a Shopping List.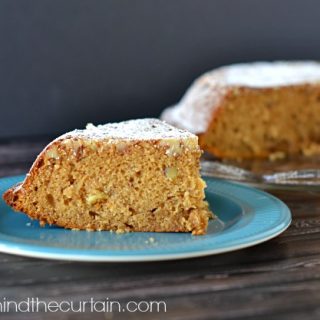 Honey Walnut Tea Cake
Total Time:
1 hour
15 minutes
Serve this easy to make cake at your Mother's Day Brunch!
Ingredients
1 cup walnuts, chopped, divided
1 1/4 cups whole wheat flour
3/4 cup all-purpose flour
1/2 teaspoon baking soda
1/2 teaspoon salt
3/4 cup butter, softened
1 cup honey
4 eggs
1/4 cup sour cream
Optional: confectioners' sugar
Instructions
Preheat oven to 350 degrees.
Spray a 9-inch pie plate with non stick cooking spray.
Sprinkle 3/4 cup of the chopped walnuts in the bottom of the prepared pan.
Whisk together the flours, baking soda and salt.
In a large mixing bowl mix together the butter, honey and eggs.
Add flour mixture, sour cream and remaining walnuts.
Mix until combined.
Gently pour batter over the walnuts.
Bake 50 to 55 minutes or until golden brown and a toothpick inserted in the center comes out clean.
Cool on rack 15 minutes.
Invert the cake onto a serving plate and allow to cool.
Sprinkle with confectioners' sugar.