Instant Pot Spicy Pineapple Chicken Recipe
Instant Pot Spicy Pineapple Chicken Recipe | This easy weeknight dinner is perfect for when you're craving something sweet and spicy.  Not too spicy so the kids can enjoy it too.  Life can get too busy.  It's nice to know that in minutes you can have a home cooked meal on the table that everyone will love.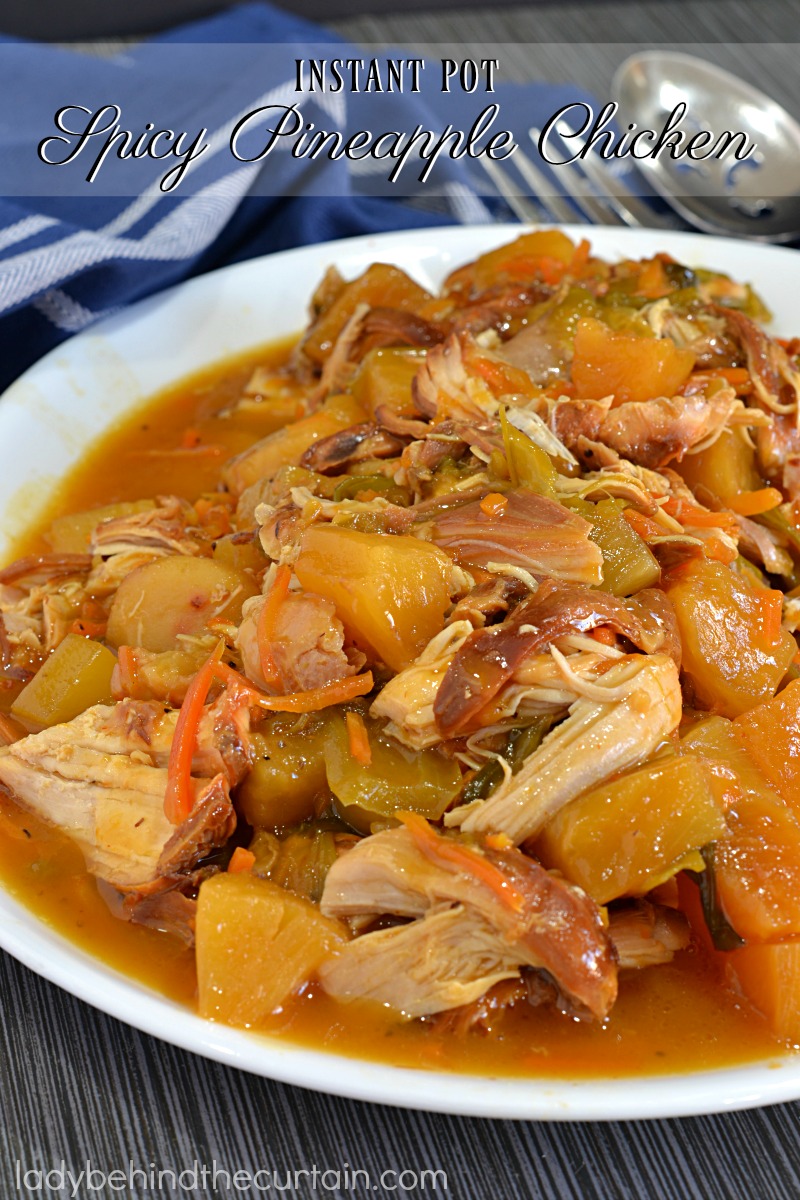 This Instant Pot Spicy Pineapple Chicken recipe has big chunks of pineapple, along with snow peas, carrots and bell pepper.  Put down the phone!  There's no need for take out tonight!  This delicious dish is also just as good the next day.  That's great news!  You just made dinner for two nights!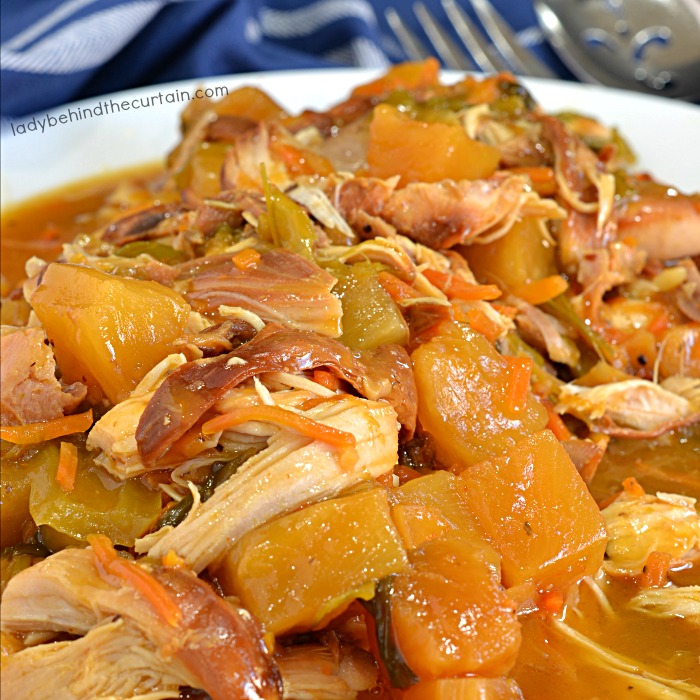 TIP: I used large pieces of chicken, you can also use individual pieces of drum sticks, thighs and small breasts to equal 3 pounds.  This recipe will take up to 5 pounds of chicken.
If you haven't made the jump to an Instant Pot, don't worry this delicious Spicy Pineapple Chicken is just as good in the slow cooker!  Click here to find out how to make this recipe in your slow cooker—->>>>SLOW COOKER SPICY PINEAPPLE CHICKEN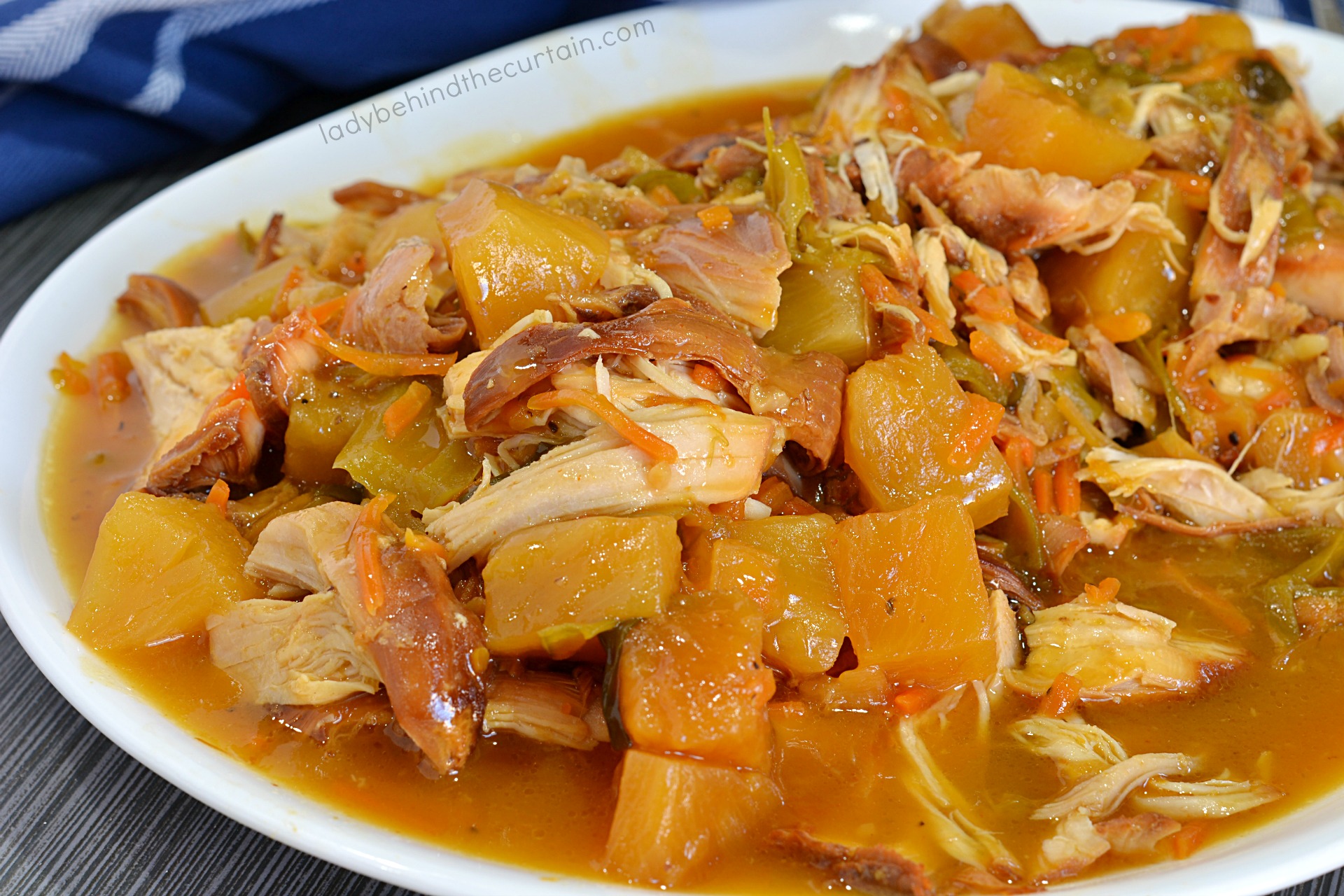 Instant Pot Spicy Pineapple Chicken Recipe
Ingredients
For the Chicken
2 quarter pieces (leg and thigh)
2 large breasts (all the chicken together about 3 pounds)
1 green bell pepper, cut into large chunks
1 (6 ounce) bag snow peas, trim tips
2 cups store bought coarsly shredded carrots
1 (8 ounce) can sliced water chestnuts, drained
2 (20 ounce) cans pineapple chunks 100% juice, drain and reserve juice
1 bunch (about 7) green onion, cut into large slices
For the Sauce
reserved pineapple juice
2 teaspoons chopped garlic
1 teaspoon chopped ginger
1 (8 ounce) jar apricot pineapple preserves
4 tablespoons lite soy sauce
3 tablespoons sweet chili sauce
1 tablespoon Sriracha
2 1/2 teaspoons salt
1 teaspoon black pepper
For the Thickener
5 tablespoons all-purpose flour
10 tablespoons cold water
Instructions
For the Chicken:
In an instant pot add the chicken, bell pepper, snow peas, carrots, chestnuts, pineapple and green onion.
For the Sauce:
In a medium bowl whisk together the reserved pineapple juice, garlic, ginger, preserves , soy sauce, how sauce, sugar, salt and pepper.  Pour over chicken mixture.
For the Thickener:
In a jar add the flour and water.  Shake to combine.
Cooking Process:
Place lid on the instant pot and lock closed.  Make sure the pressure/steam  valve is in the closed position.  Choose the meat/stew button- normal- high pressure- 25 minutes cooking time.  Once the cooking time is over let the pot naturally release for 10 minutes.  Twist valve for quick release to remove the remaining pressure.  When all the pressure is released, remove the lid.
Transport the chicken to a platter.  Whisk the thickener into the sauce.
ENJOY!
Nutrition Information
Amount Per Serving
Calories

0
Total Fat

0g
Saturated Fat

0g
Cholesterol

0mg
Sodium

0mg
Fiber

0g
Sugar

0g
Protein

0g
MORE INSTANT POT RECIPES
APRICOT CURRY PORK ROAST  2. CREAMY REFRIED BEANS  3. MUSHROOM BEEF
NEVER MISS A POST!
Sign up for my newsletter and receive my recipes in your inbox. Easy to see anytime and saved for safe keeping. Click Here and sign up today! —->>>>CURTAIN CALL NEWSLETTER