Lemon Cloud Cupcakes | Layers…..it's all about layers with this cupcake.  Starting with a light and fluffy cupcake then a glaze full of lemon tartness all topped with the most delicious lemon butter frosting!  I love making these cupcakes for ladies luncheons, bridal showers, baby showers basically any spring or summer event!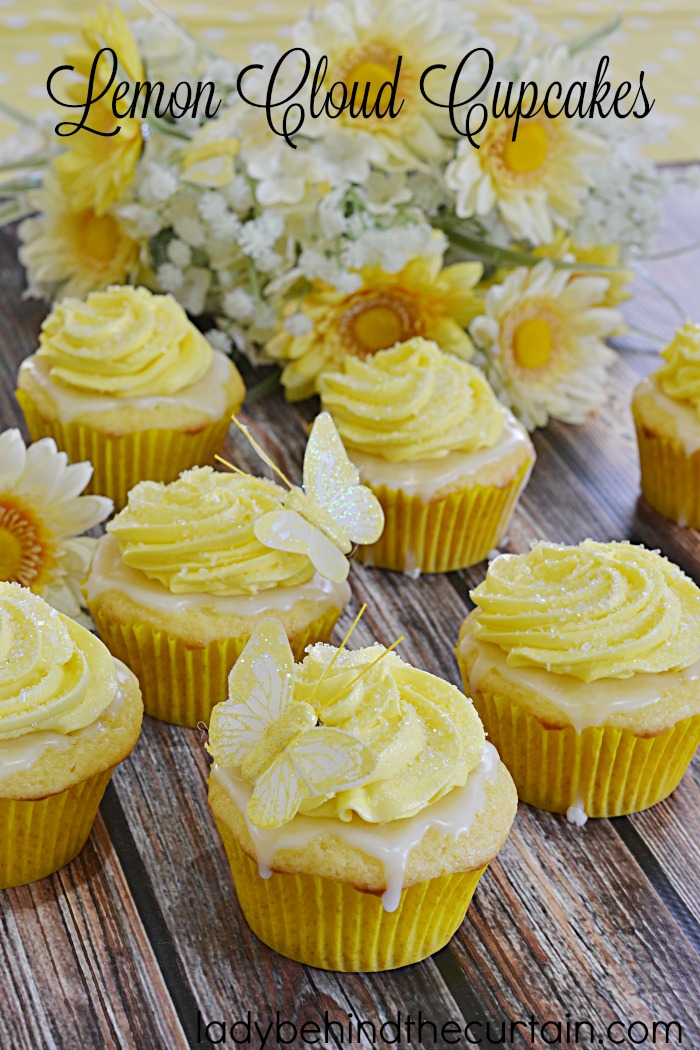 Adding pudding to a cake mix is the best way to take an everyday cake to the next level.  You get a super moist cake and it adds another layer of flavor.  It's so good in fact I have served it many times baked in a 9×13-inch baking dish with just the glaze drizzled over it.  One of my families all time favorites!  Two of my other favorite bridal and baby shower cupcakes are Strawberry Shortcake and Vanilla Very Berry Cupcakes.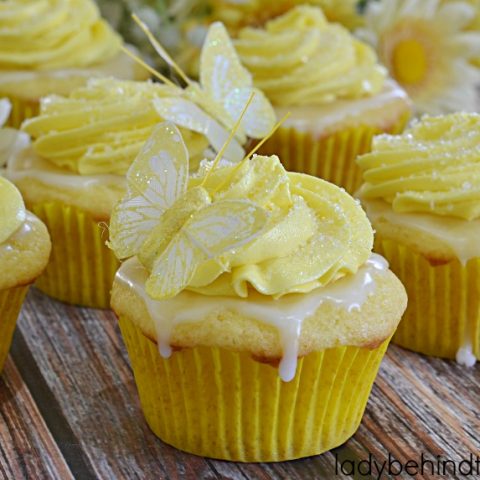 Lemon Cloud Cupcakes
Ingredients
For the Lemon Cupcakes:
1 (15.25 ounce) white cake mix
1 (3.4 ounce) instant lemon pudding mix
3/4 cup vegetable oil
3 large eggs
1 cup lemon-lime soda
For the Lemon Glaze:
2 cups confectioners' sugar
4 tablespoons lemon juice (2-1/2 lemons counting lemon juice for frosting)
For the Lemon Butter Frosting:
1/3 cup butter, softened
1/3 cup shortening
1 teaspoon vanilla extract
4 cups confectioners' sugar
2 tablespoons lemon juice
2 tablespoons milk
white sugar sprinkles (optional)
4- drops yellow food coloring (optional)
Instructions
For the Lemon Cupcakes:
Line cupcake tin with cupcake liners
Preheat oven to 350 degrees.
Combine the cake mix, pudding mix, oil and eggs; beat until well combined.
Slowly beat in soda.
Fill cupcake liners 2/3 full.
Bake 13 to 15 minutes.
When cool enough to handle move to wire rack.
For Lemon Glaze:
Combine the confectioners' sugar and lemon juice.
Mix until smooth.
While the cupcakes are still hot spoon 1 teaspoon of glaze over cupcakes.
Cool completely before frosting.
For the Lemon Butter Frosting:
Beat together the butter, shortening and vanilla.
Slowly add 2 cups confectioners' sugar.
Add lemon juice.
Gradually beat in 2 additional cups confectioners' sugar.
Beat in 1 to 2 tablespoons milk, 1 teaspoon at a time until frosting reaches spreading consistency.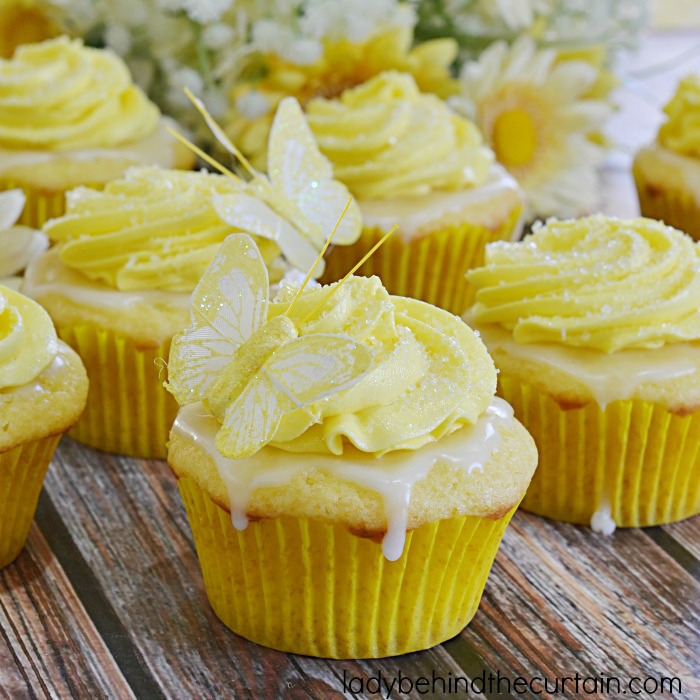 MORE LEMON DESSERT RECIPES
LEMON POPPY SEED ANGEL CAKE  2. BROWNED BUTTER LEMON BARS  3. LEMON CREME CAKE ROLL