Lemon Pecan Sandwich Cookie Bites
These Lemon Pecan Sandwich Cookie Bites melt your mouth.  From the buttery shortbread cookies to the lemon curd infused filling.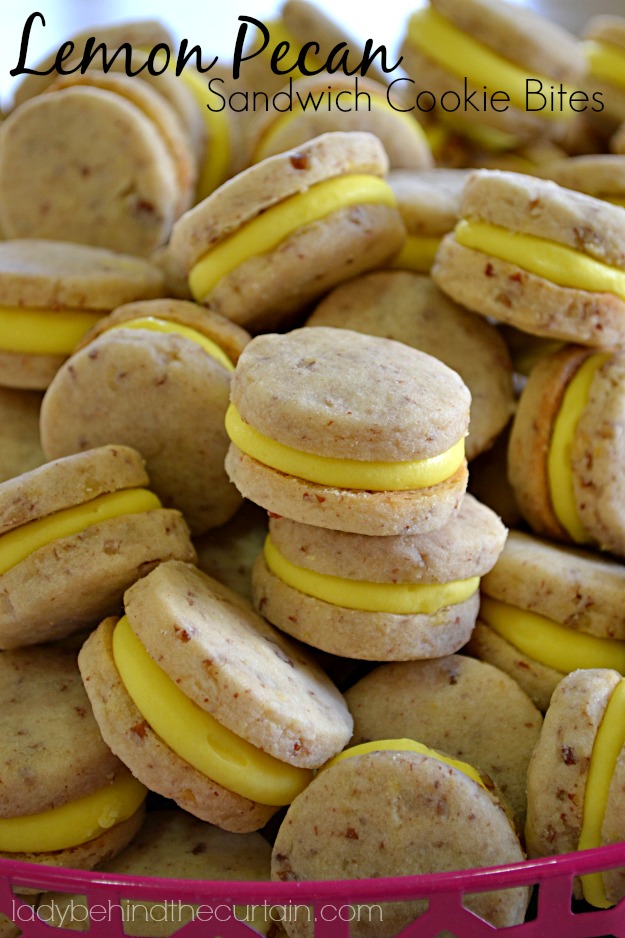 I made these Lemon Pecan Sandwich Cookie Bites for a ladies luncheon.  All the ladies LOVED them and couldn't stop eating them!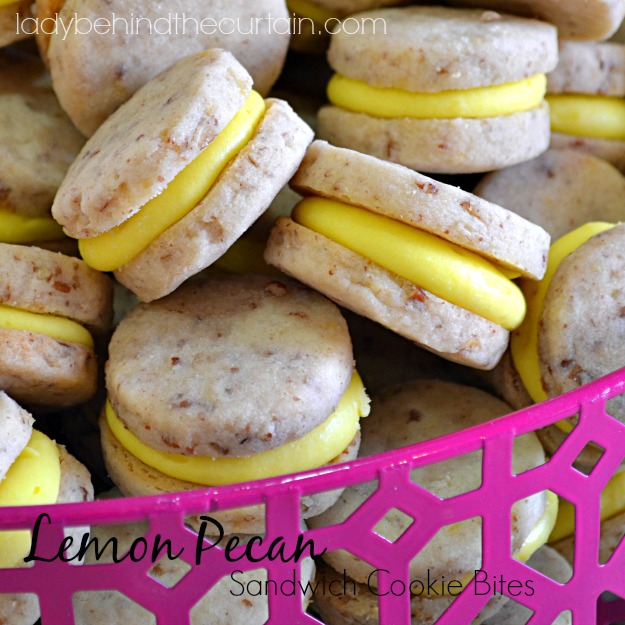 Perfect for a baby shower reveal party since they're yellow.  🙂
Add my Curried Chicken Salad Waffle Sandwich and my Italian Orzo Salad for a complete lunch.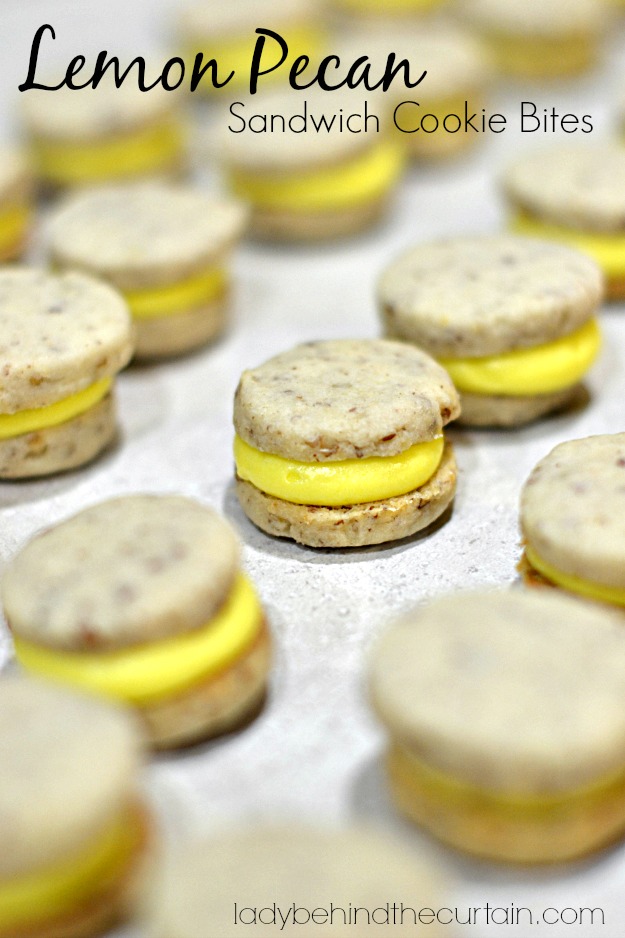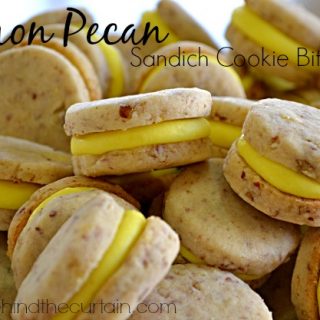 Lemon Pecan Sandwich Cookie Bites
Yield:
Makes 180 Cookie Sandwich Bites
Buttery and flaky cookie with a touch of lemon.
Ingredients
For the Lemon Pecan Cookies:
4 cups butter, softened
2 tablespoons plus 2 teaspoons lemon zest
8 cups all-purpose flour
2 cups granulated sugar
1 cup cornstarch
8 tablespoons heavy whipping cream
1 tablespoon plus 1 teaspoons vanilla extract
4 cups ground pecans
For the Lemon Filling:
2 cups butter, softened
16 ounce cream cheese, softened
1 (10 Ounce) lemon curd
2 teaspoon lemon extract
9 cups confectioners sugar
Instructions
For the Lemon Pecan Cookies:
In a large bowl, beat butter and lemon zest until creamy.
In a medium bowl, combine flour, sugar and cornstarch.
Add flour mixture, cream, and vanilla to butter mixture.
Beat until well combine,
Beat in pecans.
Wrap dough in plastic wrap and refrigerate for 2 hours or overnight.
Preheat oven to 350 degrees.
Lin 2 baking sheets with parchment paper.
On a lightly floured surface, roll dough to 1/4-inch thickness.
Using a 1 1/2-inch round cookie cutter, cut our dough.
Place 1-inch apart on prepared baking sheets.
Bake 12 to 14 minutes.
Let cool on sheets 2 minutes.
Remove from sheets and cool completely on wire racks.
For the Lemon Filling:
Add butter and cream cheese to medium mixing bowl.
Beat until creamy.
Beat in lemon curd and lemon extract.
Add confectioners' sugar 1 cup at a time.
This is when you can add the optional yellow food coloring.
Using an off set spatula add frosting to one side of a cookie; top with another cookie.
MORE COOKIE RECIPES

CARROT CAKE COOKIES 2. SOFT JELLY BEAN SUGAR COOKIES  3. STRAWBERRY LEMONADE CHEESECAKE SANDWICH COOKIES