Light Creamed Potato Soup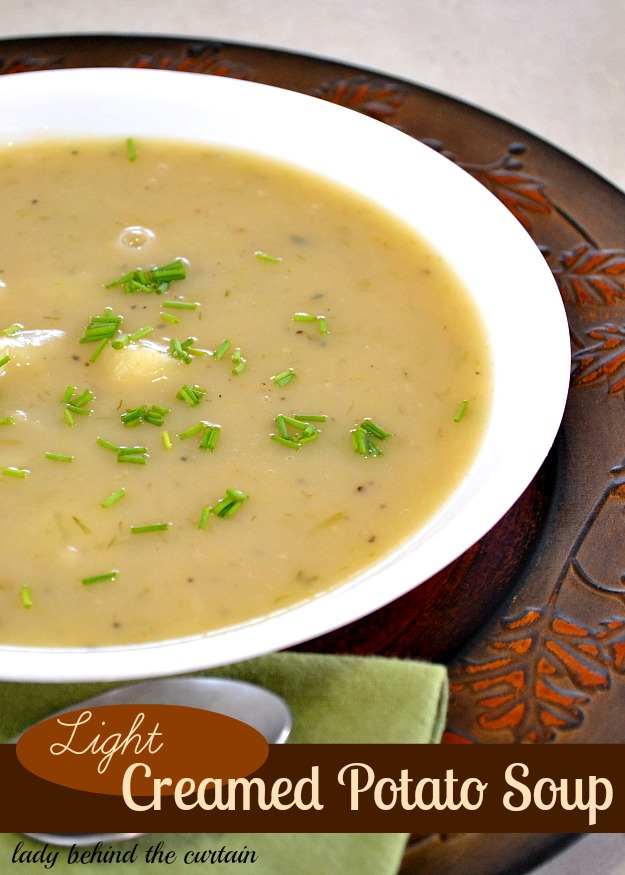 I love cream based soups but never allow myself to have them because of the high calories.  This light creamed potato soup is only 80 calories per serving (3/4 cup).  It offers tons of flavor and a creamy base.
Change up the recipe and add broccoli, corn and cheese.  (Don't forget to adjust the calories)  🙂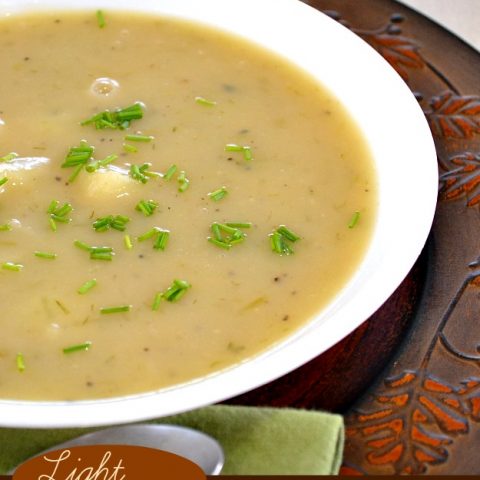 Light Creamed Potato Soup
Light on calories but full on flavor!
Ingredients
4 medium red potatoes, peeled and cut into eighths
1 small onion cut into eighths
4 green onions coarsely chopped
1 garlic clove, minced
3 sprigs of thyme
2 - 10-1/2 ounce cans chicken broth
1 cup milk ( I used 2% so the calorie count was even lower)
1 teaspoon salt
1/8 teaspoon pepper
chives, chopped for garnish
Instructions
Combine potatoes, onion, green onions, garlic, thyme and broth.
Simmer until potatoes are tender (about 20 minutes).
Reserve 1 cooked potato (8 pieces) and chop.
Discard sprig of thyme
Process the remaining mixture in a blender until smooth.
Combine pureed mixture with milk, salt, pepper and chopped potato.
Optional-Sprinkle chopped chives on top of soup.
Nutrition Information
Serving Size

3/4 cup
Amount Per Serving
Calories

80