WHAT A PIZZA!  This Marinated Chicken Pizza starts with my easy to make Pizza Dough and Quick Tomato Pesto Pizza Sauce.  I marinated the chicken in Italian dressing.  It's my favorite marinade.  So easy (all you do it squeeze the bottle over the meat) and so tasty.  Plus all my favorite toppings…artichokes, mushrooms, roasted red pepper and kalamata olives.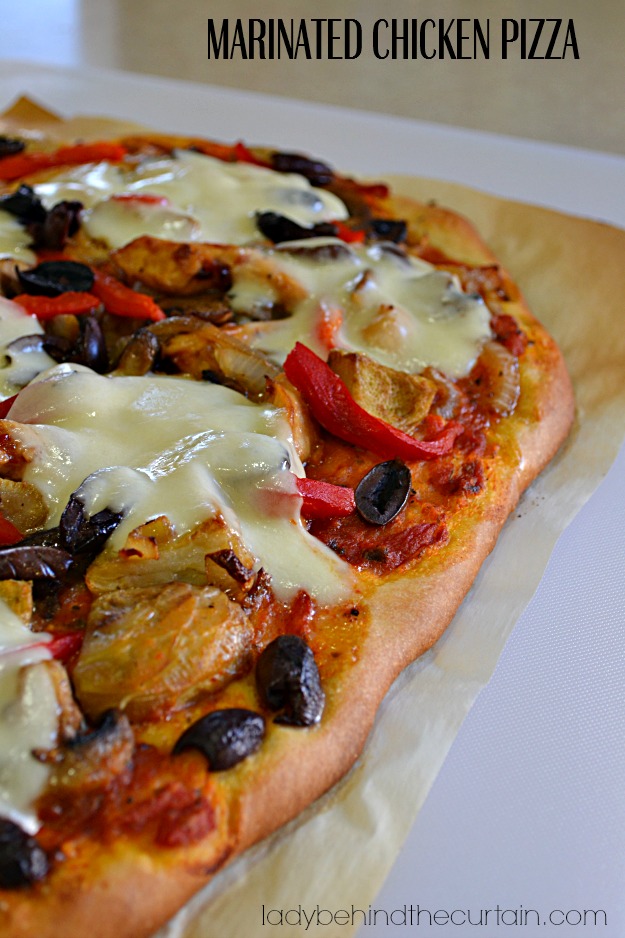 The texture of the crust is perfect.  Even though the pizza is piled high with tons of goodies the crust holds its own and stays crisp and tender.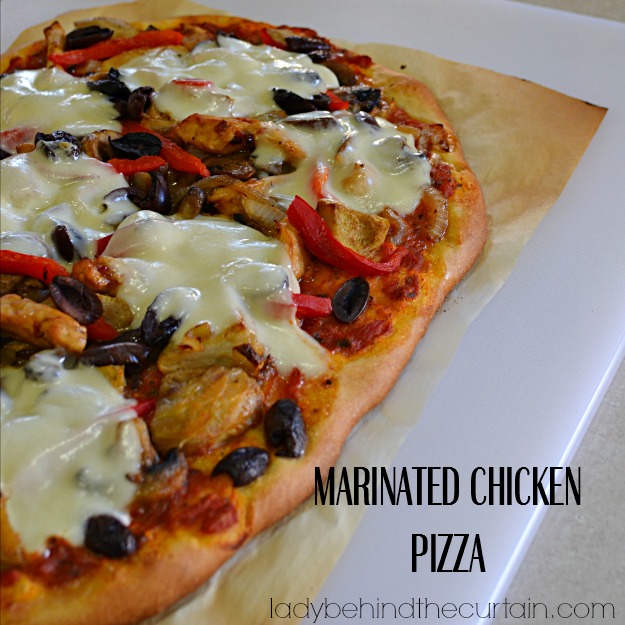 When baking my pizza I like to use the underside of a baking pan.  While I'm rolling out the dough I place the baking pan in a preheated oven.
I roll the dough in a rectangle to fit the bottom of the pan on parchment paper.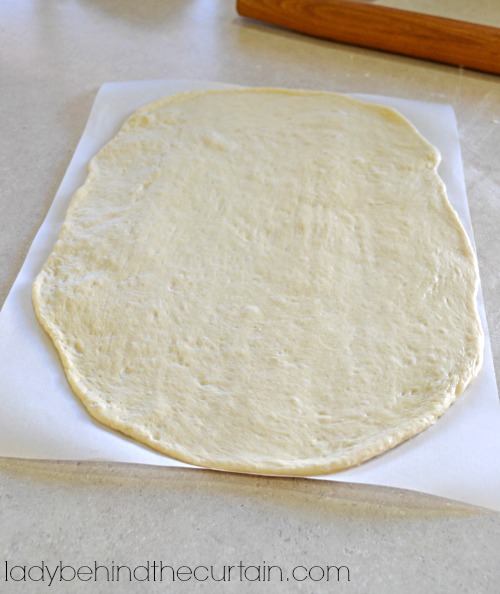 Add the sauce and toppings.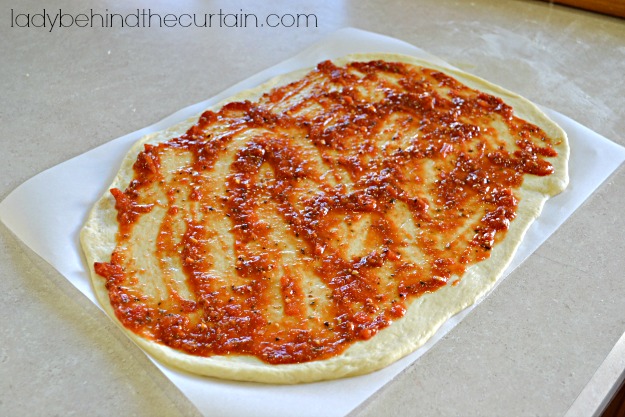 Carefully take the hot pan out of the oven, lay the prepared pizza on the baking pan WITH the parchment paper and bake.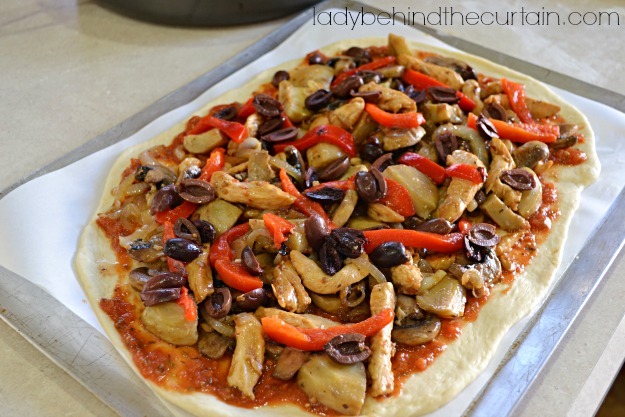 Create your own Recipe Box and save your favorite Lady Behind The Curtain recipes.  Make a Meal Plan with your favorite recipes and ZipList will automatically add the ingredients to a Shopping List.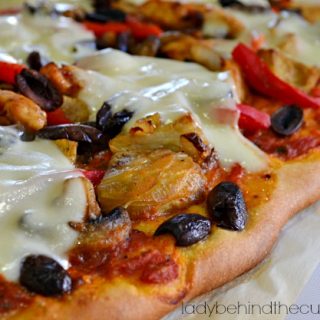 Marinated Chicken Pizza
Ingredients
1 Pizza Dough Recipe
1 (10 ounce) large boneless, skinless chicken breast
1 cup Italian dressing
1 (14 ounce) artichoke bottoms, cut into 4ths
1 small onion, sliced
1 (8 ounce) package mushrooms, sliced
2 garlic cloves, minced
4 tablespoons olive oil
1/2 roasted red pepper, sliced
1/2 cup kalamata olives, pitted and sliced in half
1 (8 ounce) fresh mozzarella cheese, sliced
1/2 cup Pesto Tomato Pizza Sauce
Instructions
Cut chicken into strips and place in a small zip top bag.
Pour in dressing and marinate 2 hours.
In a medium skillet on high add enough oil to saute chicken until all pink is gone.
Take chicken out of pan and on a plate.
Add the artichoke, onion, mushrooms and garlic to the pan (add more oil if needed).
Saute 15 minutes or until tender.
Set aside.
Place a 15x10-inch baking sheet on the lowest rack of the oven bottom side up.
Preheat oven to 475 degrees.
Cut a piece of parchment paper to fit the bottom side of the baking sheet.
Roll pizza dough into a 14x8-inch rectangle.
Spread 1/2 cup sauce over dough leaving a 2-inch border around the edges.
Sprinkle on the cooked vegetables and chicken.
Add slices of red pepper and the sliced olives.
Be very careful as you take the HOT pan out of the oven.
Slide the pizza WITH the parchment paper onto the hot pan.
Bake 10 minutes; add slices of fresh mozzarella and bake an additional 5 minutes or until the pizza is brown and the cheese is melted.