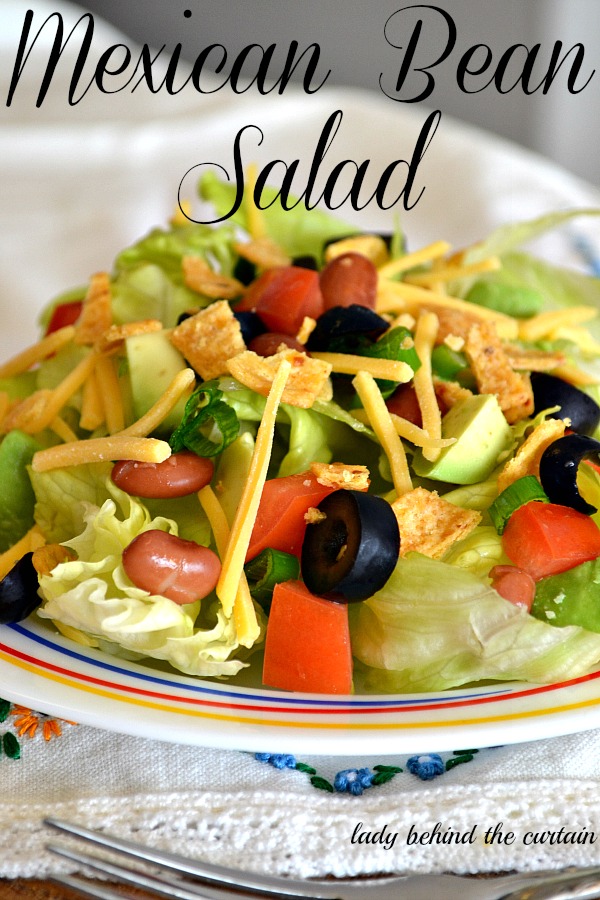 Not the typical combinations a flavors you would expect from a Mexican Bean
Salad but they all work together perfectly to make a delicious easy salad.  I serve this salad buffet style so the guests can pile on their favorite things.  It also makes leftovers tastier since the dressing isn't on the lettuce you don't get a mushy salad the next day.
Ingredients
2 heads iceberg lettuce, chopped
2 cups shredded cheddar cheese
1 bunch of green onions, chopped
1 small can sliced black olives
4 avocados, diced
3 Roma tomatoes, seeded and diced
2 cans ranch style beans, drained and rinsed
1 bag Frito's, crushed
1 bottle Catalina dressing
Instructions
Prepare all the above ingredients.
Place the appropriate ingredients into a bowl.
Store in the refrigerator until ready to serve.
Notes
https://www.ladybehindthecurtain.com/mexican-bean-salad/