Mini Corn Muffin Sausage Sandwiches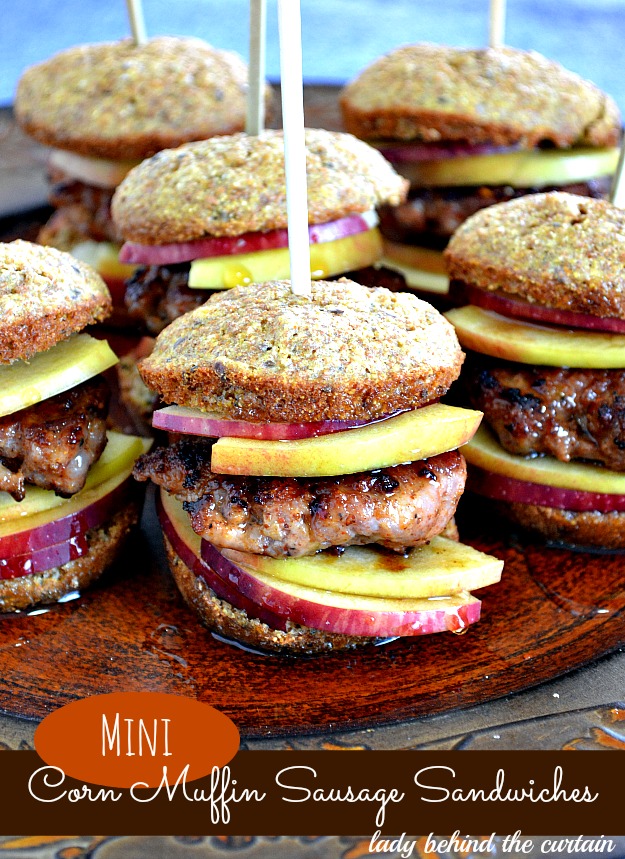 Create the perfect breakfast buffet by adding these mini corn muffin sausage sandwiches.  The sweet red apple with the sour green apple along with the spicy sausage really makes these little delights very tasty.  And at only 140 calories per sandwich they won't break the calories bank either.
Make sure you also add my BUFFET PANCAKE DIPPERS!
FOR EASY ENTERTAINING:  Make these ahead of time.  Assemble before your event.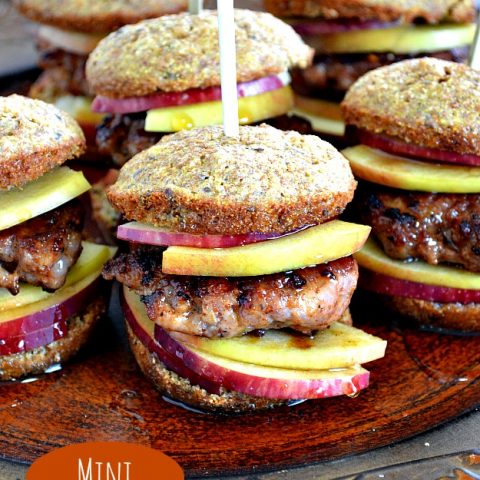 Corn Muffin Sausage Sandwiches
Yield:
Makes 12 sandwiches
The perfect breakfast buffet dish!
Ingredients
For the Corn Muffin:
1/3 cup wheat bran
1/3 cup whole wheat flour
1/3 cup cornmeal
1/2 teaspoon baking soda
1/2 teaspoon baking powder
1/8 teaspoon salt
Optional- 1 teaspoon whole flaxseed plus 1 teaspoon chia seeds
1 egg, slightly beaten
1/2 cup buttermilk
5 tablespoons maple syrup, divided
1 tablespoons vegetable oil
For the Sausage:
16 ounces spicy turkey sausage
2 teaspoon Dijon-style mustard
For the Filling:
1 small green apple, cored and thinly sliced
1 small red apple, cored and thinly sliced
Instructions
For the Muffin:
Preheat oven to 375 degrees.
Lightly coat twelve muffin cups with non stick cooking spray.
Stir together the wheat bran, wheat flour, cornmeal, baking soda, baking powder, salt and optional flaxseeds and chia seeds.
In a small bowl combine the egg, buttermilk, 3 tablespoons maple syrup and oil.
Add egg mixture all at once to the flour mixture.
Stir just until moistened.
Spoon about 2 tablespoons of batter into prepare muffin tin.
Bake 10 minutes or until a wooden toothpick inserted in the centers comes out clean.
Cool in muffin cups 10 minutes.
Remove from muffin cups.
Cut each muffin in half horizontally.
For the Sausage:
Combine the sausage and the mustard.
Shape into twelve 2-1/2-inch patties.
Coat a nonstick skillet with cooking spray; heat over medium-high heat.
Add patties; cook for 3 minutes per side, turning once.
To Serve:
Place bottoms of the muffins on a serving platter.
Top with half of the apple slices, the sausage patties, the remaining apple slices, and the remaining 2 tablespoon syrup. NOTE: If you're not serving immediately, put syrup in a separate container and let the guests drizzle on their own syrup.
Replace tops of muffins .
Secure with wooden skewers.
Notes
This recipe is from the BHG Eat Well Lose Weight 2013 magazine.
Nutrition Information
Serving Size

1 Sandwich
Amount Per Serving
Calories

140
MORE GREAT BREAKFAST BUFFET RECIPES
 1.  CHEESE FILLED DANISH  2.  BREAD PUDDING MUFFINS  3.  MINI CINNAMON ROLLS  4.  RASPBERRY PARFAIT AND MINI MUFFIN  5.  BUFFET PANCAKE DIPPERS