Mini Gumball Machine Cupcakes
Mini Gumball Machine Cupcakes: These full of fun cupcakes are easy to make with a store bought cake mix, mini ice cream cones, mini M&M's and candy melts. Mini ice cream cones filled with mini 's and topped with a mini cupcake. These fun party cupcakes may be mini but they deliver big on the fun scale.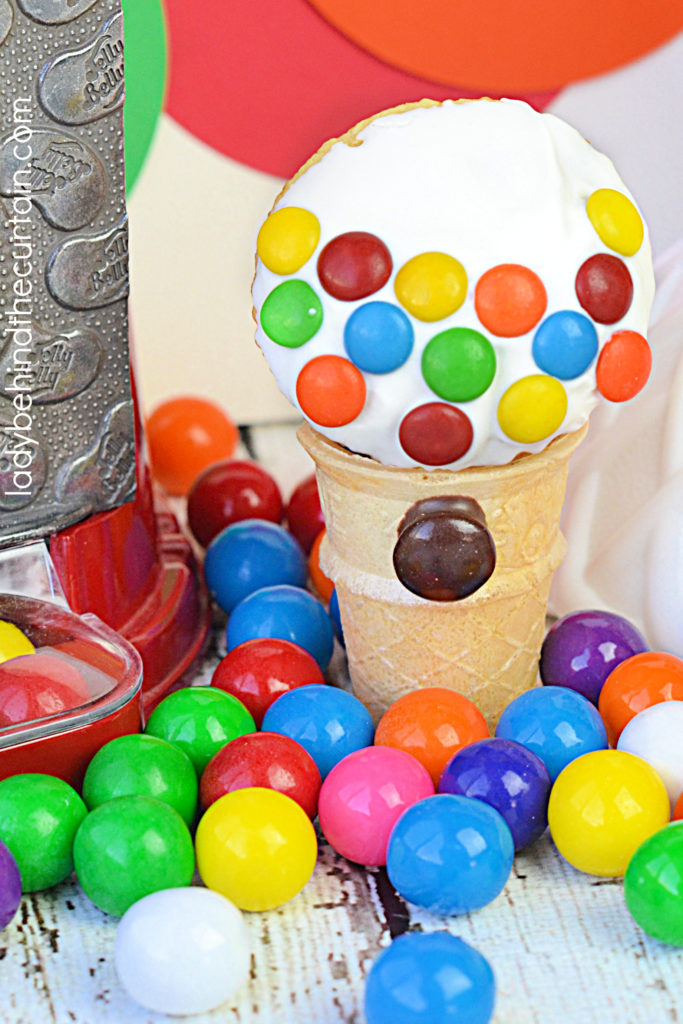 How to Make Mini Gumball Machine Cupcakes
INGREDIENTS

1 box cake mix (your choice)
ingredients listed on the box for cupcakes
mini cones (I found them at Walmart)
mini M&M's
white candy melts
dark chocolate candy melts
4 dozen full size brown M&M's
DIRECTIONS

Preheat oven to 350°.  Mix cake as directed on the box.  Line mini cupcake pan with mini cupcake liners. Fill mini cupcakes two-thirds full.  Bake 12 minutes or until a toothpick inserted into the center comes out clean.  Cool completely before decorating. Pour candy melts into a microwave safe bowl.  Heat until melted, (about 1 minute) stir until smooth.  Dip top of cupcake into melted candy.  Place M&M's to look like gumballs.  Set decorated cupcakes on a cookie sheet and refrigerate until firm (about 15 minutes)  TIP:  Only dip a couple of cupcakes at a time.  You don't want the candy to solidify before you finish decorating. Pour dark chocolate candy into a small microwave safe bowl. Heat until melted, (about 1 minute) stir until smooth. Dip full size M&M into the melted candy and place on the mini cone to look like an opening for the gumballs. Place on the same cookie tray with the cupcake to harden. If you are choosing method number one, fill each cone with mini M&M's and carefully place a decorated cupcake on top. OR…take off the liner, dip the side of the cupcake in melted candy and then place on the mini ice cream cone.
MORE GUMBALL PARTY IDEAS
NEVER MISS A POST