Mini Skee Ball Game (Toddler)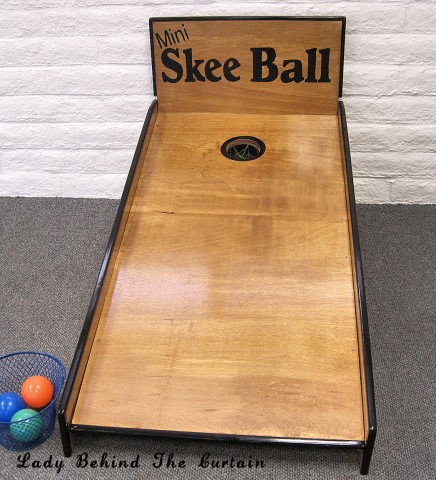 This mini version of the large skee ball makes it easy for the little ones to join in on the fun.  Older kids can roll the ball on the ramp and try to get the ball into the net.  Younger kids and simply walk up and drop the ball into the net!
NOTE:  For this game I used the light plastic balls from the ball pit.  This makes it easy for little hands.
Object: The object of this game is to get all 3 balls in the hole.
Age Group: 7 years and under
Mini Skee Ball Game Rules
1.Their are a couple of ways to play this game.  The way the game is played can be decided by the player.
2.Each player  receives 3 balls
3.For the younger player, they can simply walk up to the hole and drop the ball in.
4. For the older player, they can roll the ball up the ramp and try to get it in the hole.
5.For each ball in the hole the player receives   3 Tickets (for each ball)
No balls in hole        3 Tickets